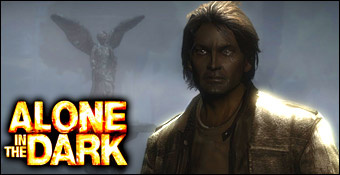 "Alone in the Dark", voilà un nom qui sonne agréablement bien aux oreilles des joueurs les plus expérimentés. Sortis dans les années 90, les trois premiers volets de la série constituaient les précurseurs du genre survival-horror en proposant des ambiances angoissantes dignes d'une nouvelle de Lovecraft. Edward Carnaby nous avait déjà fait son grand come-back il y a sept ans dans un épisode PSone plutôt réussi. Il nous revient aujourd'hui dans une forme sensiblement différente suivant le support sur lequel il débarque : la version Wii dont accouche Hydravision propose un rendu graphique et un gameplay distincts de ceux de la version next-gen développée par Eden. Autant le dire tout de suite, bien que leur scénario soit identique, les deux versions ne se valent pas. Le jeu Wii est bondé de bugs graphiques et de soucis de maniabilité qui gâchent les quelques idées originales contenues dans ce nouvel opus d'Alone in the Dark.

Vous pouvez accéder à toutes les séquences du jeu.
La particularité la plus flagrante de cet épisode tient à sa manière originale d'aborder le déroulement du scénario. En effet l'histoire est segmentée en dix épisodes contenant chacun plusieurs séquences. Il est possible de choisir directement par quelle séquence on souhaite débuter l'aventure. De cette manière vous n'avez plus aucune crainte de rester bloqué par une énigme trop ardue ou par un boss un peu trop énervé. Si vous choisissez de sauter un événement et de recommencer directement à la séquence suivante, vous aurez droit à une cinématique récapitulant ce que vous avez manqué. Cette construction bien particulière est directement calquée sur le principe des séries américaines à suspense. Tout est pensé pour que le joueur pressé puisse profiter de l'aventure sans pour autant buter sur une séquence : même si vous avez choisi d'apparaître directement dans le dernier épisode du jeu, votre inventaire comprendra automatiquement l'équipement nécessaire minimum.

On accède à l'inventaire en ouvrant son manteau.
Alone in the Dark est à mi-chemin entre le jeu d'aventure, le survival-horror classique et le jeu d'action : il alterne les phases de réflexion et les phases de shoot ou de courses en voiture. Ce mélange est plutôt bien amené : les énigmes ne se résument pas à des puzzles maladroitement intégrés à l'histoire, il s'agit la plupart du temps d'exploiter les éléments du décor en conservant le gameplay habituel. Vous devrez par exemple enflammer une chaise puis la porter pour aller brûler ce qui bloque le passage. Si vous ne comprenez pas ce qu'on vous demande au premier coup d'oeil, vous avez toujours la possibilité de fermer les paupières et les éléments avec lesquels vous devez interagir apparaîtront alors en surbrillance. Malheureusement les phases de conduite n'ont pas bénéficié du même soin : que vous soyez au volant d'un taxi ou d'un chariot élévateur, n'espérez pas réussir votre course dès le premier essai... Il faut avouer qu'il n'est pas facile de contrôler un véhicule en inclinant le Nunchuk et la Wiimote.
Il faut parfois brûler des obstacles pour progresser.
L'autre grande particularité de cet Alone in the Dark, c'est que l'écran de jeu est dépouillé de tout indicateur ou de toute jauge. N'espérez donc pas retrouver de barre de vie : si la santé de votre personnage se dégrade, il laisse derrière lui des taches de sang et sa vision s'obscurcit petit à petit. Il faudra alors le soigner : en appuyant sur une touche vous pouvez regarder ses blessures, les désinfecter puis les bander. De la même façon l'inventaire n'est pas présenté à la manière d'un menu particulier du jeu. En ouvrant votre veste vous avez accès aux différents objets que vous portez sur vous. Il faut toutefois noter que cette manoeuvre est particulièrement délicate à effectuer sur Wii. On vous demande de faire pivoter les deux manettes vers l'extérieur et ce geste enclenche souvent des actions non souhaitées comme la prise en main d'un objet. La gestion des munitions est dans le même esprit que le reste de l'inventaire : il vous faudra compter vous-même vos balles. Il est aussi possible de combiner différents objets de façon plus ou moins libre. Votre spray désinfectant peut ainsi se changer en un véritable lance-flammes une fois qu'il est associé avec votre briquet. Toutes ces bonnes idées auraient pu accoucher d'un jeu agréable et innovant, mais de grosses difficultés de gameplay viennent perturber ce tableau idyllique. Entre les phases de tir totalement imprécises, l'absence de carte pour repérer les objectifs et d'innombrables bugs graphiques, il est indéniable que cet Alone in the Dark fourmille de défauts. On aurait pourtant bien aimé que le grand retour d'Edward Carnby nous fasse un peu plus rêver...