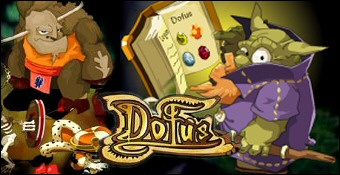 Voici comment on pourrait résumer simplement le contexte scénaristique classique, mais rappelant tout de même les chaleureux récits peuplant la conscience de tous les amoureux d'héroic-fantasy, de Dofus, un nouveau MMORPG tout droit sorti du studio Ankama, petit nouveau dans le grand bain bouillonnant du produit vidéoludique. On pourrait donc se dire en se basant sur des idées bassement préconçues que nous avons encore à faire avec un sempiternel jeu de rôle en ligne affublé de ses nains, ses elfes, ses donjons sombres et ses quêtes héroïques à tout va. Un énième concept formaté en proie aux sirènes des deniers vite engrangés en bref. Et bien si nous pensions cela, ce ne seraient que fourvoiements et billevesées. En effet, non content de proposer une approche graphique différente, Dofus tente d'appréhender le genre auquel il appartient d'un oeil relativement nouveau. Pour avoir joué à la version bêta grâce à un article paru dans un magazine dédié à la bande dessinée (je ne me rappelle plus le nom désolé), je dois avouer que j'ai été agréablement surpris par les rajouts présents dans cette mise en forme finale qui autorisent dorénavant la digression vers un système de jeu payant. Effectivement, la démo en l'état n'aurait pas justifié un accès non gratuit, loin de là. Mais commençons notre aventure onirique en nous intéressant aux différentes possibilités habitant chaque recoin de l'univers "dofusien" (le traitement de texte n'accepte pas... bizarre).

Cette bande de monstres ignobles qui m'attaquent sans regrets sont des Tofu
En premier lieu, et demeurant un principe fort intéressant, le commerce est mis en avant de façon intelligente, et s'avère pratiquement indispensable au sein d'une progression à volonté durable. Acquérir des objets, armures, et autres compagnons indispensables du guerrier lambda peut s'exécuter de deux manières différentes, et pourtant complémentaires. La première, imbriquée passionnément dans les combats, s'avère être tout simplement la récupération desdits 'items" après une victoire méritée (ou non) contre les affreuses et viles créatures oeuvrant dans les marais vaporeux et les sombres forêts du monde de Dofus. Vous recevrez par conséquent et de manière aléatoire des éléments tels que des peaux de larves bleues ou encore du cuir de Bouftou qui pourront vous servir par la suite à obtenir une rétribution des vendeurs ou simplement à terminer des quêtes, sujet qui viendra plus tard. La seconde quant à elle, est tout bonnement la visite aux marchands du coin qui vous proposeront toujours à bon prix les dernières trouvailles dans le domaine de l'aliment curatif ou du bouclier en chêne massif. Mais à côté de cela, il existe une option très intéressante, qui se nomme "marchander". Elle vous donne le droit, même en étant déconnecté, d'agir comme un PNJ à qui les autres joueurs peuvent venir rendre visite. Vous restez immobile à l'endroit de votre choix, et proposez à vos clients les objets que contient votre sac. Vous ne risquez aucune attaque humaine ou bestiale, ce qui n'est pas négligeable. Dès votre reconnexion, vous pourrez faire vos comptes et observer ce que vous avez réussi à monnayer. Vous vous muez en une sorte de magasin organique en fait. A côté de cela, il reste bien entendu le troc, activité essentielle, qui vous donnera parfois l'occasion de posséder le rêve de vos nuits agitées.

Si vous ne trouvez pas ça fort joli, je veux bien me rouler par terre en hurlant
Je m'adresse maintenant à tous les traumatisés de FF7 qui, comme moi, s'étaient réjouis en pleurs de l'achat tant espéré de la grande maison sombre de la Costa Del Sol pour la modique somme de 400000 gils. Oyez, oyez braves promoteurs immobiliers, voici enfin la concrétisation de vos recherches. Effectivement dans Dofus, et vous l'aurez sans doute compris, la possibilité vous est octroyée d'acquérir une habitation personnelle, afin d'y conserver bien à l'abri nombre de vos acquisitions et d'inviter vos amis au coeur de réunions festives ou basées sur la réflexion. Un système véritablement accrocheur qui utilise de plus un système de code secret nécessaire à l'ouverture de la porte d'entrée de votre maisonnette, afin de remédier à la délinquance naissante dans les bois environnants. Parallèlement à cela, vous observerez avec délectation la vue prochaine de l'exercice d'un métier bien défini. Je ne parle pas ici de jobs, comme ceux communs à la série des Final Fantasy (mage, guerrier, summoner, etc.), mais d'activités professionnelles "réalistes". Après avoir eu l'honneur de rencontrer un maître qui daignera vous enseigner les rudiments de l'occupation que vous vous êtes assignée, il ne tiendra qu'à vous de rendre honneur à celui-ci en accomplissant votre tâche de la meilleure façon qu'il soit. Entre devenir boulanger, forgeron, ou encore bûcheron, votre coeur balancera, mais il faudra choisir. Une source de revenus non négligeable et qui de plus rend service à la micro-société de cet environnement enchanteur. Au fur et à mesure de votre gain d'expérience, vous serez capable de produire des chose de plus en plus complexes, jusqu'à posséder la compétence de fabriquer vos propres armes et outils de défense, dans le cas du forgeron bien entendu. Néanmoins prenez garde à conserver de bonnes relations avec les aventuriers grouillant dans ces landes arides dans le but avoué d'écouler vos stocks, mais pas seulement.

Certains métiers permettent même de couper du blé dans les grands champs de la Province
Comme dans de nombreux MMORPG, il vaut évidemment mieux faire partie d'une équipe si l'on désire progresser de façon fluide et constante, surtout si l'on se met en tête de prélever certaines substances d'animaux sans leur accord préalable. Car pour avoir la capacité de voler de la gelée de menthe au creux de la créature éponyme, il vaut mieux avoir pris soin d'occire cette dernière auparavant. Pourquoi martyriser ces pauvres bêtes de manière si cruelle ? Me direz-vous. Et bien tout simplement pour achever des conditions de quête. En effet, lors de vos conversations avec les loquaces PNJ, vous apprendrez bien souvent que rendre service à l'un d'eux peut vous rapporter d'une part leur considération et d'autre part des objets fort alléchants. Ramener telles ou telles plantes, aider à la confection de la bière en fournissant le houblon (sic), proposer de mettre un terme à un problème de mauvaise haleine, ne sont que des exemples disparates et assez peu représentatifs de la somme de choses que vous aurez à faire. C'est à ce moment précis que l'on regrette amèrement l'absence d'un "journal de bord" conservant les tâches en cours et celles accomplies. Il est vraiment dommage d'être contraint de mettre un terme à des missions avant d'en commencer d'autres. Toutefois, il est temps de partir au combat.

Vos combats n'en seront que plus aisés, si vous parvenez à dénicher une alliée de choix
Le système d'affrontement se révèle réellement digne d'intérêt, s'apparentant quelque peu à ce que l'on peut rencontrer au détour d'un croisement fortuit avec des T-RPG comme Arc The Lad ou encore Final Fantasy Tactics. Si le fond est loin d'arriver à la cheville de ces ambassadeurs intemporels du genre, la forme peut aisément soutenir la comparaison. Pour faire court (vue l'heure), tout est basé sur des déplacements au tour par tour dans un décor identique à celui où vous avez rencontré votre opposant (à ce propos les ennemis sont visibles), découpé en cases. Suivant votre niveau, vous aurez alors le pouvoir de vous déplacer dans une zone plus ou moins étendue, afin soit de vous éloigner, soit de vous rapprocher de votre cible. De même, suivant votre statut défini lors de la création de votre avatar (archer, magicien, etc.) vous disposerez d'une portée offensive plus ou moins imposante. A vous donc ensuite de profiter des obstacles et du relief pour concevoir une stratégie efficace, en accord avec votre classe et vos possibilités. Dans le cas d'une victoire écrasante, vous engrangez un certain nombre de points d'expérience et surtout des objets, et dans l'alternative opposée, vous devrez vous défaire d'un peu de votre expérience chèrement acquise. A ce propos, il existe un fort déséquilibre dans ce domaine précis. Il n'est pas rare effectivement d'apercevoir la jauge correspondante se vider dangereusement dès qu'une vulgaire défaite survient. Sachant que si vous avez sauvegardé votre avancée à un point de "respawn" fort éloigné, vous aurez en plus à trouver le chemin menant à un temple, seul endroit où vous pouvez aisément restaurer vos points de vie perdus. Ce qui aboutit à des énervements successifs et violents, lorsque l'on parcours le monde équipé d'un seul point de santé (la caractéristique d'une défaite) pendant une dizaine de minutes avant de pouvoir se sentir en sécurité. Un stress très dispensable qui va de pair avec la lisibilité peu enviable de la carte du Monde. D'autre part, un problème nuit un tant soit peu à l'éclat des pugilats, à savoir le déplacement des unités. Il est en fait impossible de revenir sur sa décision lorsque l'on a effectué le nombre de pas requis. Une erreur est donc définitive, et l'on se trouve alors devant le dépit de la pièce d'échec effleurée, estimée comme jouée. Un désagrément passablement dérangeant lors d'affrontements à l'issue incertaine. Malgré cela, ce système demeure somme toute original et rapidement immersif. Tout comme le background.

Le clin d'oeil est plus qu'évident, et participe à l'ambiance délirante générale
Si vous vous demandiez ce que cela fait de participer à un dessin-animé interactif, accompagné d'une communauté de personnes appréciant autant que vous l'utilisation de la 2D pour les RPG, Dofus va répondre à ces questionnements intérieurs. Développé en Flash (logiciel d'animation internet), et bénéficiant d'un design général très convaincant, ce titre n'a pas à rougir face à des productions plus ambitieuses. Les décors, d'une diversité notable, font preuve d'un travail attentif sur les couleurs et les dégradés, amenant à une exhalation d'un onirisme propre aux livres de conte illustrés. On déambule donc le sourire aux lèvres dans ces environnements tout en rondeur, alternative réussie à la 3D omnipotente et omniprésente. D'autant plus que le chara-design s'apparente à une sorte de mélange inventif entre un style clairement inspiré des mangas et un second davantage axé sur la bande-dessinée européenne, surtout au niveau du style vestimentaire et de l'allure générale (morphologie) des intervenants. Vous remarquerez cela très nettement à l'écran du choix de la race de votre avatar dès l'entrée en matière du soft. D'ailleurs il vous faudra être patient car vous aurez la lourde tâche de vous décider entre 10 types de héros potentiels incluant des être aux noms poétiques, comme les Scram, les Ecaflip, ou encore les Osamodas (un petit coup de coeur pour ces derniers). Et quand l'on sait que vous devrez définir votre petit amas de pixels par le biais de la mise à disposition d'un nombre de coloris faramineux, et surtout par la présence du choix d'un sexe, vous n'avez pas encore fini de tracer les plans de votre future oeuvre d'art. Par contre, et je sais que mes détracteurs seront nombreux, je trouve tout de même que l'on a un peu tendance à voir et revoir des individus très proche graphiquement parlant et que le changement de couleur ne suffit parfois pas à donner l'impression de côtoyer des personnes différentes. On a parfois l'impression de participer à un remake de "L'Attaque des Clones" au moyen-âge. Néanmoins, rares sont les productions mettant en avant la 2D à placer devant nos petits yeux mouillés une réalisation aussi correcte. Chapeau. A noter les Tofu, petites bêtes véritablement craquantes, dignes des Ewoks de monsieur Lucas.
Au final, Dofus est une très bonne surprise. Certes limité et n'arrivant pas à la cheville des super productions que sont FF11 ou World Of Warcraft, il demeure tout même attrayant, bénéficiant d'un rendu graphique très convenable et d'un humour omniprésent. Les clins d'oeil à l'univers de la bande-dessinée sont légions, et certaines répliques de PNJ sonnent vraiment justes. Un travail sérieux de gens visiblement motivés. Si l'on peut regretter de nombreuses errances, nul doute que des mises à jour intelligentes les résoudront. Albedo vous salue.