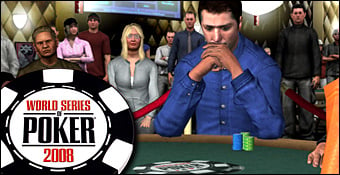 Avant tout, il faut savoir que World Series of Poker 2008 est réservé à un public d'initiés, ou tout au moins aux néophytes que l'anglais ne rebute pas. En effet, le tutoriel très complet qui figure dans le jeu, intégrant vidéos et simulations de parties, est intégralement en anglais. Donc, à moins de maîtriser la langue de Shakespeare, vous aurez bien du mal à saisir toutes les subtilités d'un jeu aux règles simples, mais très stratégique dans le déroulement de ses parties.

Une seule paire fait une bien mauvaise main... Mais il vous reste encore le turn et la rivière pour vous refaire.
World Series of Poker 2008 est plus que jamais centré sur le Texas Hold'em, une variante du poker classique. Pour résumer, disons que vous devez obtenir la meilleure combinaison à partir de 2 cartes en main (personnelles et cachées) et d'un pool de 3 à 5 cartes disposées sur la table (communes et visibles de tous). La partie prend la forme de plusieurs tours d'enchères durant lesquels les joueurs misent et tentent de remporter le pot. Eh oui, le poker est avant tout un jeu d'argent, avec toute la cupidité et la pression que cela peut engendrer. C'est d'ailleurs un aspect que le jeu vidéo a du mal à retranscrire : manipuler de l'argent virtuel, ce n'est quand même pas pareil. En tous cas, l'interface très claire permet d'embrasser d'un coup d'oeil ce qu'il se passe à la table, ainsi que l'état des fonds de chacun. Les décisions prises par chaque joueur (miser, suivre, relancer, passer ou se coucher) font systématiquement l'objet d'une petite animation à droite de l'écran ; elles se montrent cependant vite répétitives, et vous finirez par les passer. Le bluff est bien entendu de la partie, même si vos adversaires ont tendance à se coucher beaucoup trop vite : à l'issue du premier tour de table, on se retrouve la plupart du temps avec seulement deux ou trois joueurs encore debout. Lorsqu'il n'y a plus que deux joueurs en lice et que l'un d'eux tente un all-in (mise de tous ses jetons restants), l'écran se scinde en deux et la caméra effectue un gros plan sur chacun d'eux. C'est l'occasion d'apporter un peu de dynamisme à un jeu qui en manque beaucoup. On regrette cependant le manque de tension qui se dégage de ces phases : où est la goutte de sueur perlant sur le front de l'adversaire et trahissant son jeu ? De même, les animations de victoire sont bien timides et ont du mal à dissiper la neutralité de l'expression des visages. World Series of Poker 2008 permet cependant d'affronter plusieurs grands champions de nationalités différentes : de Chris Ferguson à Jennifer Tilly, chacun possède ses particularités (accent, personnalité, façon de jouer) et celles-ci sont plutôt bien rendues.

Bonjour, je suis aveugle et j'ai perdu mon chien. Pourriez-vous m'aider à le retrouver ?
World Series of Poker 2008 ne manque pas de modes de jeu. Vous avez la possibilité d'entamer une partie rapide, d'entreprendre un mode carrière, ou de lancer une session multijoueur. Les parties rapides peuvent être configurées de A à Z : il est possible de changer le type de mise (Limit, No limit, Pot limit) ou de s'adonner à quelques variantes du Hold'em (Omaha, Seven Card Stud, Horse, Shoe, Razz). On trouve également un poker vidéo et un black jack, d'un intérêt plutôt passable. Le mode carrière, lui, vous assure de longues heures de jeu. Vous commencez par créer votre alter ego à l'aide de l'éditeur de personnages : joueuse glamour ou gros beauf à casquette, choisissez votre style. Une fois votre avatar créé, vous pouvez débuter votre carrière en prenant part à des compétitions diverses et variées figurant sur un planning. Cela vous donne l'occasion de fréquenter les plus célèbres casinos et de rencontrer les plus grands champions. Mais que cela ne vous détourne pas de votre objectif, qui est de faire fructifier votre magot initial. Vos gains vous donnent même la possibilité d'aménager votre garage en salle de jeu ! Après avoir plumé l'IA à plusieurs reprises, vous aurez sans doute envie de relancer le challenge à travers le mode multijoueur disponible. Le Playstation Network vous donne l'occasion d'affronter jusqu'à 9 adversaires en chair et en os. Les sensations de jeu sont alors bien plus gratifiantes. En définitive, World Series of Poker 2008 vaut le coup pour les nouveaux adeptes qui voudraient s'exercer à leur sport favori, et que l'austérité de l'ensemble n'effraie pas. Car au niveau technique, cette édition 2008 déçoit : l'aspect graphique n'a guère subi d'amélioration depuis la version précédente, les commentaires manquent de pêche, et la caméra est la plupart du temps bien trop statique (on est loin du dynamisme d'une réalisation TV). Les possesseurs de l'édition 2007 devraient donc réfléchir à deux fois avant d'acquérir cette simple mise à jour.