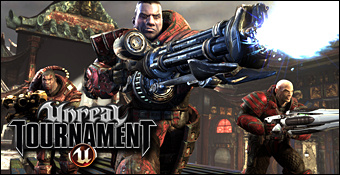 Il y a 3 ans, Epic nous sortait coup sur coup deux volets de sa série de shooters en ligne, les bien nommés UT 2003 et UT 2004. Deux excellents titres qui séduisent toujours les joueurs actuellement. Aujourd'hui, Unreal Tournament 3 n'est rien d'autre qu'une nouvelle itération de leur formule. Toujours fort amusant de par sa vitesse et sa violence, UT fait le ménage dans ses modes de jeu. On en dénombre 6 avec lesquels on sera vite familier. Deathmatch, Team Deathmatch ou Capture The Flag n'ont plus vraiment besoin d'être présentés et constituent toujours un noyau dur où la dextérité du joueur à viser juste et avec vitesse ne manque pas d'engendrer des crampes aux doigts de la main gauche. On évolue en terrain connu, profitant de sensations familières puisque les armes n'ont pas changé elles non plus. Canon Flak, lance-roquettes, link gun, ils répondent tous ou presque à l'appel et n'affichent que des modifications mineures de leur tir secondaire. Le fusil shock par exemple, voit l'enchaînement d'un tir secondaire et d'un tir principal légèrement rallongé, rendant un poil plus délicate la réalisation de la fameuse boule explosive. Rien de vraiment bouleversant donc. Bien qu'on ne se soit pas amusé à faire un comparatif détaillé, il semble également que les mouvements soient un peu plus rapides côté infanterie. Nous sommes en revanche certains qu'ils sont bien plus nerveux à bord des véhicules.

Le mode Capture the Flag en véhicules est asse épique.
Outre ces 3 modes plus que classiques, mais toujours efficaces, on repère le CTF Véhicules qui consiste en une partie de Capture The Flag se déroulant sur des cartes beaucoup plus grandes où les véhicules font la loi. Le résultat est pour le moins convaincant et donne lieu à des matches plus disputés et longs que le CTF standard. C'est également l'occasion de découvrir les nouveaux véhicules du jeu, à commencer par l'hoverboard, un skate sans roues permettant à un joueur « à pied » de se mouvoir plus rapidement d'un point à un autre sur une map de grande taille, pouvant éventuellement se faire traîner par un véhicule normal. Un ajout bien pratique qui met fin aux trop longues traversées solitaires. Plus tard, on fera ensuite connaissance avec des engins motorisés aux designs surprenants, d'inspiration biomécaniques du genre char d'assaut sur pattes ou insectes volants blindés.

En mode Guerre, le travail en équipe est délicat mais indispensable. Ce qui peut poser quelques problèmes.
Suit le mode Guerre qui, une fois de plus, rappellera des souvenirs aux anciens joueurs puisqu'il s'agit d'une variante du mode Onslaught instauré par Unreal Tournament 2004. Là encore, il est question de relier les nodes, afin de parvenir à la destruction du core central de l'équipe adverse en progressant de station en station. Epic a toutefois rajeuni la formule en ajoutant des objectifs secondaires. La capture de nodes donne droit à des points de respawn, à des armes ou à des véhicules. De plus, l'usage d'une sphère transportée par un joueur à pied (et dans l'incapacité de se battre) permet d'activer un node de façon instantanée, sans avoir à faire usage du link gun comme auparavant. Tout le monde l'aura remarqué, il s'agit du mode de jeu le plus stratégique dans lequel un véritable travail d'équipe est indispensable.

Séance de customisation de l'avatar.
Les deux modes de jeu suivants vont en revanche avoir bien plus de mal à convaincre. Le mode Duel voit deux joueurs s'affronter sur une map de leur choix, pendant que le mode Campagne est purement et simplement dénué d'intérêt puisqu'il ne consiste qu'à parcourir le mode solo en coopératif. Oui, ne l'oublions pas, Unreal Tournament 3 dispose d'un mode solo. On se demande encore pourquoi avoir perdu du temps à le développer. Epic vous fait donc cadeau d'une suite de cartes où vous affronterez, dans ce qui n'est rien d'autre qu'un simulacre de deathmatch, des bots, le tout avec un vague scénario venant expliquer le pourquoi du comment. En somme, il s'agit du même gadget déjà présent dans UT2004 mais avec des cinématiques en plus. Mouais, autant dire que ça laisse un tantinet perplexe pour ne pas dire de marbre et qu'on aurait tout de même largement préféré voir le développeur conserver les modes Domination ou Assaut, tout deux tragiquement sacrifiés pour une raison bien obscure en dépit de leurs qualités.

L'Unreal Engine 3 s'en sort fort bien en dépit de quelques bugs...
Il n'est donc pas difficile de constater que ce nouvel épisode n'offre que bien peu de choses fraîches, les principales innovations résidant dans la variante du mode Onslaught et l'arrivée de nouvelles maps qui, et c'est une chance, sont d'excellente qualité. Reste bien sûr le recours au dernier moteur d'Epic, l'Unreal Engine 3, ce qui ne va pas sans poser quelques problèmes. On s'en doute, c'est fort joli, que l'on parle des modèles ou des textures. Joli, mais pas parfait. Des bugs déjà classiques de l'UE3 se font sentir, comme l'apparition tardive de certaines textures. En outre, le déluge d'effets, "bump shadés brillants bidules", a parfois tendance à envahir l'écran et à semer la confusion dans une action excessivement nerveuse.
... dont un certain retard à l'affichage des textures.
Autre regret : la qualité discutable de l'interface, un problème admis par Epic par ailleurs qui reconnaît avoir précipité sa conception pour sortir le jeu à temps. Bien que le terme "à temps" soit lui-même discutable, UT3 arrivant après les autres ténors du online, de Quake Wars à CoD4. On se trouve face à une interface peu pratique, sûrement plus à son aise sur une console que sur un PC, avec un browser de serveurs peu fonctionnel et trop grossier. Nul doute qu'un patch officiel viendra corriger le tir mais en attendant, il faut faire avec... Ou pas. Car, et c'est bien là le plus gros problème rencontré par le titre : ses serveurs sont désespérément déserts. Déjà disponible aux USA depuis le 19 novembre, le jeu semble boudé par les joueurs et une consultation des statistiques le place carrément en dessous des versions précédentes de la série, tout en bas des classements. Trouver un serveur fréquenté et accessible devient un véritable chemin de croix. La grande question est en effet de savoir si Epic ne s'est pas trompé sur les attentes des joueurs en proposant à la vente un titre dont la principale nouveauté tient dans sa refonte graphique gourmande, là où on se passionne plus pour les modes de jeu et le gain de quelques images/seconde. Or, en 2007, UT a perdu deux modes pourtant solides et peine à voir son rendu graphique ajusté au plus près des performances. Il ne s'agit pas de descendre le jeu en flammes mais de se demander si un nouveau moteur et de nouvelles maps vont suffire à justifier l'investissement dans ce qui n'est finalement pas le meilleur volet de la série.