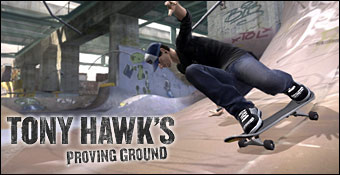 Il y a près de neuf ans déjà, Neversoft créait un jeu d'action particulièrement innovant en proposant un mélange de simulation de skateboarding et d'arcade pure. La qualité de la réalisation et la notoriété de Tony Hawk, skater prodige, eurent tôt fait de propulser le titre au rang de référence. Au fil des ans, la série qui suivit eu beaucoup de succès. Malgré le manque d'innovations majeures depuis Tony Hawk Pro Skater 2, la plupart des épisodes furent encensés par les critiques à leur époque. Tony Hawk's Proving ground reprend les acquis de Project 8 sorti sur PS3 et Xbox 360 l'an passé. Le concept de base, pleinement orienté arcade, est toujours aussi solide mais Tony prend de l'âge et rechigne à se renouveler. C'est ce que l'on appelle se reposer sur ses lauriers. Qu'importe, les nouveautés de Proving Ground seront sans doute suffisantes pour pousser les fans à l'achat et ceux qui n'avaient pas craqué pour Project 8 l'an dernier feront une bonne affaire en investissant dans le millésime 2007.

Grinder un rail sur 300 mètres, il n'y a que dans Tony Hawk qu'on peut faire ça.
Comme d'habitude le gameplay de ce Tony Hawk frôle la perfection avec sa myriade de combinaisons et sa prise en main particulièrement intuitive. Enfin, intuitive pour les spécialistes surtout. Car si les connaisseurs se sentiront tout de suite à l'aise avec les commandes, les néophytes auront fort à faire pour assimiler les bases. Certains regretteront même de ne pas avoir quatre mains pour sortir quelques enchaînements bien corsés. La grande nouveauté en terme de gameplay par rapport aux années précédentes est la possibilité d'effectuer des aggro kicks. En appuyant sur la touche idoine votre skater bénéficiera d'un boost qui se traduit à l'écran par une accélération notable. En respectant un bon timing, on pourra en déclencher plusieurs à la suite jusqu'à atteindre des vitesses vertigineuses. Bien entendu, ce nouveau trick est exploité à fond dans les environnements et de nombreux passages secrets ne seront accessibles que si l'on a pris l'élan nécessaire pour y accéder. Des épreuves de vitesse ainsi que des courses contre d'autres skaters seront en outre de la partie. Plus anecdotiques, les aggro pushes et aggro skitches permettent respectivement de prendre appui sur un mur ou sur un véhicule afin de profiter d'un léger effet de boost. Ils ne sont en fait véritablement utiles que pour prolonger ses manuals. Enfin, le skate check fera de votre skater une véritable brute puisque l'on pourra désormais flanquer des trempes aux passants et repousser des agresseurs.

Le Faucon à roulette himself !
Le nombre de tricks est sensiblement le même que dans Project 8. Petite nouveauté cependant, les bowls ont désormais deux tricks exclusifs : le carve et le slash grind. Le carve est une sorte de zigzag très serré évitant de sortir du bowl. Le slash grind est un petit grind sur le bord du bowl qui ne nécessite aucun maintien d'équilibre de la part du joueur. Dans les faits, le seul intérêt de ces tricks est de se faire quelques points facilement car ils ne sont ni spectaculaires ni très utiles. Les connaisseurs apprécieront probablement plus l'ajout de deux modes Nail. En effet, en plus du mode Nail the Trick, grâce auquel on pouvait déjà contrôler directement les pieds du skater pendant un saut, des modes Nail the Grab et Nail the Manual sont maintenant disponibles. Le premier autorise le contrôle direct des mains de notre avatar lors d'un grab tandis que le second permet de réaliser des manuals personnalisés de toute beauté.

L'éditeur de clips est bluffant.
L'action se déroule dans des zones urbaines connues sur la Côte Est. D'une réalisation très inégale, elles sont reliées entre elles pour former un terrain de jeu immense. Cela pose parfois quelques problèmes d'orientation car la flèche qui sert de guide ne pointe que vers la direction générale des cibles sans se préoccuper des obstacles. Il est possible d'ajouter des éléments un peu partout dans les environnements et même de modifier certains éléments déjà présents pour les rendre propices à des grinds ou des sauts. Les zones sont très peuplées, trop peut-être, et il faudra parfois jouer des coudes pour se frayer un chemin. Il n'y a plus de scénario global mais une succession de petites histoires. Le joueur apprendra dès le début de la partie qu'il existe trois approches du skateboarding : le hardcore, le bricolage et la carrière. Au gré de ses rencontres et des défis qu'il choisit de relever, le personnage n'évoluera pas à la même vitesse au sein de ces trois disciplines. Ceci influera sur les bonus déverrouillés et sur la fin du jeu. Les skaters pros et les personnages clés que l'on croise nous initient aux diverses possibilités du jeu ,et en particulier aux nouveaux modes et tricks. Ainsi, pour avoir le droit d'user de l'aggro kick par exemple, il faudra au préalable réussir à faire le tour du pâté de maisons en un temps record. Les différentes zones fourmillent également de petits challenges qu'il est possible de relever sans passer par les skaters connus. Il suffit de passer sur un symbole ou de cliquer sur un objet pour déclencher un objectif à atteindre en amateur, pro ou dément. L'argent durement gagné sert à améliorer son équipement ou à acheter des tenus, etc.

La réalisation des décors est un peu datée.
En vérité, les possibilités du titre sont immenses et il est absolument impossible de s'y ennuyer si l'on adhère au concept et si l'on a pas déjà joué aux précédents opus. En plus de toutes les missions et des défis à relever décrits précédemment, il faut ajouter un mode online très fourni (qui n'existait pas sur PS3 jusqu'ici), un hangar à construire de A à Z dans lequel on peut inviter ses amis, la customisation très poussée de son skater, ou encore la possibilité de tourner des clips. Un éditeur entier est d'ailleurs consacré à cette nouveauté. Fort bien conçu, ce dernier autorise l'application d'effets visuels et permet de mixer images et musiques pour immortaliser nos exploits les plus spectaculaires. Malheureusement, les enregistrements n'étant pas automatiques, on enragera souvent d'avoir sorti un combo fabuleux sans avoir auparavant lancé le tournage d'un clip. Les photos que l'on peut prendre, et qui sont souvent indispensables pour terminer certaines missions, comportent aussi leur lot de frustration. En effet, l'obligation d'appuyer sur un bouton pour prendre des clichés en pleine action a le don de compliquer sérieusement la gestuelle déjà très ardue des tricks élaborés.

Les pros vous confient des missions.
Au final, on a donc un Tony hawk dans la pure tradition de ces illustres prédécesseurs. Les timides innovations ne révolutionneront pas le genre mais quelques nouveautés bien fichues combleront sans doute les fans. Les possesseurs de PS3 seront également ravis de pouvoir défier des joueurs dans le monde entier. Reste que la réalisation n'est pas folichonne et certainement pas à la hauteur des standards actuels. De plus, la plupart des épreuves commencent à sérieusement sentir le réchauffé. Menacé par la concurrence de Skate, le plus célèbre des faucons à roulette aura intérêt à faire mieux que ça la prochaine fois sous peine d'amorcer un irrémédiable déclin.