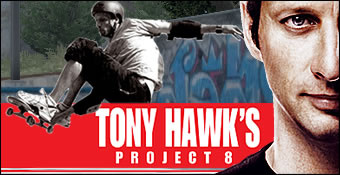 Le problème avec les précédents jeux de la série Tony Hawk, c'est l'impression de déjà-vu dégagée au fil des épisodes. Une impression largement justifiée aux dires même des développeurs de Neversoft qui ont cette fois mis un point d'honneur à se remettre en question, en tout cas pour tout ce qui touche à la réalisation de leur bébé. C'est clair qu'en se trimballant le même moteur depuis la genèse de la série, il n'était pas simple de faire bouger les choses. Tony Hawk's Project 8 est donc censé marquer une étape dans l'histoire du skate virtuel grâce en partie à un moteur tout beau, tout neuf proposant une palette d'animations entièrement retravaillées pour l'occasion et motion capturées directement sur les nombreuses stars de la discipline présentes dans le titre (Hawk, Mullen, Burnquist, Dollin, Sheckler, Williams, Huston, Margera...). Le résultat se voit immédiatement à l'écran. Les modèles 3D sont bien plus précis, détaillés et largement mis en valeur par des effets de lumière réussis. Si la plupart des animations sont calquées directement sur les acrobaties réelles des skaters, on a aussi droit à un paquet de figures faisant un joli pied de nez aux lois de la physique.

Le gameplay reste grosso modo le même que d'habitude.
Même s'il est vrai que les nouveaux tricks ne sont pas très nombreux, leur total est suffisamment conséquent pour ne pas s'ennuyer en refaisant toujours la même chose. De toute façon, il y a dans Project 8 une nouveauté de taille à ce niveau qui vous fera très certainement passer un long moment à aiguiser la moindre de vos figures, il s'agit du Nail The Trick. Derrière ce nom barbare se cache en fait un principe très simple : la possibilité de contrôler les jambes de votre skater en plein saut afin de faire pivoter la planche sous ses pieds. Pour cela, vous n'aurez qu'à agir sur les sticks (le gauche pour la jambe gauche, le droit pour la jambe droite) et apprendre à relâcher le mouvement au moment opportun pour atterrir sereinement. Ce moment crucial sera celui où le grip de la planche se trouvera sous vos baskets. A cet instant précis, vous libérerez les sticks et la réception se fera sans douleur. Sans ça, votre avatar se mangera le bitume avec une certaine violence. Dans ces cas-là, une petite manipulation (introduite dans cet épisode) permettra de se relever plus vite que dans le passé, afin de ne pas perdre trop de temps à remonter sur sa planche. Autre chose concernant les chutes, le moteur physique a lui aussi été revu. Si on trouve encore quelques incohérences à son sujet (certaines chutes interminables), on s'amusera aussi à tomber exprès pour remplir quelques objectifs demandés (bousculer des quilles géantes par exemple) ou simplement pour tamponner les piétons qui ne se gêneront pas pour se venger par la suite.
Gros plan sur le Nail The Trick.
Dans Project 8, vous allez encore incarner un prétendant au titre de roi du skateboard qui devra cette fois inscrire son nom parmi les huit meilleurs riders de la planète. Pour cela, il lui faudra remplir diverses petites choses qui lui vaudront de gravir peu à peu les échelons le séparant de son rêve. Tout le jeu se déroulera dans une seule et même ville, un peu à la manière de American Wasteland, le précédent volet de la série. Cela dit, à la différence de ce dernier, les zones (une petite dizaine en tout) sont ici reliées entre elles par de vraies connexions et non plus par des couloirs sans intérêt. La ville est ainsi découpée en différents spots et l'on passe de l'un à l'autre assez librement, à condition bien sûr de les avoir déverrouillés auparavant. Pour lancer un objectif, il suffit de parler à certains habitants de la ville. Leurs défis sont plutôt variés dans l'ensemble. Si l'on retrouve des consignes déjà connues des épisodes antérieurs (fais telle figure à tel endroit...), on découvre aussi quelques nouveautés comme ce cameraman qui vous demandera de le suivre et d'effectuer les figures alors qu'il vous filme en action. La principale contrainte étant de rester dans son champ de vision. Un peu partout dans la ville, on trouvera aussi des indications peintes à même le sol et qui représentent des défis à relever. On verra par exemple des marques sur les trottoirs pour signaler la distance maximale effectuée en grind par les locaux. A vous de vous entraîner pour battre ces records.

Plusieurs star de la discipline participent à la fête.
Absent du menu principal, le mode classique tel qu'on l'a connu dans les déclinaisons Underground et American Wasteland (à savoir des runs de 2 minutes avec une dizaine d'objectifs à la clé) apparaît ici directement dans le mode carrière. En parlant à certaines personnes, vous ne pourrez donc plus quitter la zone dans laquelle vous vous trouvez, et cela pour une durée de deux minutes. A vous de remplir le maximum de choses pendant ce laps de temps. Malheureusement, rien de bien nouveau en ce qui concerne les objectifs puisqu'il s'agira de rassembler les lettres du mot SKATE, d'effectuer un combo monstrueux, d'exploser un score de folie ou encore de trouver un CD caché. La cohabitation des deux modes de jeu (carrière et classique) s'effectue sans problème puisque rien n'oblige à s'attarder sur le mode classique si l'envie n'y est pas.

Grâce à la visionneuse, vous pourrez admirer et apprendre plusieurs figures.
Pour ce qui est des modes de jeu restants, on trouvera comme toujours des options 2 joueurs mais rien qui ne concerne une éventuelle option online, comme c'est pourtant le cas sur la version Xbox 360 qui permet notamment de comparer ses performances sur le Xbox Live. Le jeu offre enfin un mode free skate pour explorer librement l'aire de jeu en incarnant l'un des nombreux skaters disponibles. Via le menu principal, vous pourrez aussi accéder à une visionneuse permettant d'examiner sous toutes les coutures (et même au ralenti) les tricks débloqués. Une bonne idée qui devrait donner quelques tuyaux aux apprentis riders qui se demanderaient où placer leurs pieds pour exécuter telle ou telle figure. Finalement, l'objectif visé par Neversoft est plus ou moins atteint même s'il est difficile de parler de vraie révolution de la série. Bien que reposant encore sur les mêmes bases, le jeu se montre assez solide pour nous entraîner une énième fois dans le monde du skate. Et ce coup-ci, on le fera donc en s'en mettant plein les mirettes, ce qui n'est pas pour nous déplaire.