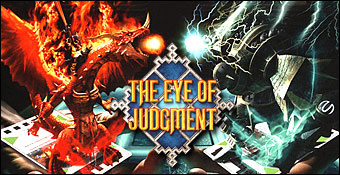 Unique en son genre, ce titre nécessite d'installer une petite nappe en tissu quadrillée et une caméra Playstation Eye soutenue par un pied en plastique. Ce matériel est fourni dans la boîte du jeu, de même qu'un deck de départ de 30 cartes fixées et un booster. La caméra doit être paramétrée de sorte qu'elle puisse détecter et identifier en quelques secondes les cartes qui seront posées sur la nappe. Une fois tout en place, il est fortement conseillé d'aller consulter le long tutoriel sous forme de vidéo pour apprendre les bases du jeu car le manuel d'une quinzaine de pages non-illustrées ne se révèle d'aucun secours en la matière. On peut alors commencer une partie pour vérifier ce que l'on a retenu des règles. The Eye of Judgment se joue avec un deck composé de trente véritables cartes en carton de type Yu-Gi oh ! que l'on pose sur la nappe de jeu. La caméra reconnaît instantanément chacune des cartes grâce à une sorte de code-barres runique présent sur chacune d'elles. La prouesse technique mérite d'être applaudie d'autant que le système fonctionne parfaitement pourvu que la pièce soit suffisamment éclairée. La carte identifiée déclenche alors des animations en 3D et s'intègre sur le plateau virtuel.
Le but du jeu est de contrôler 5 des 9 zones de la grille.
Développé en collaboration avec Wizard of the Coast, l'éditeur de Magic : The Gathering, le système de jeu a été très bien conçu. La nappe est découpée en neuf zones. A chacune d'elles sont attribués un élément primaire et un élément secondaire. Il en existe cinq : l'eau, le feu, la terre, le bois, et le biolithe. Les joueurs peuvent invoquer une créature par tour pour contrôler l'une de ces zones et combattre les créatures de son adversaire. On peut également jouer des sorts pour modifier le cours du jeu. La victoire est attribuée au premier joueur qui contrôle 5 zones à la fin de son tour. Dans The Eye of Judgment la plupart des actions nécessitent de dépenser du mana. Il faut non seulement payer un coût d'invocation lorsqu'une créature est déposée sur la grille mais aussi un coût d'activation à chaque fois que la carte est réactivée pour lancer une attaque. Sachant que l'on ne gagne que deux points de mana au début de son tour, et même si certaines cartes permettent d'en produire ponctuellement, la gestion de son capital est un élément essentiel du chemin qui mène à la victoire. Contrairement à Magic : The Gathering, les créatures attaquent immédiatement après avoir été invoquées. Elles frappent obligatoirement toute créature, alliée ou ennemie, dans la ou les directions précisées sur sa carte avec une puissance définie par le chiffre d'attaque. Toute la finesse du jeu consiste donc à placer judicieusement ses créatures sur la grille de sorte qu'elles frappent au bon endroit et bénéficient d'éventuels bonus. Il en est de même pour la défense, chaque créature ne pouvant contre-attaquer que sur sa zone de défense et étant particulièrement vulnérable aux attaques effectuées dans leur angle mort. Les sorts joués par l'adversaire viennent souvent perturber les stratégies que l'on avait consciencieusement construites en faisant pivoter un de nos monstres de 180° ou en soignant l'un des leurs sur le point d'expirer. Plus vicieux encore, il existe des sorts pouvant modifier les attributions élémentaires des zones pour faire en sorte par exemple qu'une chimère de feu se retrouve dans l'eau et perde instantanément quelques-uns de ses précieux points de vie. The Eye of Judgment requiert donc beaucoup plus de jugeote que la simplicité du concept ne le laisserait supposer et les premières parties contre le CPU, même en mode facile, se solderont la plupart du temps par des défaites.

Les créatures apparaissent au-dessus de leur carte.
Bénéficiant d'un soin particulier, le design et les animations des créatures sont un véritable régal pour les yeux. Les scènes de batailles épiques soutenues par une bande-son déchaînée en sont d'autant plus vivantes et impressionnantes. Les nombreuses voix (malheureusement en anglais) contribuent parfaitement à accompagner la débauche d'effets spéciaux résultant des invocations et des différentes actions que l'on peut effectuer. Les menus sont clairs et permettent de choisir les diverses options ou la difficulté de l'adversaire avec aisance. Le joueur s'étonnera toutefois qu'il n'y ait pas de mode histoire ou de scenarii. C'est d'autant plus dommage qu'il existe un solide background contextuel. En présentant une carte à la caméra en mode info, on obtient d'ailleurs de nombreuses informations sur les créatures et leurs spécificités. On peut même voir d'où elles viennent sur une mappemonde. Mais au-delà de ce petit reproche, la principale interrogation porte surtout sur l'utilité fondamentale de ce croisement entre jeu vidéo et jeu de cartes à collectionner traditionnel. Certes, on peut utiliser sa PS3 pour arbitrer les parties IRL avec ses amis et tenir les comptes des points de vie des créatures et des divers paramètres en temps réel. Il est également possible de défier le CPU ou de jouer online quand on est seul. Cependant, sachant qu'il ne dispose que de 38 cartes dans le kit de départ, il est évident que le joueur passionné devra acheter de nombreux boosters dans le commerce s'il veut avoir une chance face à ses adversaires. Cela sent bon l'opération commerciale et au final, les joueurs devront dépenser des sommes astronomiques ou contrefaire les cartes pour pouvoir s'amuser. L'utilité de ce gadget technologique, certes fort bien réalisé, est donc laissée à la libre appréciation de chacun.