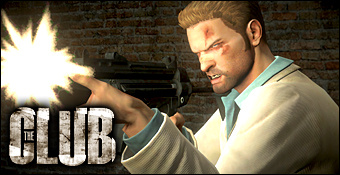 Allez, pour ceux qui n'ont pas lu la preview du mois dernier ou dont la mémoire n'excède pas la dernière grosse soirée du week-end, souvenez-vous. The Club est un tournoi underground financé par une obscure association pleine aux as dont le hobby consiste à regarder des types se dégommer la tête à la kalach. Pour ce faire, ils ont investi des sommes que l'on suppose astronomiques pour s'offrir des arènes dignes de ce nom. Ancienne prison, paquebot échoué depuis des lustres voir même carrément un quartier de Venise. Z'ont quand même vraiment rien à foutre les riches.

Il faudra faire bien mieux que ça pour terminer les niveaux de difficulté les plus élevés.
Et vous voilà donc, vous, illustre participant à ce tournoi absurde, prêt à vous rendre dans les 8 environnements de jeu accueillant les divers matches. Afin de clarifier un peu les choses, si vous recherchez un shooter sophistiqué et moderne, mieux vaudrait que vous alliez de suite voir ailleurs. Bizarre Creations, pour son premier jeu de tir, a choisi d'appliquer une formule proche de celle de Projet Gotham Racing qui donne à The Club des airs de shooter arcade supra old-school. Mais si on avait quelques doutes lors de la preview, il s'avère que la sauce prend assez bien. Quel que soit le mode de jeu pratiqué, le principe reste similaire. Une fois votre personnage choisi, on vous lance dans un niveau pour que vous y fassiez un carnage sur des types certainement très bien payés pour mourir. Chaque frag rapporte des points, le score prenant en compte les conditions du tir, longue distance, après une roulade, à travers une paroi, headshot etc. Ces points, ils sont acquis, en revanche, la jauge de combo a la vilaine habitude de se vider si vous n'enchaînez pas les exécutions. Alignez 4 ennemis à la suite, et vous aurez un multiplicateur X4, traînez trop à descendre le cinquième et le combo commencera à redescendre ce qui vous nuira en fin de parcours, même si votre multiplicateur principal sera tout de même comptabilisé en sus du combo final. Quoi, je suis pas clair peut-être ?

Tirez sur les crâne secrets pour augmenter le score et faire remonter le Combo.
Il n'est alors pas difficile de comprendre que The Club est plutôt dynamique dans son genre. Evidemment, pour offrir un gameplay de ce type, on ne vous cachera pas que certains compromis sautent aux yeux. L'IA en premier lieu est assez navrante et les ennemis sont généralement placés au même endroit, de même que les bonus cachés. La raison en est simple, comme PGR, The Club est un jeu à high-score. Connaître les parcours par coeur et s'entraîner à réaliser les meilleures performances sont au coeur du titre. Comme en témoignent les 5 modes de jeu, tous très classiques dans leur esprit. Le mode Sprint reste le plus simple puisqu'il suffit de filer vers la sortie en suivant les flèches mais en assurant un score plancher variant selon le mode de difficulté choisi. Le mode Assaut, particulièrement ardu, vous place dans une zone délimitée à la craie et fait déferler sur vous des vagues d'ennemis. Si vous quittez la zone, vous avez 5 secondes pour y revenir avant d'exploser. Le Contre La Montre porte un nom suffisamment explicite, il faudra y faire deux ou trois fois le tour d'un niveau en temps limité. En Survie, et ben, vous tentez de survivre Enfin, le mode Dans Les Temps se présente comme une version chronométrée du Sprint. Et pour conclure, il vous restera le Match Simple où vous pourrez jouer à votre guise et le Sur Mesure qui permet de définir ses propres règles.

En Assaut, vous êtes cantonné à une zone que vous devrez défendre.
Après quelques heures passées sur la preview assez limitée du jeu, il n'était pas évident de voir en The Club un titre franchement prometteur. Pourtant au final, force est de reconnaître que même en ayant si peu d'esprit de compétition que même Mario Kart me rebute, The Club parvient à accrocher. La question étant de savoir pendant combien de temps. Pour réellement rentabiliser l'achat, assurez-vous en premier lieu d'être le genre de joueur prêt à s'investir et à parfaire sa maîtrise du parcours afin de pulvériser les scores. On est bien d'accord, c'est tout ce qu'il y à faire ici, marquer des points et frimer en les exposant en ligne. N'espérez même pas grimper sur une échelle, sauter ou utiliser un système de couverture. De plus, en ces temps de luxure graphique, The Club fait plutôt le choix d'une grande sobriété visuelle. Certes, les 8 environnements sont variés et originaux, en dépit d'une architecture finalement très semblable, mais d'un point de vue technique, le titre a bien du retard. Les textures ne transcendent pas, l'animation des personnages est carrément proche de celle d'un poteau téléphonique et le jeu ne joue pas la carte de la surenchère d'effets. Et tant qu'on en est à signaler les problèmes, il est fâcheux de constater quelques problèmes discrets mais réels de gestion des collisions lors des impacts. Même si la chose est peu visible et à peine dérangeante, dans un jeu de ce genre, ça fait toujours un peu tache.
Enfin, sachez que The Club embarque évidemment un mode multi comprenant des variantes du deathmatch en solo ou en équipe mais aussi d'autres réjouissances comme le mode Chasse où chaque équipe doit tenter de tuer la proie de l'autre. Le mode Assaut est également de la partie, avec une équipe en défense, l'autre en attaque. Bref, de quoi bien se distraire sans pour autant qu'il y ait de quoi renverser les ténors du moments. D'autant qu'il reste une question épineuse à résoudre, The Club saura-t-il fédérer suffisamment de joueurs pour assurer son avenir en ligne ?