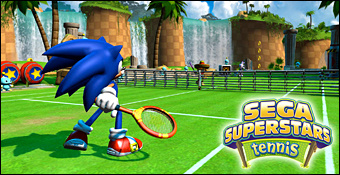 Ils sont seize à lorgner sur le titre de meilleur tennisman de la grande famille Sega. Huit jouables par défaut (Sonic, Tails et Dr. Eggman de l'univers Sonic, NiGHTS, Beat de Jet Set Radio, Ulala de Space Channel 5, AiAi de Super Monkey Ball et Amigo de Samba de Amigo) et huit à débloquer au fil des succès (Shadow, Amy de Sonic, Reala de NiGHTS, MeeMee de Super Monkey Ball, Gum de Jet Set Radio, Pudding de Space Channel, Gilius de Golden Axe et Alex Kidd). Une sélection assez dense et composée à partir de dix jeux ou séries qui ont contribué à bâtir la réputation de Sega telle qu'elle est aujourd'hui. A la manière d'un Mario Power Tennis, SEGA Superstars Tennis se présente comme un titre très accessible, très arcade et surtout largement orienté vers le multijoueur, en ligne ou sur la même machine. En effet, difficile d'imaginer investir dans ce titre pour se contenter de mater une IA qui demeure limitée en terme de variété de jeu, s'appuyant inlassablement sur les mêmes coups pour abréger les échanges. C'est bien à deux, à quatre ou à huit (en ligne et évidemment pas simultanément pour ce dernier cas) que le jeu avance le plus d'intérêt.

Ulala a la particularité de déclencher des tirs en forme de 5.
Lorsque l'on a affaire à un titre d'une telle simplicité de fonctionnement au niveau du gameplay, il devient délicat d'émettre la moindre critique. L'ambiance festive et colorée de matches colle parfaitement à une jouabilité basique au possible. Le seul reproche que l'on peut faire à la configuration des touches du jeu est de ne pas étaler les quatre coups principaux (lift, slice, amorti et lob) sur les quatre touches de couleur de la manette. Seules deux d'entre elles sont utilisées. L'une pour le lift, l'autre pour le slice. Une fois combinées et en fonction de l'ordre de pression sur le bouton, celles-ci permettent de réaliser des lobs et amortis. Un choix assez étrange, sans doute imposé pour complexifier légèrement le gameplay. Quoi qu'il en soit, les lobs et amortis n'ont qu'un intérêt assez limité dans la mesure où il est bien difficile de placer la balle à un endroit bien précis du terrain. Une course vers le filet ou vers le fond du court suffira à l'adversaire pour contrer votre tentative. On sera donc davantage tenté de bouriner ou d'utiliser les coups "Superstars". Il s'agit d'un coup spécial propre à chaque personnage et utilisable le temps d'un échange après avoir rempli la jauge prévue à cet effet. On note d'ailleurs un déficit d'efficacité de ces fameux coups spéciaux en fonction du tennisman. Par exemple, Dr. Eggman balancera des bombes quasi inévitables et Gilius des éclairs surpuissants pendant que d'autres devront se contenter de trajectoires de balles modifiées, comme Beat ou Ulala. Une option qu'il vous est possible d'activer, ou non.

Quand plusieurs personnages déclenchent leur coup Superstars, le court devient un vrai champ de bataille.
Par son côté arcade, SEGA Superstars Tennis s'appuie sur des mécanismes déjà connus de jeux de tennis du même genre. Une jauge de puissance pour le service, une balle qu'il est quasi impossible de faire sortir du court latéralement, des déplacements rapides, des plongeons salvateurs pour renvoyer des balles apparemment inaccessibles... Un gameplay prévisible et sans surprise mais pourtant très efficace, profitant d'une prise en main immédiate et d'un rythme relativement soutenu. Une constatation qui vaut pour les matches classiques mais aussi pour tous les mini-jeux du mode Superstars, utilisant chaque univers pour vous permettre de débloquer les huits joueurs supplémentaires. Le tout prend alors la forme de défis qui consistent par exemple à récupérer des bombes de peinture sur une moitié de court avec Beat, à pousser des boules en les frappant avec la balle avec AiAi ou à faire face à une horde de zombis dans l'univers de The House Of The Dead. En parallèle, le jeu comprend un mode tournoi étalé sur cinq matches (trois en double) en deux jeux gagnants, des matches exhibition en simple ou en double et surtout un mode Online qui peut accueillir jusqu'à 8 joueurs en tournoi. La durée de vie qui découle de ce contenu est relativement importante, ce qui permet au titre de trouver un certain équilibre, la répétitivité des matches ayant tendance à lasser plus vite qu'on ne pouvait l'imaginer.