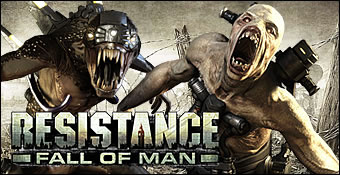 Ce qui est agréable avec Resistance : Fall Of Man, c'est qu'on peut trucider des ennemis sans se soucier de politique ou de droit international. Nos adversaires sont gros, rebutants, moches et belliqueux et le fait qu'ils furent autrefois des humains n'est qu'un détail. Au fond, comme dans tous les FPS, le scénario repose sur le postulat subtil suivant : "C'est eux ou nous !". Resistance : Fall Of Man tente toutefois d'injecter un semblant d'originalité dans son Blu-ray sous la forme d'un scénario atypique, toutes proportions gardées bien entendu. On nous conte ici l'histoire des survivants d'une sorte de vieille Europe remastérisée et tunée par les bons soins des scénaristes d'Insomniac Games. En effet, le jeu prend place en 1951, dans un monde qui n'a pas connu la Seconde Guerre mondiale ni même la Star Academy. Un monde où des savants russes un petit peu trop entreprenants ont lâché sur la population locale un virus tout bonnement monstrueux qui ferait passer une épidémie de gastro pour un des phénomènes les plus agréables de la condition humaine. Le virus, la Chimère, transforme son infortuné porteur en une sorte de casimir verdâtre recouvert de pustules, de crocs et de griffes pointues. Rendues très mécontentes par leur sort, mal indemnisées et impitoyablement exterminées par les autorités russes, les victimes décident donc en toute légitimité de déferler sur le monde et de répandre leur mal. Après plusieurs années de conflit, l'Europe est proche de l'anéantissement et la dernière bataille se joue sur le sol britannique.

Resistance aime les flammes et les explosions, vous l'apprendrez bien assez tôt.
Vous incarnez le sergent Nathan Hales, envoyé avec tout un contingent de soldats américains plus ou moins ignorants de la situation pour essayer d'aider la résistance. Mais vous vous retrouvez bien assez tôt plongé dans le cauchemar et devrez vous battre contre des ennemis supérieurs en nombre et qui disposent de plus d'une technologie étonnamment avancée. Etrange mélange uchronique entre soldats de la Seconde Guerre mondiale et guerriers futuristes, Resistance tente de créer son propre univers, et y parvient finalement avec difficulté. Cette Angleterre des années 50, sous le feu et envahie par des créatures difformes est pourtant étrangement crédible. On retrouve les vieilles voitures d'époque que vous pourrez d'ailleurs désosser allègrement, comme beaucoup d'autres éléments du décor. Les panneaux publicitaires caractéristiques sont bien là tout comme les boîtes aux lettres de la poste royale. L'histoire est présentée sous la forme de souvenirs et de vieux documents collectés après la guerre, et si le travail scénaristique est cohérent, il ne parvient pas à insuffler cette petite étincelle magique aux niveaux du jeu. On est là, on apprécie mais on reste toujours conscient de la présence du sofa sous nos fesses rebondies et on ne se plonge véritablement jamais dans l'aventure.

Les ennemis tombent sous la mitraille, mais il faudra tout de même finir les derniers à la main.
Logiquement, ce qui vous frappera en premier sont les graphismes du soft. Attention, entendons-nous bien, ce ne sera pas forcément pour le meilleur. Alors que vous vous extirpez péniblement d'un cratère au tout début du jeu, vous serez peut-être frappé par les déplacements manquant de naturel de vos camarades. Les effets de lumière ne sont pas les plus fins qu'on ait pu observer à ce jour, et les textures ne sont pas toujours très fines non plus. Occasionnellement cependant, on découvrira quelques effets fort réussis, notamment lorsque les vitres volent en éclats. Resistance peut également se targuer de posséder un moteur physique solide et vous prendrez souvent un vilain plaisir à détériorer votre environnement comme un barbare, avec l'aide de vos petits collègues chimériens. Mais le fait est qu'on devient exigeant, surtout après avoir posé les yeux sur les poids lourds de la Xbox 360, notamment Gears Of War. Les décors urbains restent pourtant très jolis, les détails nombreux, mais c'est plutôt du côté du design général des personnages que la bât blesse. Vos ennemis ne sont pas très variés et semblent plutôt tirés d'une mauvaise série B. Leurs dents crochues et leur couleur verdâtre n'effraient pas. Et ça, c'est tout de même embêtant quand on est un monstre. Au fond, c'est comme si le titre d'Insomniac hésitait entre réalisme et caricature. Au final, l'univers de Resistance est sans doute la plus grande force du soft, mais aussi sa plus grande faiblesse. De fait, même si l'intensité des combats est bien présente, on aura souvent du mal à se sentir impliqué dans l'action.

Euh... oui... très bien, je repasserai.
Resistance : Fall Of Man fait pourtant tout son possible pour tenter d'immerger les joueurs et pour ce faire, lorgne allègrement du côté de Call Of Duty. Comme son modèle, le soft affiche de nombreux soldats qui s'étripent et meurent dans un boucan colossal. Vos alliés hurlent et font des commentaires obscènes, parfois sensiblement déplacés. Un sniper ne manquera pas, par exemple, de dire que "Si on s'en sort, je jure que je nagerai jusqu'en Australie pour demander à Cynthia de m'épouser". Sans moi mon gars. L'I.A. des combattants est d'ailleurs des plus basiques. On se met à couvert, on fait quelques pas chassés et on charge un peu trop, voilà qui suffit à présenter le comportement de la plupart des protagonistes. Dans Resistance, les explosions sont pléthoriques et le jeu ira même jusqu'à emprunter l'effet de flou et de son assourdi de Call Of Duty lorsqu'on se trouve trop près d'une explosion. Le titre ne s'embarrasse pas non plus d'objectifs compliqués. Tous les niveaux du jeu ne demanderont que d'être traversés et nettoyés de leurs habitants bactériologiquement déformés. Et là encore, c'est l'immersion qui en pâtit. On a bien souvent l'impression de traverser des niveaux, variés mais extrêmement linéaires, en se désintéressant de l'histoire.

Les Chimères savent aussi se servir de l'artillerie.
Au fond, Resistance : Fall Of Man fait un peu office de pot pourri des FPS récents, avec son contexte décalé, sa mise en scène inspirée du titre d'Infinity Ward ou plus récemment de Treyarch, avec tout de même beaucoup moins de séquences scriptées. Il tente parfois de jouer la carte de l'angoisse en vous plaçant dans des niveaux plus sombres, ou vous vous retrouvez seul avec pour seuls compagnons, votre fusil et votre lampe. Le tout est bien sûr accompagné de violons stridents dans la plus pure mode du cinéma d'épouvante. On sursaute quelques rares fois alors qu'on aperçoit brièvement un monstre qui traverse votre chemin quelques mètres plus loin, ou lorsqu'un ennemi nous agrippe et vous secoue comme un prunier. Il faut alors agiter le pad pour s'en défaire, et c'est bien là la seule utilisation que fait le soft du système de détection des mouvements de la PS3. Le titre tente ainsi de se donner des airs de Doom 3, mais son bestiaire ne lui permet pas vraiment de jouer dans la même catégorie. Enfin, on retrouvera quelques séquences qui évoqueront sans aucun doute possible Halo 1 et 2 et dans lesquelles Hales prendra les commandes d'un tank ou d'une jeep clairement inspirés des montures motorisées du Master Chief. Si ces références ne sont pas les plus mal choisies, le titre ne parvient jamais à surpasser ses modèles. Resistance est agréable et furieux, mais pas transcendant et encore moins innovant.
Un énorme gunfight...
Malgré ces défauts, Resistance : Fall Of Man est un jeu qu'il est assez facile d'apprécier. Notamment grâce à l'armement mis à votre disposition. A croire que les véritables héros de cette épopée guerrière sont vos armes, et non pas un Nathan Hales mal rasé et aussi chevelu que Fabien Barthez. De nouvelles armes s'empresseront de sauter dans vos bras musclés au détour d'un couloir, et ce dans presque tous les niveaux d'une campagne qui voleront près d'une douzaine d'heures de votre vie. Les engins de mort sont versatiles et tous agréables à utiliser, et sans trop en dévoiler sachez que vous pourrez, entre autres, tirer à travers les murs avec un projectile qui deviendra plus meurtrier à chaque obstacle traversé, ou encore user de grenades que n'aurait pas renié le gouverneur de Californie lorsqu'il n'était encore qu'un petit agent fédéral dans l'Effaceur. Apprendre à vous servir de vos nouveaux outils est sans doute ce qu'il y a de plus positif dans le soft.

Certains environnments sont somptueux.
Côté maniement, on reste dans le classique même si le soft prend quelques libertés avec votre barre de vie. Hales, voyez-vous, se fait tout de même infecter très tôt dans le jeu par la Chimère, qui lui octroie d'emblée une capacité de régénération incroyable, ainsi que deux beaux yeux couleur or du plus bel effet. Comme c'est souvent le cas, votre barre de vie remonte si vous ne vous faites pas toucher pendant quelques secondes, mais pas intégralement. En effet, quatre paliers divisent la jauge, et votre énergie ne remontera toujours qu'au palier supérieur. Le soft invite donc à la prudence, car plus vous encaisserez de tirs d'affilée, moins vous serez résistant pour la suite. En dehors de ça, les familiers des FPS trouveront leurs marques en un clin d'oeil. Grenade, tir primaire et secondaire, sauter, se baisser, tout est là. On sera même en mesure d'épauler son arme pour viser avec plus de précision. Cela aussi doit vous rappeler quelque chose non ?

Toi mon bonhomme, tu ne vas pas t'en tirer comme ça.
Bref, Resistance : Fall Of Man est un FPS solide dont l'univers ne plaira sûrement pas à tout le monde mais qui s'avère somme toute assez plaisant. D'autant plus que le soft s'améliore avec le temps. Les premières missions un peu tièdes laissent la place à des combats de grande envergure vers la fin. Tantôt répétitif, tantôt prenant, le soft emprunte avec plus ou moins de succès ce qui se fait chez les voisins. Resistance : Fall of Man trouvera certainement son public, un public qui aura de plus la possibilité de se retrouver sur le net pour des boucheries à 40, voire de faire la campagne en coopération sur le même écran.