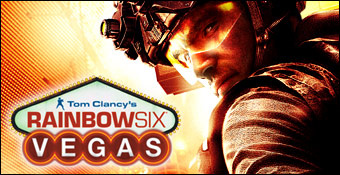 En voyant ce que préparait Ubisoft pour le prochain Rainbow Six, ma réaction fut un peu similaire à celle provoquée par mon premier contact avec Ghost Recon Advanced Warfighter (aka GRAW). Un mélange de doutes prudents voire réactionnaires qu'on pourrait résumer en ces termes, je cite : "gné ?". Grosse action, linéaire, une seule équipe de 3 hommes etc. Pourtant, force est de constater qu'une fois de plus, si Rainbow Six Vegas n'a plus grand-chose à voir son très tactique ancêtre, il n'en est pas pour autant un malheureux jeu d'action mass market au rabais. Après un niveau d'introduction un peu mollasson servant à introduire le scénario, vous voici parachuté en plein Las Vegas, la ville des casinos assiégés par une bande de fous de guerre aux intentions peu honorables. Fait notable pour la série, c'est la première fois qu'un Rainbow Six se dote d'un véritable scénario et d'une progression narrative très proche de celle de GRAW, en temps réel ou presque et visant à faire monter le jeu en pression dans une unité de lieu et de temps. Le lieu en l'occurrence, ce sont les casinos et les palaces de Vegas, un terrain de jeu particulièrement jouissif et riche de couvertures et de couloirs de service bien pratiques. Car à l'image de Gears Of War, dont le gameplay est finalement assez proche, Rainbow Six Vegas va vous apprendre l'art de se mettre à couvert.

Au feu les gars, prenez les balles pour moi vous serez mignons.
L'action de Vegas se veut survoltée, enchaînant la progression furtive avec les scènes d'assaut aux amphétamines, le tout sur un rythme élaboré avec soin, posant à merveille la tension du jeu et contraignant le joueur à la plus élémentaire prudence. Et si le titre semble totalement linéaire de prime abord, on trouvera néanmoins quantité de voies secondaires permettant d'affronter les pires situations en limitant les risques. Ainsi, il ne faudra pas être un fin limier pour saisr que l'entrée le plus évidente (la principale) est sans doute la mieux gardée et que pénétrer tout à trac dans une pièce sans avoir l'idée de lancer son équipe par une porte et vous par l'autre est stupide. De même, le plus lent des benêts comprendra rapidement que pour grimper 5 étages blindés d'ennemis en colère, emprunter des escalators surexposés n'est pas la meilleure des approches alors qu'une petite porte discrète donne accès aux escaliers de service, idéaux pour prendre tout ce monde à revers. En somme, retenez donc qu'en matière de level design, Rainbow Siw Vegas fait plutôt fort, ce que l'on constate lors des combats, où tout semble mis en place pour nous mettre dans des situations complexes.

Le tir au jugé, pratique pour forcer les ennemis à se baisser, en théorie du moins.
Il faudra donc apprendre à composer et avant tout à se cacher. Pour ce faire, R6 : Vegas a recours à la méthode Gears Of War. D'une pression sur la gâchette gauche, vous plaquez votre personnage contre toute surface protectrice, passant du même coup d'une vue subjective à une vue à la troisième personne. Il reste alors à faire feu en veillant à ne pas se dresser en pleine rafale ennemie, bien évidemment. D'ailleurs, pour calmer les ardeurs d'en face, il est possible d'effectuer un tir en aveugle, mais sans possibilité de viser, tout juste d'appliquer une direction globale, il ne s'agit pas de faire un headshot de couard, mais de tenir l'ennemi à distance, ce en quoi on s'éloigne du jeu d'Epic. Mais qu'on ne compte pas s'en sortir aussi aisément. Il faut fréquemment changer de position, progresser pendant le combat, savoir couvrir ses hommes pendant qu'on les envoie un peu plus avant ou prêter attention aux terroristes susceptibles de nous prendre à revers, sans parler des nombreux scripts de mise en scène faisant intervenir renforts inattendus et embuscades en tout genre. En dépit d'une action digne d'un Call Of Duty, R6 : Vegas parvient à conserver un aspect tactique et les erreurs ou imprudences se paient souvent assez chers. En fait, tout dépendra de votre promptitude à les corriger. Vos alliés pour leur part peuvent être réanimés indéfiniment si vous êtes rapides à leur injecter la potion magique qui fait sortir les balles et cicatriser les blessures, mais en ce qui vous concerne, vous disposez de deux choix. En mode Normal, vous pouvez encaisser un nombre limité de coups avant de devoir vous mettre à l'abri et patienter le temps de faire remonter votre santé pendant qu'en mode Réaliste le nombre de coups tolérés est bien moindre.

Des "flash info" vous tiennent au jsu scénario.
Plaquage au mur, prise d'assaut, tout ceci passe par un ensemble de choix tactiques, de mouvements et d'ordres. Vegas offre un panel stimulant de mouvements dont la descente en rappel est la plus amusante, bien qu'un peu redondante mais permet de se faire un petit plaisir en dégringolant le long d'une paroi pour entrer en défonçant les vitres. Mais ce sont surtout nos rapports avec nos équipiers qui comptent. On trouvera donc la classique gestion des règles d'engagement, soit furtif (tir de riposte uniquement) ou assaut (tir à vue), garder la position ou se regrouper sur le leader, le tout suivi des ordres contextuels. En pointant un lieu, on y envoie le reste de l'équipe, si vous pointez une porte, il se positionne pour préparer un assaut. Ici, les choix habituels s'offrent à vous, entrer et nettoyer, flash et nettoyer, frag et nettoyer. Avant cette étape, il conviendra de jeter un oeil sous la porte pour voir à quoi s'attendre et, au besoin, désigner aux équipiers quelques cibles prioritaires. Des possibilités inutiles si l'I.A. ne se montre pas à la hauteur. Globalement, c'est le cas, s'il arrive parfois que nos hommes restent plantés, la chose est rare et ils savent se mettre à couvert, visent bien mais pas comme des robots (comprendre qu'ils ne feront pas le travail à votre place) et évitent toujours de rester dans vos pattes. Côté ennemis, la hargne prime sans rendre stupide pour autant et on est heureux de constater une certaine mobilité, voire, des comportements retors. Une fois de plus même si l'aspect tactique peut sembler moindre que dans Raven Shield sur PC, Vegas est loin d'être facile si on se rue dans l'action, en mode Réaliste en particulier. Cependant, l'I.A. ennemie n'est pas parfaite et commet parfois des bourdes énormes, il arrive trop fréquemment qu'on observe des terroristes ne pas réagir au début d'une fusillade. Du correct au simplet, il n'y a souvent qu'un petit pas.

En marquant les ennemis les ennemis, vous indiquez les cibles prioritaires à vos équipiers.
Malheureusement, on n'évite pas quelques frustrations. A commencer par celle provoquée par ce stupide système de checkpoints en lieu et place de sauvegarde en bonne et due forme. Lorsqu'on a le malheur de tomber sur une zone un peu plus ardue que les autres, le risque d'avoir à faire et refaire plusieurs fois les mêmes sections de niveau est important, et franchement gavant. Un système de quicksaves limitées par niveaux eut été, me semble-t-il, bien plus approprié que celui des checkpoints qui paraît rallonger artificiellement une durée de vie qui n'excède pas 8 heures. Mais qu'importe, car l'autre frustration vient du manque de possibilité tactiques dû au petit nombre d'ordres disponibles. A titre d'exemple, en situation normale, il est impossible d'ordonner un lancer de grenade, ce qui est fort ennuyeux lorsqu'on en manque et que l'on découvre avec stupeur que le seul domaine où nos équipiers commettent des bévues semble être l'usage de ces dernières, souvent lancées n'importe comment. Jamais de façon dangereuse, mais généralement de façon inutile. Autre source de désagrément, la relative redondance de l'action bien dissimulée sous une habile mise en scène. Mais dans les faits, on passe énormément de temps à répéter des assauts très similaires et à l'approche tactique qui ne varie guère (entrée par deux portes, aveuglement, contournement).

Les affrontements laissent leurs traces dans les décors.
Un écueil que l'on corrigera avec le mode Coop à quatre joueurs (oui, un de plus que l'équipe du mode solo) qui tourne à merveille et rehausse considérablement l'intérêt tout en rallongeant la durée de vie rikiki de la campagne. De manière générale, Rainbow Six Vegas est une valeur sûre du multijoueur, offrant 6 modes de jeu praticables à 16. Si tous les modes ne sont pas égaux en qualité, la conservation des mouvements tactiques du solo et de son intensité, ainsi qu'un arsenal complet mais dont la disponibilité est fonction de votre classement, garantissent des parties rythmées et un caractère hautement addictif. Et il faudra en passant citer les ajouts apportés à cette version PS3 du jeu, à savoir le contenu des packs téléchargeables de la version Xbox 360 directement intégrés ici et le recours au Sixaxis dans la gestion de la caméra serpent. Une option parfaitement incontrôlable et qu'on aura tôt fait de désactiver dans le menu.
Au final, Ubisoft nous livre avec Rainbow Six : Vegas un gros jeu d'action tactique qui a pris ses distances avec ses origines plus posées sans pour autant sombrer dans un mercantilisme qui en aurait fait un soft au rabais. Relativement dur, intéressant et immersif, Vegas séduit, malgré quelques défauts parfois irritants mais que le multijoueur comble à merveille.