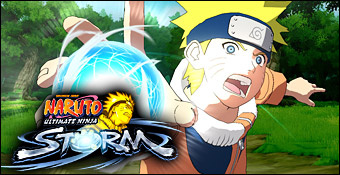 Le but affiché de ce Naruto : Ultimate Ninja Storm est avant toute chose de proposer une expérience plus ou moins similaire à celle de Rise of a Ninja. On ne sera donc pas étonné de retrouver ce mélange d'aventure, d'action et de combat via deux modes de jeu bien distincts : Combat libre et Mission Ultime, ce deuxième correspondant au mode Histoire. Néanmoins, comme nous le verrons un peu plus loin, ce deuxième choix n'a pas grand-chose d'ultime nonobstant quelques bonnes idées et une durée de vie conséquente. Mais ne mettons pas la charrue avant les boeufs et penchons-nous directement au dessus du Combat Libre.
Tout d'abord, soyons clairs. L'orientation de Ultimate Ninja Storm est différente de celle de Rise of a Ninja. Ainsi, on sent dès les premières minutes que les développeurs ont cherché à tout prix à rendre leur jeu le plus accessible possible. De fait, les puristes des jeux de baston ne trouveront sûrement pas leur compte dans ce titre constitué à plus de 80% d'affrontements. A contrario, les fans du manga et de l'anime devraient être aux anges. D'une part, comment ne pas se frotter les mains en constatant le nombre de personnages jouables. Pas moins de 25 combattants auxquels une poignée d'autres devraient être bientôt disponibles par le biais du online. Pour l'heure, on y trouve Kakashi, Jiraya, Sasuke, Lee, Neji, Tenten, Choji, Shino, etc. Du coup, dommage de constater avec un tel panel de fighters qu'il n'y ait pas de multi online. On devra alors se contenter de 1V1 avec un ami. Malgré tout, même en solo, les combats témoignent d'un tel dynamisme qu'il est difficile de ne pas adhérer. Ceci tient en grande partie au fait que vous pourrez bénéficier de deux personnages de soutien (à choisir parmi les combattants) durant l'affrontement.
Ce choix s'explique principalement, à mon sens, par un faible nombre de coups qui ne permet d'utiliser qu'un ou deux combos, une projection, etc. Toutefois, en concentrant son chakra, vous serez à même d'effectuer plusieurs attaques, une ruée pour déborder votre adversaire ou des techniques secrètes. Dans tous les cas, on pourra déplorer que l'utilisation de vos partenaires ou de vos pouvoirs soit trop facile. En effet, la concentration de ninjitusu est rapide ce qui permet d'abuser des attaques spéciales lors d'un combat. Et sachant que pour les réussir, vous n'aurez qu'à appuyer plus rapidement que votre adversaire sur une succession de touches à l'écran, vous aurez quasiment 100% de chances de vider au moins une barre d'énergie de votre opposant tout en assistant à une mise en scène généralement superbe. Par contre, contre un adversaire humain, cela devient beaucoup plus corsé et par là-même intéressant. Pour vos partenaires, c'est du pareil au même, une simple pression sur le bouton L1 ou R1 étant nécessaire afin que ceux-ci attaquent votre ennemi. Il suffira ensuite d'attendre quelques secondes avant de pouvoir appeler à nouveau votre personnage de soutien. Enfin, on signalera la possibilité d'utiliser plusieurs objets (prédéfinis selon le combattant) associés à la croix de direction afin de lancer par exemple des talismans magiques ou des couteaux.
Quoi qu'il en soit, si le tout peut paraître limité et parfois confus, on est tellement proche de ce qu'on peut voir dans l'anime qu'il est difficile de pester. En effet, CyberConnect 2 a opté pour un système de caméra assez original puisque restant bloqué au premier plan. Ainsi, si votre personnage est au fond de l'arène, la caméra ne se positionnera pas dans votre dos. Le tout déconcerte lors des premiers combats mais on s'y fait rapidement. L'idée est bonne surtout qu'elle permet de profiter pleinement des rixes qui peuvent parfois accueillir jusqu'à 6 combattants, personnages de soutien compris. De plus, la possibilité de se battre sur plusieurs plans accentue encore un peu plus l'immersion. De fait, outre le combat sur la terre ferme ou dans les airs, durant quelques secondes moyennant un combo aérien, vous pourrez poursuivre l'affrontement sur un mur ou une falaise délimitant l'arène. La caméra changera alors d'angle pendant que les fighters continueront leur pugilat. Déroutant mais plutôt ingénieux.
Ce qui l'est moins en revanche est le mode Aventure qui n'en est finalement pas un. Certes, vous évoluez dans le village de Konoha, pourrez effectuer plusieurs quêtes annexes mais ce qui lui manque le plus est un semblant de mise en scène. En fait, vous ne pourrez jamais sortir du village, à l'inverse de Rise of a Ninja ou Broken Bond, ce qui induit une très forte sensation d'isolement, d'enfermement. En somme, la seule façon que vous aurez de vous échapper sera d'accepter des missions. Celles-ci, de plusieurs types, sont liées ou non à l'histoire, à votre temps de jeu, à l'acquisition totale de techniques, de nouilles à ramener à Ichiraku, etc. Chaque mission nécessitant un nombre d'EXP pour être tenté, vous devrez parfois réussir des missions libres avant de pouvoir tenter la prochaine mission faisant avancer le scénario. Malheureusement, aucune cinématique n'est visible à l'horizon, seul un texte qui fait office de prologue à chaque mission rattachée au scénario, étant visible. Un peu léger et surtout très frustrant malgré le fait que l'histoire aille beaucoup plus loin que celle de Rise of a Ninja puisque s'arrêtant au combat opposant Sasuke à Naruto. En somme, le mode Histoire n'existe principalement que par le nombre conséquent de bonus à récupérer à commencer par des musiques, des portraits ou des dioramas. Le reste s'articule autour de quatre sortes de missions : les combats en 1V1, les combats contre les boss (s'apparentant davantage à de gros et somptueux QTE) et deux types de courses. A ce sujet, on ne pourra nier l'influence des Naruto d'Ubi. En effet, la première course, dans une forêt où vous devrez sauter de branche en branche, renvoie à celle de Rise of a Ninja en se payant le luxe d'être aussi gonflante que son modèle. Le deuxième type de course, lui, se base sur le même principe (récolte de boost et objectif à atteindre en un temps limité) mais se déroule sur un gigantesque arbre que vous devrez gravir à toute allure en évitant soigneusement les innombrables branches. On pourra aussi rajouter des parties de cache-cache durant lesquelles vous devrez parler aux habitants du village afin d'affiner vos recherches et trouver l'espiègle Konohamaru.
Bien sûr, vous devrez écumer chaque ruelle de Konoha pour trouver des ryos (pour l'achat de bonus), des coffres à trésor ou des parchemins (histoire d'obtenir des nouvelles techniques) mais après quelques heures, l'intérêt du mode s'effondre. C'est d'autant plus vrai qu'on eut apprécié une map plus lisible, avec une iconographie plus précise, les échoppes étant représentées par un pictogramme uniforme n'aidant pas trop à situer le magasin de souvenirs, de fleurs, etc. Au final, ces pérégrinations ne serviront qu'à mettre à profit vos talents de ninja comme le lancer de shuriken ou le canon Naruto, sorte de catapulte moderne réclamant une bonne dose de chakra. Malgré tout, si l'absence de mise en scène ne vous gêne pas, sachez que vous aurez une centaine de missions à boucler, ceci réclamant un bon paquet d'heures. Bref, difficile de départager Rise of a Ninja et Ultimate Ninja Storm même si ce n'est pas vraiment la question vu que les titres tournent sur des machines différentes. Toujours est-il qu'en étant plus ouvert et varié, Rise of a Ninja reste moins facile à prendre en main que Ultimate Ninja Storm qui joue davantage sur le côté fun et très spectaculaire de ses affrontements. Dommage que CyberConnect 2 ait délaissé le mode Aventure, bien planqué derrière la façade qu'est le village de Konoha. Pas de quoi fouetter un ninja surtout que la localisation nous propose des textes français soutenus par des doublages anglais ou japonais mais on attendait peut-être un peu plus de ce point de vue-là. Reste un très bon jeu, proche de l'anime dont il s'inspire et plus que jamais destiné aux fans de l'oeuvre originale.

L'impression de liberté offerte par la visite du village de Konoha n'est finalement qu'un leurre.

Une fois récolté les bons objets, vous pourrez profiter de plusieurs dioramas évoquant des scènes cul(tes) de l'anime.

Les courses dans la forêt deviennent irritantes et sans intérêt au bout de trois ou quatre parcours.

Difficile de prendre son pied dans le mode Aventure vu que les objectifs annexes manquent de piquant.

Les combats contre les boss tiennent plus des gros QTE mais diantre, quelle claque !