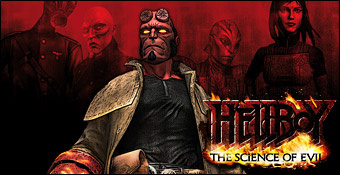 En premier lieu, sachez que le jeu n'a pas de scénario à proprement parler. Il s'agit en fait d'une succession de flash-back qui nous conduiront de par le monde, de la Roumanie en passant par le Japon. Au total six chapitres qui vous réclameront en moyenne une heure pour être bouclés. D'ailleurs, le premier point noir du jeu a trait à sa longévité factice synonyme de niveaux linéaires bien trop longs. A ce stade, on ne parlera même plus de redondance et de lassitude tant il est difficile de trouver la plus petite étincelle d'envie en parcourant les stages. Ceci dit, cette absence de sensations vient également du fait qu'on doit tout le temps se coltiner les mêmes genres d'ennemis qu'on battra inlassablement de la même façon. En somme, vous aurez droit à chaque niveau à un ou deux types d'adversaires spécifiques, certains étant parfois des "dérivés" d'ennemis rencontrés auparavant. Chapeau pour le manque d'ambition et de finition.
Si cette introduction vous a malgré tout donné envie de poursuivre, alors poursuivons. Comme je le disais, les combats, au centre de n'importe quel beat'em all, sont ici un des plus gros défauts du titre. Je sais, ce n'est pas très encourageant. Malheureusement, les développeurs n'ont semble-t-il guère été inspirés puisqu'on dénombre un nombre réduit de coups nous permettant simplement d'enchaîner quelques coups de poing (faibles et forts) ou de donner des coups de pieds. Pire, le mode Furie (disponible une fois qu'on aura rempli la jauge liée) est visuellement faiblard (seul un voile rouge à l'écran nous fait comprendre qu'on l'a activé) et on ne ressent pas vraiment un quelconque sentiment de puissance en l'utilisant. Il restera alors la possibilité de détruire une bonne partie du décor pour récupérer des armes de fortune comme des rochers, des troncs d'arbres, des tuyaux, etc. Si ça ne vous suffit pas, libre à vous de chercher les différents types de munitions pour votre Samaritain afin de faire plus rapidement le ménage. Enfin, "rapidement" est un grand mot puisqu'après chaque tir, Hellboy devra recharger son arme automatiquement. Dans ce cas-là, mieux faudra affaiblir vos adversaires puis placer un finish move histoire de récupérer son arme (massue, épée...). A ce sujet, mentionnons aussi le fait de pouvoir terminer brutalement un monstre une fois agrippé ou de le balancer dans les airs avant de le terminer via une action contextuelle pour retrouver un peu de santé.
En parlant d'actions contextuelles, il faut aussi savoir que Krome Studios n'a pas vraiment compris l'intérêt de la chose. Ainsi, pour eux, le fait de devoir constamment détruire des pans de murs ou des portes en tapotant une touche d'action se révèle fun. Malheureusement, c'est loin d'être le cas et devoir se taper ces actions une dizaine de fois par niveau agace et lasse. Même chose pour les boss qui n'ont généralement aucune classe et qu'il est possible d'achever grâce auxdites actions qui se montrent tout aussi inintéressantes que celles mentionnées plus avant. De plus, si on y rajoute des séquences inutiles (celle de la destruction de la pagode atteignant des sommets d'idiotie), une localisation succincte, qui nous permet malgré tout de profiter de la voix de Ron Perlman, des bugs de collision et des bonus peu stimulants à débloquer, que nous reste-t-il donc ? Eh bien un mode multi mes bons amis, en écran splitté ou en online. Oui, mais sachant que ce mode nous propose uniquement de reprendre l'aventure solo avec un ami (le second joueur incarnant Liz Sherman ou Abe Sapien), vous comprendrez qu'on passera vite à autre chose. Ne tergiversons pas, Hellboy The Science of Evil est un titre inutile, sorte d'antithèse aux phantasmes cinématographiques de Del Toro, qui n'arrivera probablement jamais chez vous, ce qui constitue finalement le seul point positif de ce test.

Les armes à feu peuvent servir pour affaiblir rapidement vos ennemis.

L'art et la manière de flinguer un jeu en un type d'actions contextuelles.