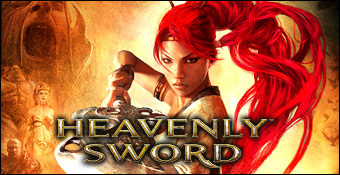 Le titre nous conte l'histoire de Nariko, une jeune femme dont le clan est chargé de protéger la légendaire Heavenly Sword, l'épée des dieux. Pourchassés par Bohan, un ignoble tyran désireux de mettre ses paluches crasseuses sur l'arme divine, Nariko et les siens se retrouvent rapidement dans une situation fort délicate. Voyant sa famille et ses amis encerclés par les sbires pléthoriques de Bohan, Nariko finit par prendre une décision qui scelle son destin, et accessoirement celui du Monde. Elle choisit en effet d'empoigner l'épée interdite pour défaire ses ennemis, une épée qu'aucun mortel n'a le droit d'utiliser sans le payer de sa vie. Nariko se sait condamnée mais ne renoncera pas avant d'avoir vaincu les légions de Bohan. Bref, il est évident que le scénario d'Heavenly Sword ne brille pas par son originalité. Mais malgré ce pitch de départ ultra classique, la plupart des joueurs ne pourront qu'être envoûtés par la puissance et l'incroyable beauté des cinématiques, réalisées intégralement avec le moteur du jeu. Heavenly Sword nous offre en effet une tripotée de scènes superbement stylisées mettant autant en valeur la plastique irréprochable de Nariko que l'univers dans lequel elle évolue. Un univers féerique aux décors majestueux qui emprunte beaucoup à la Chine ancienne pour se forger une identité. Heavenly Sword a clairement bénéficié d'un soin tout particulier dans ce domaine, et rarement dans un jeu vidéo, il nous aura été donné d'observer des visages aussi expressifs. Remercions donc encore une fois Andy Serkis, qui après avoir mis son talent au service de Gollum et de King Kong dans les films de Peter Jackson, endosse cette fois le rôle du grand méchant d'un jeu vidéo.
Au fond, ce qu'Heavenly Sword ne possède pas en matière de créativité scénaristique, il le compense aisément par sa beauté assassine. Un constat, qui reviendra malheureusement sous diverses formes dans les lignes qui suivent. Cessons donc dans l'instant de déblatérer sur l'indéniable réussite esthétique que le titre représente, car il nous faut maintenant trancher dans le vif du sujet et décrire ce qui se cache sous ces somptueux atours. Heavenly Sword se présente sous la forme d'un beat'em all rageur et violent qui lorgne allègrement du côté de God Of War pour tenter de nous séduire. Mais là où Kratos enchaîne les combats et les séquences ultra variées et intelligentes, Heavenly Sword se contente d'une structure très linéaire et de quelques pseudos trouvailles qu'il resservira au joueur jusqu'à épuisement. Au cours de leur aventure, Nariko et Kai (une autre jeune femme dont le comportement et les déplacements rappellent ceux d'un chat) enchaîneront donc les combats dans des arènes fermées, les traversées de couloirs plus ou moins habités pour finir par se heurter à des boss qui n'ont clairement pas la trempe des adversaires de Kratos. Le tout est entrecoupé de manière plutôt malhabile par des séquences grand spectacle de tir à l'arbalète, au bazooka (si, si !) dans lesquelles la manette Sixaxis fait régner sa loi dans la douleur. On découvrira également quelques saynètes d'action contextuelle à la God Of War (hé oui, encore) qui heureusement sont beaucoup mieux agencées et calibrées que lors de la preview.
"Mais quand va-t-il enfin causer des combats ?" hurlez-vous sans doute devant votre écran. J'y viens mes bon amis, j'y cours même. Les combats d'Heavenly Sword sont à l'image du scénario, c'est-à- dire stylisés à l'extrême, envoûtants mais un petit peu trop creux. Sans la profondeur ni la technicité d'un Ninja Gaiden Sigma ou d'un Devil May Cry, le titre n'est pourtant pas aussi accessible que God Of War. Il se situe quelque part entre les deux et ne trouve pas véritablement son équilibre. Nariko dispose de trois techniques différentes, trois façons d'utiliser sa lame céleste entre lesquelles il faudra constamment jongler afin de pourfendre les vagues successives d'ennemis. La première est la position de base, l'épée est alors scindée en deux lames distinctes qui offrent une portée moyenne et provoquent des dégâts modérés. La seconde voit l'arme se transformer en un gigantesque hachoir que n'auraient sans doute pas renié certains personnages de FF. Là, les mouvements de Nariko se feront plus lents, mais ses coups seront nettement plus dévastateurs. Enfin, la troisième technique évoque une nouvelle fois ce bon vieux Kratos, puisque notre sublime amazone pourra ainsi faire tournoyer deux lames à l'aide de chaînes, pour se protéger des coups ou de certains projectiles et repousser les adversaires.
Chaque technique a ses avantages et convient généralement mieux à un type d'ennemi précis (ces derniers n'étant d'ailleurs pas très variés). Le système de jeu repose essentiellement sur une bonne petite panoplie extensible de combos et de contres relativement faciles à mettre en oeuvre, et qui s'enrichissent de quelques finish ultra violents, pour peu que vous ayez rempli votre jauge de force. Pour cela, il faudra tout simplement enchaîner le plus de coups possibles sans vous faire toucher. On usera du stick droit pour les esquives, et des boutons de tranche pour changer la forme de l'Heavenly Sword. Certains coups nécessiteront même l'usage du système de détection de mouvements de la manette. Ainsi, certaines prises, aériennes pour la plupart, vous demanderont de lever le pad vers le haut pour se déclencher. Projetée dans les airs par un mauvais coup, Nariko aura tout de même le moyen de se rétablir et d'attaquer son agresseur pour peu que vous secouiez le pad à temps. Bref, il faudra du réflexe pour profiter de ces ajouts sympathiques mais pas fondamentalement indispensables.
Ce ballet mortel est un véritable ravissement, mais on ne sentira jamais véritablement en contrôle de l'action. Bourriner comme un sagouin est souvent aussi efficace que de tenter des manoeuvres plus subtiles. Le hic, c'est que beaucoup de joueurs finiront inévitablement par se désintéresser des nouveaux coups, acquis progressivement dans l'aventure, pour se contenter des mêmes séries de mandales. C'est donc véritablement au joueur de se forcer, de s'imposer une certaine discipline afin de se modeler sa propre expérience. Le jeu nous invite d'ailleurs à rejouer plusieurs fois un même niveau afin d'améliorer son score et ainsi acquérir de nouvelles combinaisons. Une fois le jeu terminé, ce qui ne prend malheureusement qu'une huitaine d'heures, vous pourrez même débloquer un ultime mode de difficulté qui pour le coup, départagera véritablement les matraqueurs de boutons des techniciens hors-pair. Mais si le système de combat du jeu trouvera donc ses adorateurs et ses détracteurs, les niveaux que l'on passera en compagnie de Kei et de son arbalète risquent de frustrer la majorité. Dans ces sections, il s'agira généralement d'orienter votre arme à l'aide du stick gauche, de lâcher votre projectile, puis de contrôler sa trajectoire en profitant du système Sixaxis. Et là, c'est le drame. Le système est affreusement imprécis et fait exploser le joueur en rage plus qu'il ne le divertit. Certes, avec beaucoup de pratique et de concentration, on finira par loger des flèches dans tous les crânes de la galaxie. Mais Heavenly Sword se fait une joie de vous resservir ce type de séquences à tout bout de champ. A croire que les développeurs Ninja Theory étaient tellement satisfaits de leur trouvaille qu'ils n'ont pu s'empêcher de la ressortir. Et franchement, ça devient rapidement usant. D'autant que plus on avance dans le jeu, plus ces scènes deviennent torturées et compliquées.
Heavenly Sword est une aventure épique, un beat'em all violent et racé, mais dont l'aura s'estompe par intermittence. Tantôt jouissif et accrocheur, il devient frustrant et injouable au détour d'un couloir. Sa structure éminemment classique, sa linéarité édifiante, ses combats stylés mais mal équilibrés, ses fausses idées originales (avec le Sixaxis notamment) et son scénario convenu contribuent à émousser la lame divine. Heavenly Sword semble privilégier la forme sur le fond, et est donc loin de s'imposer comme la référence absolue que tout le monde espérait.

Les finish sont aussi jouissifs que cruels.

Les deux héroïnes de cette aventure sont très différentes.

Finissez toujours les adversaires tombés au sol.

Avec le Sixaxis, cette opération peut devenir un vrai calvaire.