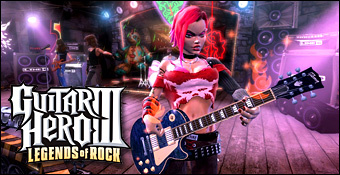 Finalement, le meilleur volet de Guitar Hero n'aura pas été développé par Harmonix. Car, mettons fin au suspense, Guitar Hero 3 supplante ses aînés, de peu certes, mais tout de même. Il faut dire que la formule n'a guère évolué, pour ne pas dire qu'elle reste inchangée à l'exception de quelques améliorations discrètes et ajouts pas nécessairement indispensables. Le premier changement de taille apporté par cette troisième édition est évidemment l'abandon partiels des reprises parfois pataudes des volets précédents. Activision met la main au portefeuille sans oublier de rappeler à quel point la popularité de Guitar Hero en fait un support publicitaire incontournable et du coup, on se retrouve avec près de la moitié de la tracklist composée de morceaux originaux, sans chanteur risquant une périlleuse imitation de l'interprète original et sans solo déviant un peu trop de nos souvenirs. L'inconvénient, c'est que par contraste, les reprises toujours présentes n'en paraissent que plus regrettables, inévitablement. Composée, donc, de titres dont l'intégrité n'a que peu souffert, la nouvelle playlist du jeu est une pure merveille, parfaitement équilibrée entre les styles musicaux et les approches techniques. Rock, Alternatif, Metal, Blues-Rock, l'amateur de sonorités électriques est gâté non seulement par la variété de styles mais aussi par les dignes représentants retenus par Neversoft et payés par Activision.
Je vous renvoie évidemment à la liste complète citée dans les news mais comment ne pas évoquer quelques noms au hasard lorsqu'on voit le classic rock des années 60/70 représenté par Cream et son incontournable Sunshine Of Your Love, le Seeker des Who ou le cultissime Paint It Black des Stones ? Le tout secondé par Santana (Black Magix Woman), Aerosmith (Same Old Song And Dance) ou Alice Cooper (School's Out). Autre période phare, celle du rock alternatif des années 90 où s'illustrent les Smashing « tout à fond » Pumpkins avec Cherub Rock, Pearl Jam (Even Flow), Sonic Youth (Kool Thing) ou encore la richissime fusion de Rage Against The Machine (Bulls On Parade). Plus près de nous, on comptera sur les excellents Queens Of The Stone Age qui cèdent leur récent 3's & 7's ou Living Colour avec Cult Of Personality. Et bien sûr, les métalleux ne sont pas oubliés et auront tout le loisir de poser leurs shreds sur le manche. On ne prendra pas de risque en avançant que la BO de ce troisième volet de Guitar Hero est une réussite totale.
Reste à voir les détails techniques. En matière de gameplay, les apports ne sautent pas aux yeux mais sont bien présents. Subtilement, on perçoit une meilleure approche rythmique sur de nombreux morceaux pour un jeu qui se montre de plus en plus fidèle aux sensations d'un vraie guitare, surtout du côté de la main droite. Dans ce même esprit, les hammer on et pull off voient leur usage encore assoupli et deviennent bien plus naturels et simples à effectuer, de nombreux titres comportent d'ailleurs de gros enchaînements de ces notes que l'on ne joue que d'une mimine. Ce qui n'est pas un mal puisque l'intensité des titres atteint souvent des sommets, le niveau de difficulté du jeu ayant encore pris de la hauteur.
Voilà pour le côté subtil, reste à se pencher sur les ajouts plus voyants, à commencer par le moins intéressant, pour ne pas dire de trop : les boss. Au nombre de trois, dont Tom Morello, le prodige expérimental de RATM et Slash, monsieur Gun's Roses, ces boss interviennent dans une phase de jeu particulière qui pourra par ailleurs se pratiquer en mode Versus. Le duel de guitares consiste en un affrontement sur un titre inédit au cours duquel le Star Power se voit remplacé par des bonus d'attaque. Cordes qui cassent, ampli qui crame, vibrato en vadrouille sont les saletés que l'on pourra s'envoyer à la tronche de façon à déconcentrer l'adversaire. Tout juste amusant à deux joueurs, ce mode apparaît complètement déplacé au milieu d'un mode carrière, d'autant qu'il ne consiste qu'à envoyer un malus au moment précis où l'adversaire, bien plus fort que nous, s'apprête à collecter un bonus. Rien de très passionnant donc.
On n'en dira pas autant du mode coop qui se transforme en mode Carrière Coop des plus sympathiques. Seul hic, cet ajout ne s'accompagne pas d'un mode Coop simple et pour jouer un titre à deux, il faudra donc d'abord l'avoir débloqué en Carrière à quatre mains. Un détail qui pourrait être corrigé via un patch si votre console est connectée en ligne. Ce qui ne serait pas un mal puisque le mode multijoueur est désormais jouable online, en coop ou dans l'un des modes duels classique ou Battle (inspiré des boss).
Outre ces modifications ou ajouts de gameplay, Neversoft s'est également attelé à améliorer la présentation du jeu. Sur scène, cela donne un ajout conséquent d'effets ou d'accoutrements déjantés venant souligner l'attitude toujours aussi foldingue des gratteux en plein délire. On remarque surtout l'intégration de petites cut-scenes entre les différents niveaux du mode Carrière. Dans un style graphique qui ne manquera pas de rappeler celui de Gorillaz, ces saynètes illustreront votre progression dans le monde impitoyable de la musique, du garage à la signature chez une major. Une progression marquée par l'arrivée de nombreux sponsors, autant de publicités in-game pour quelques grandes marques de l'industrie musicale. Une présence à la limite de l'invasif parfois, soit-dit en passant. Voir les noms de grandes marques d'amplis ou de pédales d'effets, ça passe, mais on se serait volontiers passé des pubs pour du déodorant. Enfin, puisque nous en sommes à pointer les détails qui fâchent, Guitar Hero fait également sa première expérience de la baisse de framerate. Des ralentissements discrets mais aussi regrettable que dommageables pour le joueur qui peut alors avoir bien du mal à garder le rythme. Avouez que c'est fâcheux dans un jeu... De rythme.
Un mot, pour conclure, au sujet de la nouvelle guitare qui épouse cette fois les formes de la Les Paul. Bien plus confortable de par sa forme, elle est également un poil plus lourde (un hommage à son imposant modèle qui a démonté plus d'une épaule ?). Ses touches donnent également un sentiment de résistance accrue, de même que son vibrato, qui tient bien mieux en place.

La gestion des Hammer On et des Pull Off est un vrai bonheur.

Neversoft a un peu déluré le style graphique.
Les duels contre les boss sont passablement decevants.