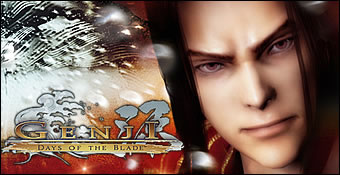 Rompu au "je m'en-foutage total", Game Republic saborde de lui-même sa propre franchise sur PS3 alors que le premier Genji avait pourtant su singer de bien belle façon Onimusha sur PS2, en y apportant quelques nouveautés de gameplay, un graphisme léché ainsi qu'un univers onirique. On peut donc se demander si Sony, à qui Game Republic appartient, n'a pas pressé les développeurs pour faire en sorte que leur next-gen profite d'un beat'em all connu du public le jour de sa sortie. Difficile à dire, même si cette possibilité reste plus que plausible, mais le résultat est là : Genji Days Of The Blade est un jeu qu'on aime détester, ce sentiment se renforçant de lui-même à mesure qu'on progresse dans des niveaux rectilignes, monotones au possible d'où émane une difficulté mal calibrée et d'énormes soucis de visibilité.
L'autre constat qui s'impose est qu'un beau jeu n'est pas nécessairement un bon jeu. Effectivement, Genji affiche de très jolis environnements et effets spéciaux et n'a aucun mal à multiplier les ennemis à l'écran mais sorti de là, que lui reste-il ? Pas grand-chose en vérité je vous le dis. Pourtant, ne soyons pas médisants et dressons un rapide bilan. Comme précisé dans ma preview, nous passons ici de deux à quatre personnages jouables, chacun ayant des armes différentes ainsi qu'une aptitude spécifique, généralement mise à contribution pour amener quelques "énigmes" dans la progression. De plus chaque héros, associé à une touche de la croix de direction afin d'être rapidement sélectionnable en pleine action, peut à tout moment opter pour une des deux armes que vous aurez au préalable sélectionnée par le biais du menu d'inventaire. Bonne pioche vu qu'à chaque arme est associé différents mouvements. En sus, il sera aussi possible de booster l'attaque desdites armes, ainsi que les HP de Yoshitsune Minamoto (le jeune premier), Benkei Mausashibo (l'homme fort du groupe), Gozen Shizuka (la jeune demoiselle imposée par les quotas) et Lord Buson (le grand ténébreux lui-même imposé par les quotas).
Les présentations étant faites, passons aux choses sérieuses afin d'énumérer les nombreuses tares du soft. Tout d'abord, attardons-nous sur l'écueil principal qui concerne les angles de caméra. En un mot comme en cent, c'est épouvantable. Dans 90 % des cas, l'objectif est mal placé (et bien entendu, il n'est pas question de pouvoir le recentrer manuellement), on ne voit absolument pas ce qui se passe à l'écran, la seule solution qui nous reste étant de nous fier à la mini-map pour savoir où se trouvent les ennemis. Tout bonnement incroyable. De fait, alors qu'il eut été très simple de surélever la caméra pour avoir une vue d'ensemble, les développeurs se sont entêtés à la planter au ras du sol afin d'être sûrs que le joueur s'arrache les cheveux en se prenant des volées de coups arrivant de toute part. Ceci m'amène à un autre souci, la difficulté. Si il est possible d'utiliser des objets de soin pour regonfler sa jauge de HP, le niveau de jeu reste honteusement élevé en nous obligeant à reprendre plusieurs passages à la mise en scène pathétique car s'appuyant principalement sur le nombre d'adversaires affichables.
En somme, on nous oblige à utiliser au mieux les parades et esquives (rattachées au stick droit) mais ça ne sert pas à grand-chose vu qu'on se bat le plus souvent à un (enfin quatre) contre quinze. La seule solution reste alors d'affronter des ennemis moins puissants pour remplir sa barre de Kamui, qui, une fois pleine, nous permet de figer le temps pour placer plusieurs combos en effectuant des actions contextuelles. Sachez également que certains boss utilisent le même procédé, ceci nous demandant alors d'appuyer au bon moment sur des touches d'action afin d'éviter de nous faire toucher. Mais tout ceci n'est que poudre aux yeux. Game Republic a beau accumuler les échauffourées en saupoudrant le tout d'effets visuels clinquants, les seuls sentiments qui ressortent de tous ces efforts sont l'énervement et l'ennui.

Une belle ambiance pour un jeu qui a malheureusement du mal à se faire aimer.

L'upgrade d'armes et des caractéristiques des persos reste un des points positifs du soft.

Benkei est un personnage extrêmement lent mais son attaque tournoyante peut parfois s'avérer très utile.