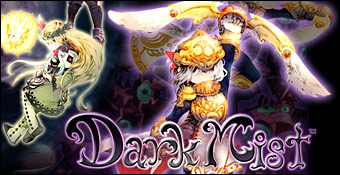 Une horde de monstres a englouti toutes les étoiles du ciel et a plongé la planète bleue dans les ténèbres. Armée de son arc de lumière, Artémis descend dans les profondeurs d'un temple pour renvoyer ces créatures d'où elles viennent. Tel est le scénario de Dark Mist, qu'on croirait issu d'un mauvais épisode de Sailormoon. D'ailleurs, avec son look de magical girl et le type de bonus qu'elle ramasse (étoiles, lunes, petits coeurs), le personnage d'Artémis semble sorti d'un manga pour adolescentes. Il est assez rare de voir un Dungeon-RPG viser un tel public. Le secret, c'est que Dark Mist n'en est pas vraiment un.
Pourtant, le principe du jeu est de déambuler dans des donjons en prenant soin de vider les lieux de leurs occupants. Le level-design évoque d'ailleurs immanquablement The Legend Of Zelda, avec sa vue aérienne (dotée d'une légère perspective), ses salles qui prennent tout l'écran, ses portes à déverrouiller, sa carte placardée à droite. Mais dès le premier donjon parcouru, le gameplay ne laisse planer aucun doute : c'est du shoot'em up. Telle la déesse de la mythologie grecque à laquelle elle emprunte son nom, Artémis est dotée de plusieurs arcs à la cadence de tir plus rapide qu'une gatling de FPS. Chacun dispose d'une attaque de base, ainsi que d'un coup spécial spécifique : l'arc bleu vous permet de lancer des bombes de lumière, l'arc vert une large salve de flèches et l'arc rouge un puissant rayon destructeur. Notre chasseresse se déplace tout en tirant sur les ennemis situés en face d'elle, ce qui rend d'ailleurs la visée fort peu précise, puisque la moindre tentative d'orienter le stick analogique s'accompagne d'un inévitable petit mouvement du personnage dans ladite direction. Il est possible d'appuyer sur L1 pour verrouiller momentanément le déplacement, mais cette fonction se révèle bien trop délicate à utiliser en situation. Au rayon des autres actions disponibles : une fonction de strafe, ainsi qu'un mouvement d'esquive bien pratique.
La particularité de Dark Mist - qui donne d'ailleurs son nom au jeu - c'est que les salles sont recouvertes d'une brume épaisse qui ne disparaît qu'une fois tous les ennemis vaincus. Certains coups spéciaux permettent de dissiper en partie cet épais brouillard, vous permettant de ne pas combattre à l'aveuglette. De toute façon, vous pouvez heurter la totalité des créatures sans qu'il vous en coûte. Le seul problème, c'est que si vous approchez trop près des petits monstres de base qui pullulent dans les donjons (et qui ressemblent étrangement à Tinky Winky, le Teletubby violet), ceux-ci risquent de grimper sur votre dos. Bien qu'il suffise d'agiter la manette Sixaxis pour s'en débarrasser, cela a pour conséquence de vous immobiliser de précieuses secondes, vous laissant à la merci des boules d'énergie lancées par leurs grands frères plus évolués (enfin, c'est ce qu'ils prétendent). Le bestiaire n'est pas le fort de Dark Mist : chaque nouveau monstre croisé n'est qu'une déclinaison de ceux déjà rencontrés. Seuls les boss, un tantinet plus originaux, apportent un peu de variété au gameplay très répétitif. On en croise tous les 3 niveaux, le jeu en proposant 12 au total, portant chacun le nom d'un signe zodiacal.
La dernière particularité de Dark Mist aura raison des plus coriaces d'entre vous : le jeu ne propose aucune possibilité de sauvegarde. Si vous passez de vie à trépas (ce qui risque de vous arriver régulièrement), vous disposez d'une option de "continue" pour reprendre à partir du niveau en cours. Vous pouvez en user et en abuser, mais sachez que si vous décidez de ne pas poursuivre l'aventure, il faudra la recommencer à zéro la prochaine fois. Ce choix peut paraître étonnant vu le public visé, mais il colle avec l'esprit somme toute très arcade du titre. Au final, Dark Mist peut s'appuyer sur deux points forts pour vous inciter à débourser les 8 euros nécessaires à son acquisition. D'une part, son indéniable originalité : un shoot'em up dans un donjon, c'est quand même une expérience assez atypique pour mériter d'être vécue. D'autre part, sa réalisation plus que correcte : malgré leur manque de variété, les environnements sont réussis et l'action est truffée de superbes effets de lumière colorés. Pour le reste, disons que le jeu a bien plus de chance de vous convaincre si vous êtes un représentant de la gent féminine.

"Par le pouvoir du crâne ancestraaal..." Ah non zut, je me trompe.

Bienvenue chez les Teletubbies.

Dans la brume, personne ne vous verra mourir.