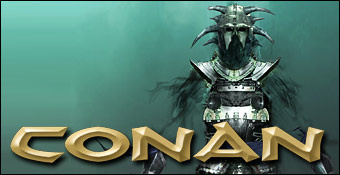 Inspiré des romans originaux qui ont donné naissance au personnage de Conan, le beat'em all que nous livre THQ ne s'encombre pourtant pas d'un scénario des plus développés. Qu'importe, tant qu'on du a bourre-pif, on saura bien se passer de décoration narrative. Le hic étant qu'en matière de bourre-pif, Conan a bien du mal à convaincre. Certes, c'est rigolo et défoulant, mais à petites doses tant tout ceci manque de punch. Reprenant des fondements devenus classiques, Conan nous propose donc de débloquer une belle panoplie de combos qui font tous usage d'une arme. Pas question pour notre barbare de se livrer à une vulgaire distribution de patates, non, ici on tranche élégamment dans le vif, avec toutes sortes de lames qui pourront être récoltées à même le sol, épées, sabres, cimeterres, haches, lances, tout y passe et s'emploiera de façon sensiblement différente. Certaines armes s'utilisant seules, d'autres à deux mains, d'autres encore pouvant être placées en mains gauche et droite. Reste alors à débloquer les multiples attaques en collectant de jolis orbes rouges. On ne se plaindra pas de ces coups dont certains ne manquent pas d'allure, se concluant par des décapitations, des corps tranchés en deux et des pirouettes élégantes qu'on n'imaginerait pas de la part d'un barbare avoisinant le quintal. Le tout ponctué de roulades que l'on dirigera avec le stick droit, libéré du contrôle de la caméra. Celle-ci est en effet gérée par le jeu, à la manière de God Of War ou d'autres beat'em all optant pour des angles de vue à vocation spectaculaire.
Dans son arsenal, Conan dispose également d'un peu de magie qui lui provient de son armure, 4 pouvoirs à employer en ramassant des orbes bleus cette fois et qui nous permettront par exemple de faire s'abattre une pluie de lave sur nos adversaires. Pratique lorsqu'on se voit submergé par l'ennemi. Avec tout ça, voilà un barbare bien équipé et prêt à traverser les turpitudes de sa vie de guerrier. Il en aura bien besoin puisqu'en sus de la piétaille ordinaire, il aura régulièrement à combattre des boss de bonne taille (genre démon éléphant) et devinez ce qui sera au menu à chaque fois ? Des actions contextuelles. Chaque boss répond à un schéma identique, il vous balance ses attaques, stoppe le temps que vous le frappiez, puis démarre une première série de Quick Time Events, on appuie sur A, puis sur B, sur X et on admire le spectacle avant de se lancer dans une nouvelle série d'attaque/repos/attaque/QTE. La question est alors : suffit-il d'intégrer des QTE dans ses boss pour en faire de bons boss ? Non, ça ne suffit pas. Les boss de Conan sont un poil mous, relativement peu intéressants in fine et l'enchaînement des séquences énoncées plus haut finit invariablement par lasser à force de se prolonger. Un problème qui est en vérité symptomatique du reste du titre.
Tac, paf, une fois de plus je démontre mon talent pour la transition et le changement de paragraphe et j'aborde ce qui pose problème dans Conan. On a beau profiter de décors assez variés, le jeu souffre d'une redondance irritante. Oui, être répétitif c'est assez normal pour un beat'em all mais toute chose a ses limites. Le fait est que la redondance de Conan n'est pas masquée par l'ambiance ou la nervosité de l'action qui ne décolle jamais. Les combats se résument trop souvent à éliminer un peu de menu fretin avant de s'en prendre à quelques meneurs généralement lourdement équipés d'armures et de boucliers. Des affrontements consistant à attendre que le type d'en face ait terminé son enchaînement en s'éloignant de lui pour rapidement revenir et lui assener quelques coups, s'éloigner, revenir, s'éloigner, revenir. La seule règle à ne pas enfreindre étant de ne pas s'approcher tant que son enchaînement n'est pas terminé, n'essayez pas non plus de le contourner en utilisant les roulades, il se tournera comme s'il glissait sur le sol et vous n'aurez aucun moyen de l'en empêcher, à moins d'avoir placé un contre avant qu'il ne commence à frapper. Multipliez ça par mille et vous obtenez malheureusement un bon aperçu du contenu des combats de Conan, qu'on affronte des pirates, des sauvages, ou même des lions. Le gameplay souffre de surcroît d'approximations des coups et d'une lourdeur parfois monotone. Cependant, ce manque de variété pourrait ne pas être fatal au jeu qui conserverait un côté fun et suffisamment défoulant s'il n'était pas encore appesanti par une réalisation à la ramasse.
Première déconvenue : l'ambiance. Dans cette formule imposée par God Of War, elle compte tout autant que les mécanismes de jeu mis en branle. Il se trouve malheureusement que Conan dégage une sensation de platitude causée par une bande-son qui manque singulièrement de pêche, ne faisant pas résonner vos coups, l'ensemble étant couvert par un doublage si calamiteux qu'on se surprend parfois à pouffer de rire. Trop souvent, on subit de gros passages à vide dans le jeu, des blancs aussi bien visuels que sonores qui laissent retomber une atmosphère qui a pourtant tant de mal à grimper. On a même l'impression marquée, de temps à autre, qu'il manque certains effets ! Quant à l'aspect technique du jeu, il vient confirmer ce que laissaient déjà penser les éléments d'ambiance : Conan sort trop tôt et manque de quelques mois de finition. Gestion des collisions approximative avec certains composants des décors, armes et corps qui flottent quelques centimètres au-dessus du sol, textures qui peinent à s'afficher, gestion des lumières hasardeuse, le bilan est lourd. Triste portrait que celui de cette nouvelle adaptation des aventures de Conan qui garde néanmoins un minimum de pouvoir d'attraction grâce à ses coups bien violents et barbares à souhait, de quoi satisfaire les amateurs du genre qui n'ont pas grand-chose à se mettre sous la dent sur consoles next-gen.

Les contres sont d'une plaisante violence. Si, si.

On n'échappe pas à l'apprentissage de nouvelles attaques.

Les QTE sont tournés à toutes les sauces.
Cheat Codes
Maîtriser tous les mouvements
Terminer le jeu en mode Normal.
Chant de la mort
Terminer le jeu en mode Normal.
Pouvoir d'armure
Terminer le jeu en mode Hard.
Invincibilité
Terminer le jeu en mode King.
Difficulté King
Terminez le jeu une fois en mode Hard pour débloquer le mode de difficulté King.