Call of Juarez premier du nom était un titre plutôt sympathique pour son ambiance western et sa partie FPS. Malheureusement, la moitié de l'expérience était plombée par des phases d'infiltration et de plates-formes lourdes au possible. Qu'à cela ne tienne, les gringos de chez Techland ont revu leur copie et nous en proposent une version revue et corrigée qui se déroule 20 ans auparavant. Est-ce suffisant pour faire prendre la sauce (spaghetti bien sûr) ?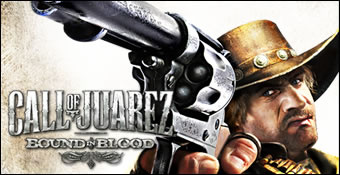 Ces dernières années, le studio polonais Techland semble s'être spécialisé dans les vaporwares, ces jeux qui ne sortent jamais (vous savez, comme Duke Nukem Forever). Qu'en est-il de Chrome 2, la suite du FPS paru en 2003 ? De Warhound, qui nous promettait d'aller botter quelques fesses terroristes dans les rangeos du genre de mec qu'on retrouve au bord de la piscine, un sourire jusqu'aux oreilles et les poches bourrées de pesos, après avoir été largué en slip sur la banquise ? Et qu'est devenu Dead Island, ce projet à base de découpage de zombies sur une île tropicale ? Tous disparus des écrans radar aussi sûrement qu'un bateau dans le triangle des Bermudes. Du coup, la surprise fut de taille lorsque le studio redonna signe de vie début 2009, non pas pour communiquer sur ces jeux en friche, mais pour annoncer un nouveau Call of Juarez. Pas une suite, plutôt une préquelle comme on dit, c'est-à-dire que les événements de ce numéro 2 se déroulent avant ceux du 1. 20 ans avant pour être précis.

Le duel, un grand classique du genre.
L'histoire commence donc en 1864, alors que Ray McCall et son frangin Thomas combattent dans les tranchées de la guerre de Sécession aux côtés des Confédérés. Après quelques actes de bravoure, ils choisissent de déserter pour aller protéger leur ferme, où ils récupèrent William, leur plus jeune frère. Les trois vont alors s'embarquer dans une vaste épopée entre Etats-Unis et Mexique, à la poursuite d'un mystérieux trésor. Le scénario est bien construit et offre toutes les émotions classiques du genre western : amour, trahison, vengeance... Et les séquences de jeu qui vont avec, de la poursuite en diligence à l'attaque d'un village indien en passant par les fameux duels d'homme à homme, où le plus lent à dégainer mord la poussière. L'histoire de Bound in Blood n'est pas un vague fil conducteur mais bien une véritable aventure, riche en rebondissements mais forcément très dirigiste et outrageusement scriptée. Cependant, on lui pardonne aisément ce défaut car elle est prenante et baigne dans une ambiance très réussie.

Salut, tu veux voir mon gros pistolet ?
L'ambiance passe avant tout par la galerie de personnages qui compose cette fresque. Les frères McCall en tête, qui ne cessent de se chambrer et d'interpeller leurs ennemis avec un langage grossier qui fait plaisir à entendre. Il n'est ainsi pas rare de les entendre inviter un pauvre bougre à déféquer dans son couvre-chef, quand ils ne remettent pas carrément en cause la vertu de sa génitrice. Le tout avec un doublage de bonne facture. Bien sûr, l'élocution de notre fratrie ne se limite pas aux noms d'oiseaux, il y a de nombreux dialogues (presque trop dans quelques cinématiques) avec différents protagonistes tous plus charismatiques les uns que les autres. Il y a le colonel Barnsby et ses moustaches, qui croit encore pouvoir gagner la guerre, la belle Marisa, dont les charmes font tourner les têtes, le bandit mexicain Juarez... Sans oublier le chef indien Torrent Impétueux et son fils Oeil Clairvoyant.

Quand les McCall vont à l'église, ce n'est pas exactement pour prier...
Tous ces personnages sont impeccablement modélisés, avec des visages qui leur donnent littéralement vie. Car pour obtenir une ambiance réussie, il faut aussi que les graphismes suivent, et de ce point de vue il faut avouer que Techland s'en est très bien tiré. Passé le premier environnement (les tranchées), pas bien folichon, les paysages traversés offrent de belles cartes postales. La distance d'affichage est souvent bluffante, sans que cela se ressente sur la fluidité. Bref, Call of Juarez : Bound in Blood propose un joli spectacle. On peut tout de même lui reprocher l'abus de High Dynamic Range (effet d'éblouissement) et une palette de couleurs qui rend parfois les ennemis difficilement discernables pendant les gunfights. Car c'est bien de gunfights dont il est question, nous sommes dans un FPS ne l'oublions pas. Après avoir décortiqué l'enveloppe, voyons donc plus concrètement ce que le titre offre en termes de gameplay.
Une bonne couverture est importante, et pas seulement contre le froid.
La principale originalité de Call of Juarez, c'est de proposer une alternance entre deux personnages. Mais à la différence du premier opus, Bound in Blood ne vous impose pas l'un des deux en fonction du chapitre joué (sauf en de rares occasions). Au contraire, le jeu vous laisse choisir qui vous préférez incarner de Ray ou de Thomas. Et quelle que soit votre préférence, l'action sera toujours au coeur du gameplay. Il y a bien quelques grimpettes au fouet avec Thomas, mais ça reste anecdotique. L'homme est avant tout un fin tireur, capable d'aligner les cibles à grande distance avec une précision redoutable. Il peut également tirer à l'arc ou lancer des couteaux pour plus de discrétion, et grimper pour ensuite aider son lourdaud de frangin à monter. Il faut dire que Ray est le costaud de la famille, capable de porter une gatling, de dégainer un flingue dans chaque main et de placer des explosifs pour dégager la voie. Certains passages sont même incroyablement bourrins, comme cette séquence où il faut détruire un bateau à vapeur avec un canon puis pulvériser l'équipage rescapé au gros calibre.

Le mode Concentration octroie un avantage certain sur les ennemis.
Mais les affrontements sont généralement plus subtils que ça. Il faut bien gérer les couverts et surtout utiliser les capacités de concentration des deux héros. Après avoir descendu quelques ennemis, Ray et Thomas peuvent en effet déclencher une attaque spéciale : le premier bénéficie d'un petit laps de temps pour aligner tranquillement ses cibles, tandis que le second doit jouer du chien le plus rapidement possible pour en abattre un maximum. Le level-design profite bien de la dualité entre les personnages, avec des passages où les deux frères doivent coopérer et d'autres où ils se retrouvent séparés. Cela confère au titre une certaine rejouabilité, ce qui n'est pas du luxe étant donné sa durée de vie faiblarde. Toujours dans le registre du level-design, saluons comme il se doit la présence de niveaux assez ouverts, en particulier deux dans lesquels il est possible d'accomplir des missions secondaires. La promesse de longues chevauchées solitaires et d'argent frais, utilisable pour acheter de meilleures pétoires chez le Mexicain du coin. Bon, on est encore loin d'un Grand Theft Horse : San Pedro, pour ça il faut plutôt attendre le Red Dead Redemption de Rockstar. Cette relative liberté n'en reste pas moins louable, et la présence d'un menu "missions supplémentaires" laisse penser que cette idée sera développée de manière plus poussée dans un futur proche (moyennant finance pour le joueur, probablement...). De la même manière, espérons que le support du multi sera à la hauteur car il possède un potentiel de fun indéniable. Tout ça fait de Bound in Blood un FPS tout à fait sympathique, pas mémorable pour autant mais bien supérieur à son grand frère.