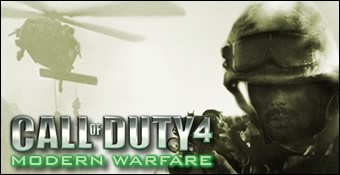 Dans ce genre bien précis de FPS, deux séries ne cessent de se tirer la bourre, Medal Of Honor et Call Of Duty, l'ennui, c'est que si l'une des deux a su évoluer doucement puis avec vigueur, l'autre malgré tous ses efforts n'a jamais pu égaler l'effet de surprise produit par son premier volet. Chez Infinity Ward, non seulement on a décidé de pousser la mise en scène d'un FPS jusqu'à ses dernières limites mais également de couper les ponts avec une Seconde Guerre mondiale qui commençait à sérieusement sentir le réchauffé. Comme son nom l'indique, Modern Warfare se déroule donc de nos jours, entre le Moyen-Orient, la Russie, l'Ukraine, l'Azerbaïdjan et l'Oural et prend la forme peu surprenante d'une lutte contre une organisation terroriste nostalgique de la Guerre Froide. Fidèle à la tradition, CoD 4 vous offrira deux points de vue sur l'action. Sur les rives de la Mer Rouge, on exercera ses talents en tant que marine US pour des opérations de grande envergure et pleines d'explosions pendant que les agents du SAS anglais présents en Europe de l'Est agiront au format commando, fusils de snipe et silencieux prêts à l'action. Sachez par ailleurs que contrairement aux précédents volets, il ne s'agit pas ici de mener une campagne depuis une autre mais d'alterner les points, le scénario du jeu rebondissant d'un événement à l'autre. Ah oui d'ailleurs, il y a un scénario pour une fois, et pas totalement inutile puisqu'il se dévoile à travers le jeu, influence la mise en scène et s'autorise de bons gros rebondissements pour le moins tonitruants. Le découpage en séquences de jeu Marines/SAS alternées apportant une touche de dynamisme supplémentaire.
On le sait, ce qui fait la force d'un shooter comme Call Of Duty, c'est avant tout sa capacité à nous en mettre plein les yeux, en dépit de toute vague notion de réalisme ou de liberté. En l'occurrence, on ne prendra pas de risque en disant que dans ce domaine, Modern Warfare est simplement ce qui se fait de mieux. Faire l'impasse sur la période 39/45 semble avoir considérablement libéré les esprits chez Infinity Ward qui se lâche gravement. Est-ce qu'on peut envoyer le joueur au milieu d'une explosion nucléaire ? Oui, on peut, même que ça va lui faire drôlement mal aux rétines. Que l'on soit plongé au milieu d'un enfer de métal hurlant ou perdu dans les steppes d'Europe de l'Est, CoD 4 fait mouche d'une part parce qu'il n'hésite pas à faire dans le grandiloquent décomplexé mais également parce que visuellement, il met tous les atouts de son côté pour renforcer l'immersion dans de multiples situations radicalement opposées. Du côté des SAS opérant en Europe par exemple, on participera la plupart du temps à des opérations discrètes, traqués par des patrouilles d'hélicoptères, ce qui donnera l'occasion d'admirer l'attitude des alliés exceptionnellement bien animés, utilisant le langage gestuel, ouvrant une porte pour pénétrer furtivement un bâtiment préalablement plongé dans l'obscurité qu'on ira nettoyer en furtif. Tout ceci n'a pas forcément grand-chose d'original, mais la qualité du travail d'Infinity Ward pour nous plonger dans l'action n'a pas d'égal, du coup, on y est, on s'y croit. D'autant plus que de nombreux imprévus viennent pimenter le déroulement des missions qui restent, tout le monde s'en doute, très scriptées. Que dire également de la fameuse mission de snipe qui nous donne l'occasion d'utiliser une tenue de camouflage et surtout de se prendre un sacré trip Sniper.
Planqué dans les hautes herbes, rampant entre les chars ennemis, il faudra rester invisible et éliminer les groupes d'ennemis en se coordonnant avec son équipier pour les descendre simultanément, sans que personne n'ait eu le temps de faire un geste. Là encore, il suffit de refaire la mission pour voir à quel point elle est dirigiste, mais face à un tel travail, on se laisse complètement prendre au jeu sans se soucier du fait que CoD ne laisse qu'une part infime à la prise d'initiatives. C'est le prix du spectacle et on le paiera bien souvent, y compris dans la véritable situation de guerre des missions des Marines. Dans une ambiance d'insurrection très inspirée de Black Hawk Down, on change radicalement de registre durant la traversée de ruelles dévastées par les chars ou l'assaut tonitruant d'une chaîne de télé, tout ceci jusqu'au dénouement bluffant de notre carrière dans le corps des Marines. Il serait fastidieux, vain et même dommageable de balancer des tonnes d'exemples de ce qui attend le joueur au cours de la campagne solo alors on se contentera de répéter une fois de plus qu'en matière de mise en scène, Modern Warfare a fait exploser les compteurs.
Mais si on se sent si bien dans ce cocon de feu et de douilles, ce n'est pas simplement parce qu'il est emmené à un rythme parfaitement maîtrisé, c'est également parce qu'il sait se rendre crédible. J'ai déjà fait mention de l'animation alliée ou ennemie, mais on pourra ajouter d'autres détails encore comme le fait qu'il n'y ait nul besoin de vider un chargeur complet pour venir à bout d'un soldat (à l'exception de votre propre personne mais ça ce n'est pas une surprise), ce qui tranche avec l'approche habituelle d'un FPS à grand spectacle. Mais on est surtout agréablement étonné de voir pour la première fois des adversaires qui ne s'avouent pas vaincus simplement parce qu'ils sont blessés. Si vos ennemis ne sont pas ce qu'on a vu de plus futé au monde, ils sont loin d'être idiots et sont surtout tout à fait capables, si on ne fait que les incapaciter, de ramper pour ramasser une arme et essayer de vous tirer dessus au sol au lieu de bêtement attendre une mort qui surviendrait en quelques secondes, comme on le voit généralement. Méfiez-vous donc des cibles abattues que vous auriez perdues de vue, vous pourriez être surpris en passant près de leur corps. Des corps qui, soit dit en passant, réagissent avec justesse aux chocs et impacts. Et une myriade d'autres détails visuels soignés viennent encore sceller votre immersion dans le titre. La physique par exemple, fournit quelques jolies explosions et de charmantes réactions à l'occasion.
Très linéaire et tout de même conçu comme un titre grand public (donc très accessible), Call Of Duty 4 ne constitue pas un challenge pour l'habitué du genre qui devra apprendre à se satisfaire du spectacle. En attendant, l'équipe de développement n'a pas vu là l'occasion de confondre « accessible » avec « simpliste ». Chacune de vos armes a ses avantages et points faibles, on voit donc l'intérêt de passer d'une arme lourde à une arme de poing ou un fusil à pompe lorsqu'on se retrouve en intérieur, et l'I.A. adverse est suffisamment affûtée pour que foncer droit devant sans prendre le temps de se mettre à couvert, ou de dégager le chemin, soit un brin suicidaire. En outre, même se mettre à couvert ne sera pas toujours une garantie de survie, la physique gérant la résistance des surfaces, le bois ou la tôle ne vous protégeront qu'un temps des tirs et comptez sur les troupes d'en face pour savoir vous déloger à coups de grenades, camper sur sa position est de fait particulièrement hasardeux. Et si le titre reste linéaire, il n'est pas toujours qu'un simple couloir et ménage à de multiples reprises un espace de liberté suffisant pour que le joueur puisse aller chercher sa part d'héroïsme en dénichant un spot de snipe ou un moyen détourné de contourner une position retranchée. Une illusion efficace évitant au joueur de trop sentir le poids des scripts.
Frénétique, prenant, scotchant, on pourrait enfiler les adjectifs classiques qu'on a l'habitude d'accoler à chaque nouvel épisode de la série, on en revient toujours au même point : si le but recherché est de s'en prendre plein la vue à travers ce qui ressemble de plus en plus à un film interactif, c'est réussi. Pourtant, malgré toutes ses qualités, y compris techniques, Call Of Duty 4 s'encombre de défauts. Le premier relevant de sa durée de vie : 5 heures ! Voilà, comme ça c'est dit, quick and painful comme on dit. 5 heures c'est environ le temps qu'il faut pour boucler le jeu en mode moyen. Alors un bon conseil, montez de suite au mode difficile au risque de trouver l'addition excessivement salée. Autres déboires, si l'animation des personnages est une prouesse ou que les explosions sont fabuleuses, le moteur de CoD4 est loin d'être parfait. Des objets se retrouvent couverts d'aliasing pendant que certaines textures font parfois peine à voir. Citons en exemple la texture de fond qui sert d'horizon dans une série de missions SAS, d'une qualité à la limite de l'acceptable sur next-gen. Dans le même ordre d'idée, si on est satisfait de certains aspects de la physique, on s'étonne de la voir si limitée. C'est très bien de pouvoir faire exploser une voiture ou de voir les balles transpercer des parois trop fines, mais ça la fout un peu mal de voir une caméra sur un trépied désespérément clouée au sol ou un tas de tôle ne pas trembler d'un pouce quand on y fait sauter une grenade, démontrant que finalement, le degré d'interaction avec le décor est bien plus limité qu'on voudrait nous le faire croire.
Excellent mais bien trop court en solo, Call Of Duty 4 peut en revanche se rattraper sur son multi qui a toujours été un point fort de la série. Reposant sur des bases et des modes très classiques, la section multijoueur regorge néanmoins de petites trouvailles susceptibles d'en faire un must des prochains mois. En dehors de l'usage de certains artifices du solo, le multi propose un système de grades permettant à chacun de customiser son avatar en lui offrant de nouvelles compétences. De la possibilité de lâcher une grenade au moment de notre mort afin de piéger un adversaire, à la capacité de faire appel à une couverture aérienne, vos performances au combat seront grandement récompensées. On peut s'estimer convaincus, et la phase de bêta a en partie confirmé, que le mode online du jeu a largement de quoi compenser la brièveté du mode solo.

Tout en finesse chez les SAS.

Pendant que les Marines affrontent une situation de guerre.

Infinity Ward se la joue décomplexé en matière de mise en scène.

Après où est Charlie, où est le sniper ?

Mefiez-vous des ennemis qui tombent simplement pour une blessure, ils sont vicieux.

La physique montre ses limites : la tôle laisse filtrer les balles mais résiste aux grenades.
Bonus
Mode Arcade
Terminer le jeu dans n'importe quel niveau de difficulté.
Menu de triche
Terminer le jeu dans n'importe quel niveau de difficulté. Ce menu apparaît dans les options accessibles en cours de partie.
Mission d'épilogue
Attendez la fin des crédits pour accéder à la toute dernière mission.
Armes d'or (multijoueur)
Une arme dorée s'obtient à chaque fois que vous terminez la totalité des challenges pour cette arme en particulier. Seule exception, le Desert Eagle qui s'obtient seulement lorsque votre personnage atteint le niveau 55.