Les zombies sont plus que jamais à la mode, que ce soit au cinéma ou en jeux vidéo. Vous détestez ces humains dégénérés dont la seule volonté est de dévorer votre cervelle ? Ca tombe bien, Burn Zombie Burn vous propose de les occire par milliers.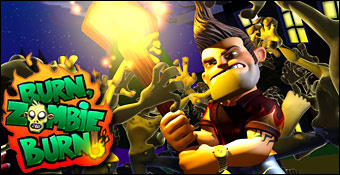 Après être tombé en désuétude, le zombie revient plus fort que jamais. C'est comme ça, toutes les grandes stars ont leur traversée du désert avant de faire un come-back. Dans notre loisir, cela se traduit par des jeux comme Dead Rising, The House of the Dead : Overkill ou l'excellent Left 4 Dead, pour ne citer que les plus récents. Même des titres qui n'ont a priori rien à voir avec les morts-vivants tentent d'en injecter quand même, avec plus ou moins de succès (Call of Duty : World at War, Shellshock : Blood Trails). A se demander si les emballages n'arboreront pas bientôt la mention "contient des zombies !" sur une étiquette étoilée jaune fluo façon "vu à la télé", comme un vulgaire argument de vente. Quand on pense qu'à l'origine, dans les films de Romero, le zombie brocarde la société de consommation, l'ironie est palpable...

Tout l'esprit du jeu résumé en une image.
Mais qu'importe, après tout, si ces créatures nous permettent de jouer à de bons défouloirs. Car c'est bien de cela qu'il s'agit avec Burn Zombie Burn, jeu d'action développé par le studio Doublesix. Vous y incarnez Bruce (hommage à Bruce "Ash" Campbell ?), un homme luttant contre une horde de zombies aussi stupides que nombreux, à travers 6 niveaux bien représentatifs des décors des films du genre. Cimetière, drive-in, quartier résidentiel... Ne manque que le supermarché. Mais il faut avouer que l'endroit se prêterait mal à l'arrivée de dizaines de zombies de tous côtés, c'est pourquoi les développeurs ont favorisé les environnements extérieurs, plus ouverts, laissant libre cours au flot de chairs putréfiées. A ce niveau, vous allez être servi, avec des vagues très nombreuses composées de zombies de plus en plus retors. Aux morts-vivants de base succèdent les versions plus résistantes, plus rapides ou carrément explosives. Dans ces conditions, votre survie s'avère bien compliquée.

Pourquoi faut-il toujours que les zombies s'en prennent au fleuron de la culture américaine ?
Heureusement, les vagues de zombies sont aussi synonymes d'arsenal de plus en plus puissant. Au départ, Bruce n'est équipé que d'un pauvre pistolet, aux munitions illimitées, certes, mais totalement impuissant face aux masses verdâtres qui se pressent vers lui. D'autres armes font ensuite leur apparition, d'abord classiques (batte, uzi, fusil à pompe...), puis plus délirantes, comme le flingosalsa, qui fait danser les zombies. Ou carrément la tondeuse à gazon, histoire de se faire un remake de la cultissime scène finale de Braindead. Jouissif ! Chaque niveau recèle également un bonus spécial, et vous pourrez même gagner quelques explosifs, histoire que la fête soit complète. Mais s'en servir pour dégommer toute la horde sans réfléchir ne sert pas à grand-chose. Ca marche, mais ça ne rapporte pas beaucoup de points, alors que Burn Zombie Burn est un titre avant tout destiné aux joueurs en quête de scores.

A deux, c'est mieux. Et en plus ça rime.
C'est là qu'intervient le feu évoqué par le nom du jeu : chaque zombie qui brûle fait office de multiplicateur. Tuez un zombie, vous marquerez 30 points. Faites de même pendant que 50 de ses congénères flambent joyeusement, vous en marquerez 1 500 ! Grâce à cette trouvaille, le gameplay se fait plus subtil qu'il n'y paraît au premier abord. On se prend à slalomer entre les obstacles avec 70 zombies en feu collés aux fesses, tout en essayant de ne pas les tuer pour ne pas perdre le précieux multiplicateur... Pas toujours évident, mais souvent très gratifiant quand on parvient enfin à décrocher une médaille d'argent ou d'or. Alors bien sûr, ça ne fait pas de Burn Zombie Burn le jeu du siècle pour autant, mais c'est un sympathique défouloir, avec des défis rigolos et une ambiance réussie. Les adeptes du tableau des meilleurs scores y passeront des heures pour tenter de surpasser leurs performances, tandis que les joueurs plus sociaux pourront partager le plaisir de tuer des zombies avec un ami grâce au mode multi local.