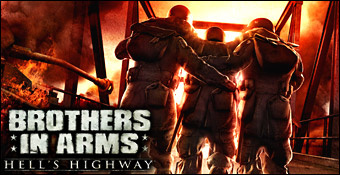 Dernière arrivée dans la course à l'armement que se livraient autrefois Medal of Honor et Call Of Duty, la série des Brothers In Arms est parvenue à imposer son style, grâce à un savant mélange d'action à la première personne et de quelques notions de stratégie. En effet, là où les autres FPS basés sur la Seconde Guerre mondiale laissent le joueur décider seul de l'issue du conflit, Gearbox lui impose de se servir des talents de ses petits camarades afin de remporter la victoire, sans pour autant perdre de vue l'aspect immersif prôné par la concurrence. Cette formule est évidemment employée à l'identique dans ce nouvel épisode. Ainsi, si on s'en doutait tout de même beaucoup, la chose est maintenant certaine, Brothers in Arms : Hell's Highway reprend dans une large mesure les contrôles et les mécaniques déjà utilisées par ses prédécesseurs. En dehors d'une plastique nettement plus avantageuse que par la passé, il faudra effectivement se montrer patient pour déceler de véritables différences entre ce nouvel opus et ses ancêtres.
Sans surprise, on retrouve donc les gars de la 101ème division aéroportée, avec au premier plan, le bon vieux sergent Matt Baker que vous allez incarner une nouvelle fois. Le bougre et ses hommes ont parcouru pas mal de chemin depuis le débarquement. Ils en ont vu des vertes, des pas mûres et surtout des pourries. Comme par le passé, Brothers in Arms nous assène une tripotée de cinématiques qui illustrent le terrifiant quotidien des hommes de l'unité, leur vision de la guerre, leurs conflits intérieurs et leurs disputes. Le titre ne se contente pas d'une froide présentation d'événements historiques comme l'aurait fait MoH et anciennement Call of Duty. Il prend au contraire le parti d'impliquer le joueur et de triturer ses émotions. Ainsi, si les premières minutes de jeu pourraient encore nous faire croire que le titre se concentre uniquement sur la recréation des événements de l'opération Market Garden, on s'apercevra rapidement que la plus grande offensive aéroportée de l'Histoire ne fait souvent office que de trame de fond. Certes, on devra se battre pour détruire des canons de 88 ou pour prendre le contrôle de villes hollandaises comme Eindhoven, mais certaines missions prendront une toute autre tournure. Il faudra sauver le fils d'un résistant par exemple. Brothers in Arms : Hell's Highway, se paie donc le luxe d'une narration qui tranche très nettement avec celle généralement employée par les autres softs "Seconde Guerre mondialeux".
Flash-backs, sauts dans le temps sont monnaie courante et cherchent constamment à harponner le coeur du joueur. Ces procédés narratifs, parfois maladroits, trouvent leur plus grand représentant en la présence d'une séquence d'intro prémonitoire qui se conclut par un simple "9 jours plus tôt". Dans le même ordre d'idée, Gearbox a franchi un pas dans la représentation de la violence des combats. Loin de petites tâches de sang trouillardes d'un Call of Duty 4, Brothers in Arms aime à ouvrir des crânes et à arracher des membres. L'ensemble profite de surcroît de ralentis nauséeux lors des explosions et des tirs à la tête. Un effet de style, qui là encore, vise à renforcer l'immersion du joueur, et y arrive de fort belle manière. Au fond, le ton particulier de Brothers in Arms apparaît très semblable à celui de certains épisodes de la série Band of Brothers, et risque donc de ne pas plaire à tout le monde. Mais quoi qu'on en dise, cette approche a néanmoins le mérite de différencier très nettement le jeu de ses congénères et de l'installer définitivement dans un créneau qui n'appartient qu'à lui.
Mais il est maintenant temps de trancher dans le vif et de plonger à corps perdu dans la tripaille. C'est d'ailleurs là qu'on constatera que Brothers in Arms n'a pas vendu son âme au diable, pas plus qu'il en a volé une à qui que ce soit. Pour progresser dans le jeu, il s'agira toujours de donner des ordres à vos hommes. Des hommes qui se divisent généralement en 2 groupes, différents en fonction de la mission. On se retrouvera donc aux commandes d'équipes d'appui-feu, de groupes d'assaut et d'escouades équipées de lance-roquettes. On vous demandera toujours de la jouer fine et il ne sera pas question de foncer dans le tas. Avant d'aborder le combat, un passage sur la carte tactique permettra d'avoir une vision d'ensemble de la situation, de repérer les méchants et de trouver un moyen de s'en débarrasser, si possible en les attaquant dans le dos et pendant qu'ils font pipi. On remarque au passage que les environnements, même s'ils font toujours office de vastes couloirs évolués, laissent un petit peu plus de liberté d'action au joueur. Il est évident qu'on ne partira pas gambader dans les herbes folles mais on disposera parfois de plusieurs options pour contourner l'ennemi. Eh oui, pas de surprise, le contournement reste l'unique tactique véritable qu'il vous sera possible d'effectuer dans le jeu. Mais voilà, c'est vrai que cette fois, vous pourrez contourner mieux, avec plus de style, par une ruelle, un magasin ou une arrière-cour.
Mais contourner est un art subtil et délicat et il ne s'agira pas tout simplement de courir comme un dératé en espérant passer entre les bastos. En effet, l'idée, c'est d'ordonner à l'un de vos groupes de déclencher des bons petits tirs de suppression sur l'adversaire, histoire de lui coller les miquettes avant de vous déplacer avec votre groupe d'assaut pour lui planter votre fusil dans les fesses. Pour évaluer le degré de sécurité que vous aurez réussi à instaurer grâce à ce feu nourri, un voyant apparaît au dessus de chaque bidasse adverse. S'il est rouge, alors son niveau de confiance est au maximum, si vous sortez de votre trou, il n'hésitera pas à vous aligner. Si au contraire il a viré au gris, c'est qu'il est accroupi derrière une caisse en bois en train de rédiger son testament. Quoique se cacher derrière une caisse en bois n'est plus franchement judicieux, puisque le jeu gère maintenant la destruction de ce genre de frêles couverts. En gros, sacs de sables, palissades, petits piliers et ponctuellement quelques objets plus massifs (des statues par exemple) voltigent joyeusement en éclats sous les balles. Un paramètre à prendre en compte lorsque vous ferez progresser vos troupes et qui implique parfois de prévoir plusieurs déplacements à l'avance, comme aux échecs.
Bien planqué derrière un muret et en vue à la troisième personne pour profiter d'une meilleure vision (ça, aussi, c'est nouveau), le but sera donc de jouer le chef d'orchestre en dispatchant intelligemment vos hommes. Les ordres sont basiques, se limitent à avancer et à faire feu sur des ennemis ou du mobilier. Il suffit généralement de pointer votre viseur sur un élément du décors pour qu'apparaisse l'action correspondante. Ainsi, si vous parvenez à vous rapprocher suffisamment de l'ennemi, vos hommes auront la possibilité de balancer des grenades. Curieux dans ces conditions qu'ils ne soient pas fichus de se servir d'une mitrailleuse fixe, cet honneur vous étant manifestement réservé. L'ensemble marche plutôt bien et on se prend facilement au jeu, même si fondamentalement, le jeu est à peine plus exigeant qu'un Ghost Recon Advanced Warfighter 2. Au fond, rien de ce que vous oppose le soft n'est vraiment insurmontable et une stratégie de base, sans courses inutiles, devrait généralement vous permettre de vous en tirer. D'autant que si vos hommes succombent, ils reviendront, frais comme des goujons, au point de contrôle suivant. Au fond, on est tout de même loin du réalisme extrême mis en avant par Gearbox. Les véritables guerriers en quête de challenge pourront néanmoins attaquer le dernier mode difficulté une fois le jeu terminé une première fois.
Hélas, Hell's Highway est également marqué par quelques-uns des défauts de ces ancêtres. En premier lieu, on retrouve malheureusement l'IA. Si les alliés répondent à peu près correctement à vos sollicitations, on n'échappera pas à quelques scènes embarrassantes. On se retrouvera parfois avec un soldat à découvert, alors qu'un joli muret lui tend gentiment ses pierres à deux mètres de là. Même combat pour l'IA adverse qui nous gratifie occasionnellement de grands moments de n'importe quoi. Mais le véritable souci tient plus à la nature passive de l'ennemi. Les soldats adverses ne semblent pas prendre d'initiatives et se contentent généralement de se replier si vous les serrez de trop près, et encore. Du coup, le jeu se transforme vite en succession d'assauts contre des ennemis qui peu à peu, finissent toujours par lâcher du terrain. Le rythme est donc relativement lent, favorisant les approches mesurées à des fusillades plus nerveuses. L'ensemble pourtant, comme nous le disions plus haut, profite de jolis effets de caméra qui dynamisent un peu le tout, même si voir un soldat se faire exploser le citron ou arracher la jambe au ralenti perd rapidement de son intérêt. Le titre tente enfin de varier les situations en offrant des environnements variés et franchement crédibles. Certaines missions, sans doute les moins palpitantes, devront même se jouer en solo, derrière un fusil de snipe ou aux commandes d'un char. Dès scènes qui ne nous feront pas crier au génie, mais qui aident tout de même Brothers in Arms à s'ériger en un excellent divertissement. Bien réalisé et cohérent en dépit de quelques entorses légitimes à un réalisme qui aurait pu paraître rédhibitoire, le titre constitue la seule véritable alternative à Call of Duty.

On se croirait dans un épisode de Band of Brothers.

Le jeu nous offre un petit stock d'actions scriptées, sans que cela nuise véritablement au rythme.

La carte tactique, toujours fidèle au poste, permet parfois de découvrir de nouveaux chemins.

Contournés et bientôt éparpillés...

Voici deux des escouades qu'il faudra envoyer au charbon.

Presque plus fort que Rambo, Hell's Highway n'hésite pas à mettre en valeur les résultats de vos actions.
Cheat Codes
Au menu principal, allez dans la section de saisie des codes et entrez l'un des codes suivants pour activer sa fonction.
| | | | |
| --- | --- | --- | --- |
| | 0ZNDRBICRA | | Tous les sites de reconnaissance |
| | 4V35JZHQD6 | | Détecteur de Kilroy |
| | GIMMECHAPTERS | | Tous les chapitres débloqués |
| | HI9WTPXSUK | | Personnage bonus online (2 skins) |
| | SH2VYIVNZF | | Etre alerté à l'approche d'un Kilroy |
Mode Difficile
Terminer la campagne en Facile ou Normal.