A peine un mois après sa sortie, Borderlands accueille déjà une première extension téléchargeable. Or si en la matière, beaucoup de développeurs n'ont fait que nous décevoir en ne concevant que de toutes petites aventures sans profondeur ni ambition, Gearbox parvient pour sa part à renouveler son bébé avec brio. Cet excellent add-on nous invite en effet à traverser un environnement unique, artistiquement très abouti, afin de mener à bien une quête débordante d'humour et de bidoche.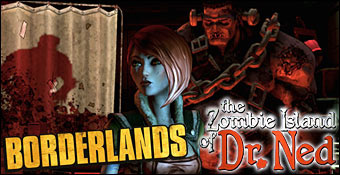 L'heure est grave les amis ! L'île de Jakob's Cove est en proie à une terrifiante invasion de zombies ! En tant qu'aventurier sans attache, seulement intéressé par l'aventure, le sang, les flingues et les dollars, vous êtes tout indiqué pour aller découvrir ce qui se trame en ce lieu reculé. Plus précisément destiné à des joueurs ayant déjà un peu bourlingué dans le monde de Pandora (nous reviendrons d'ailleurs sur ce point précis en fin de test), cet add-on vous propose en effet de visiter une vaste zone inédite peuplée de zombies assoiffés de sang. Le but étant évidemment de comprendre ce qui a pu arriver à la population locale. Accessible à partir de n'importe quelle borne New-U (même si vous n'avez pas encore débloqué le système de voyage rapide en progressant dans l'aventure principale), ce nouvel environnement tranche merveilleusement avec les terres arides du Mainland de la planète. Dès les premières secondes, vous découvrirez en effet un décor ténébreux, qui semble directement sorti d'un film d'horreur. La lune, immense boule blafarde, apparaît entre les branches décharnées d'arbres colossaux, la mousse grimpe paresseusement sur les petits bâtiments du coin, tandis que quelques cadavres bien frais marinent paisiblement dans leur propre sang.

Attendez-vous à un méchant changement d'ambiance dans cette extension !
Bref The Zombie Island of Dr. Ned parvient en quelques instants seulement à établir une atmosphère oppressante délicieusement distincte de celle du jeu de base. Attendez-vous ainsi à traverser des marais putrides, des cimetières et des villages inquiétants peuplés de cadavres ambulants. Notez d'ailleurs que les monstres auxquels vous serez confronté ne sont généralement que des versions habilement relookées des bandits habituels. Néanmoins, leur nombre plutôt conséquent, leur comportement inédit, de même que leurs attaques à base de vomi verdâtre vous assureront encore une fois un sacré dépaysement. Même les Skags auront leur petite heure de gloire avec un boss "Halloweenesque" que nous vous laissons le soin de découvrir. On profitera en outre de créatures inédites, comme ces brutes suicidaires capables de porter un bidon explosif, ces Tankensteins massifs capables de se régénérer lorsque vous tenterez de les électrocuter, ou encore ces torses humains qui sortiront du sol et ramperont vers vous pour vous croquer les chevilles. Gearbox a manifestement tout fait pour donner des couleurs à son extension.

Les ennemis sont largement plus nombreux que dans les quêtes du jeu de base.
Cela passe aussi par une histoire qui, si elle n'a rien de vraiment original, apparaît largement plus drôle que ce à quoi nous avions pu goûter dans le jeu de base. Les deux Claptraps qui ne manqueront pas de vous guider ne sont d'ailleurs pas étrangers à cela. Leurs sorties et leurs tirades, complètement barrées, valent franchement le détour. Nous ne saurons d'ailleurs que trop vous conseiller de rester quelques minutes à leurs côtés, juste pour le plaisir de les entendre débiter des âneries. D'autres éléments, comme les traditionnels enregistreurs vocaux, se chargeront d'étoffer encore un peu plus cet univers à grands coups de réflexions débiles et de jolis clin d'oeil. En somme The Zombie Island of Dr. Ned, par bien des aspects, apparaît comme largement plus réussi que le jeu principal, ce qui n'est pas peu dire ! Au-delà de la quête principale, qu'on mettra entre trois et quatre heures à compléter, l'extension se paie même le luxe d'offrir quelques missions annexes, toujours aussi basiques, mais relativement plaisantes à accomplir. On vous chargera par exemple de ramasser des quantités indécentes de cervelles de zombies, ce que vous ne pourrez d'ailleurs faire qu'en (re)-tuant les pauvres hères sur un coup critique.

Prenez le temps d'écouter les divagations de ce petit robot.
Avec tout ça, cette extension pourrait presque paraître parfaite. Hélas, certains petits détails viennent toutefois entacher un tableau pourtant fort réussi. En premier lieu, on regrettera les méchantes saccades qui ne manqueront pas d'intervenir lorsque vous vous coltinerez plus d'une dizaine de zombies à la fois. Et si par malheur vos attaques reposent sur des armes élémentaires, comme avec Lilith, le phénomène sera encore bien plus grave. L'autre souci majeur de l'extension découle directement de votre progression dans le jeu de base. Entendons-nous bien, The Zombie Island of Dr. Ned ne semble aucunement s'accorder au niveau de votre personnage, mais plutôt à votre progression dans l'histoire principale (que cela soit en Parcours 1 ou 2). Prenez bien garde ! Si vous avez passé pas mal de temps à leveller, en solo ou en coop, sans vous soucier de faire avancer l'histoire principale, il y a de fortes chances pour que les zombies de l'île paraissent bien trop faibles pour vous. L'extension perdra alors une grande partie de son attrait. Non, l'idéal est encore de posséder un personnage moyennement avancé et pour lequel les quêtes principales du jeu sont encore qualifiées de "normales" voire de "difficiles".
Si vous veniez à parcourir cet add-on avec un tout nouveau personnage ou un baroudeur pour lequel rien ne semble impossible, vous vous gâcheriez tout simplement le plaisir. Mais en étant bien conscient de cet inconvénient et prenant vos précautions, vous devriez pouvoir goûter à l'une des extensions les plus attachantes du PSN et du Xbox Live. Si Gearbox continue dans cette direction, nous pouvons donc nous attendre à passer encore de très bons moments en compagnie de mercenaires de Borderlands.