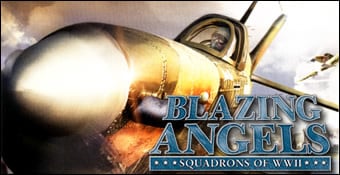 On ne le dira jamais assez, pour un bon dogfight, rien ne vaut un bon vieux moulin de la Seconde Guerre mondiale, ou un X-Wing de Star Wars. Tout le monde aura compris qu'ici, on opte pour les Seafires, les Corsairs et autres P-51D Mustang. Du ciel de Dunkerque à celui de Midway, Blazing Angels ne nous épargnera aucune des grandes batailles aériennes, nous faisant participer à la bataille de Londres, à celle Pearl Harbor, de Midway ou aux affrontements qui ont secoué le désert africain. Couvrant tous les aspects des missions pouvant être confiées à des pilotes émérites, le titre nous enverra combattre tout ce qui peut l'être, du chasseur au porte-avions. Ainsi, après s'être démené contre les pilotes allemands ou japonais en plein ciel, nous faudra-t-il encore bombarder un pont anéantir des colonnes de blindés à la roquette, sans oublier bien sûr, l'exercice périlleux et délicat du largage de torpilles au ras de la crête des vagues.
Il ne faut pas longtemps au joueur pour réaliser que la force de Blazing Angels réside avant toute autre chose dans sa réalisation qui mise tout ce qu'elle a sur l'esbroufe d'effets spéciaux impressionnants conférant au soft une immersion très cinématographique. Voilà bien pourquoi on aurait tendance à voir Blazing Angels comme un Call Of Duty du ciel. Il y a d'abord les nuages et le soleil qui fondent l'environnement de base, superbe, dans lequel on peut voir les rayons de l'astre solaire percer à travers la couche nuageuse ou parfois nous éblouir. Mais il y a plus encore. Comme les reflets à la surface de l'eau ou surtout l'évolution de l'environnement subissant les conséquences des combats. L'épaisse fumée noire s'élevant peu à peu jusqu'à obscurcir totalement notre vision et dont on ne sort que pour être mieux ébloui par la lumière d'une explosion ou celle du soleil. Une approche cinématographique qui est renforcée par l'usage de la caméra de poursuite utilisée pour garder une cible en vue quelle que soit la position de votre appareil. Son usage donnera lieu à quelques plans sublimes dignes des meilleurs cascadeurs
Le hic étant que cette réalisation hollywoodienne ne sert pas un gameplay toujours très convaincant. Reprenant le désormais classique système d'ordres aux ailiers, Blazing Angels vous laisse libre de leur demander de voler en formation, de vous défendre ou d'attaquer toute cible à portée. En outre, 3 autres possibilités s'offrent à vous. La première consiste à envoyer l'un de vos équipiers provoquer les ennemis afin d'attirer l'attention sur lui, la seconde provoque une sorte de fureur chez l'un de vos ailiers qui se lance alors dans un carnage. Enfin, la troisième, est une fonction de réparation, le mécano vous indiquant une suite de touches à répéter afin de réparer les dégâts subis. Très simple à prendre en main, y compris pour les rares atterrissages que l'on vous demandera d'effectuer, le jeu souffre en réalité d'un manque de rythme dans son action. Les modèles de vol des appareils sont en effet un rien trop mous et les virages serrés manquent d'adrénaline. De plus, trop souvent on se retrouve en train de mitrailler un ennemi qu'on ne voit que par la grâce du carré rouge qui l'encercle et qui reste toujours visible. Si voler est un régal pour les yeux, on n'en dira donc pas autant pour les sensations un peu trop en retrait. Et ce n'est pas la peur de l'échec qui viendra vous stimuler tant il est rare de perdre dans ce jeu finalement d'une grande facilité. On traverse la campagne solo à vitesse grand V, voyant la durée de vie fondre comme la crème solaire sur le torse de Lorenzo Lamas au soleil. Les rares crashes qui vous attendent seront plutôt provoqués par la découverte impromptue d'une dune de sable qu'on n'avait pas vu alors qu'on volait en pleine tempête.
Dans la liste des reproches, on glissera sans égards ceux adressés aux dialogues. Que vous affrontiez les allemands ou les japonais, ces derniers ne changent quasiment pas (à une ou deux références à Pearl Harbor près). La seule différence tiendra dans l'accent ridicule à la Michel Leeb affecté par des doubleurs s'exprimant en anglais. De plus, les speeches sont peu nombreux et deviennent vite une plaie. La bande-son se rattrape heureusement par ses effets très convaincants.
Impressionnant mais faiblard en solo, Blazing Angles peut se rattraper avec son mode multijoueur qui comprend un coop et surtout quelques modes versus valant principalement dans leur version "en équipe". On tombe évidemment sur du deathmatch mais également sur une sorte de Capture dans lequel les joueurs doivent atterrir sur une base ennemie, le mode Kamikaze propose pour sa part de défendre depuis le sol une base attaquée par des avions. Citons également le Seek And Destroy consistant à tirer sur des cibles marquées au sol ou encore le mode Ace où un seul joueur se voit attaqué par le reste des participants. Assez fun, le multi peut se targuer d'engendrer plus de sensations que le solo.

Survol d'un port.

Vous pourrez piloter plusieurs types d'avions.

Spectaculaire, le vol sous un pont..
Cheat Codes
Mettez le jeu en pause et entrez les codes suivants.
Invincibilité
Maintenez L2 et faites rapidement
,
,
,
. Relâchez L2, puis maintenez R2 et faites rapidement
,
,
,
.
Infliger plus de dégâts
Maintenez L2 et faites rapidement L1, L1, R1. Relâchez L2, puis maintenez R2 et faites rapidement R1, R1, L1.
Sur l'écran titre, maintenez L2 et R2 et entrez les codes suivants.
Toutes les missions et tous les avions
, L1, R1,
,
, R1, L1,
.