Déjà solidement implanté sur le marché du jeu de rythme avec Guitare Hero puis DJ Hero, Activision remet ça en proposant un troisième dérivé de sa franchise : Band Hero. Un titre qui n'a pas la prétention de réinventer le genre ou de gaver les amateurs de jeux musicaux de nouveaux mécanismes mais simplement de donner envie au grand public de se mettre à la gratte, à la batterie et au chant.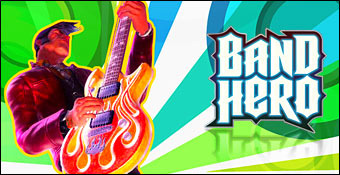 Annoncé à peu près au même moment que Guitar Hero V et DJ Hero, Band Hero ne débarque pas juste avant Noël par hasard. Activision, qui édite la franchise Hero, a en effet souhaité propager le virus à une cible qui n'est pas forcément amatrice de rock ou qui préfère ne jouer que des morceaux connus de tous. Quelle période mieux que l'hiver et ses soirées où l'on se regroupe autour du feu pour passer un petit moment en famille ou entre potes ? Band Hero incarne donc ce côté accessible et franchement pas élitiste, une étiquette que l'on pouvait coller aux Guitar Hero dont les tracklists ne parlaient pas forcément au plus grand nombre. Si la tracklist de Band Hero n'est pas totalement composée de morceaux que le petit Kévin, 8 ans ½ ou papy André bientôt 80 ans ont entendu à maintes et maintes reprises, force est de constater qu'elle attirera plus facilement l'oreille des habitués des radios FM orientées pop. En effet, Band Hero, ce n'est pas du rock, en tout cas pas seulement, c'est surtout de la pop, ce qui fait sa différence.

Band Hero ne dépayse pas le joueur de Guitar Hero, le gameplay est exactement le même.
Compatible avec tous les instruments des précédents Guitar Hero, Band Hero débarque également avec son petit pack d'accessoires exclusifs. Si nous ne les avons pas testés, précisons que la gratte est presque une copie de la guitare de Guitar Hero World Tour. A dominante rouge et blanc, celle-ci arbore simplement un médiator et un vibrato plus longs. Quant à la batterie, elle s'inspire assez nettement là aussi du modèle World Tour. Cette fois, les cymbales sont arrondies, les baguettes peuvent être rangées sous les percussions et la pédale peut être fixée sur trois crans différents, en fonction de votre gabarit évidemment. Ajustable en hauteur, elle peut également accueillir une seconde pédale qui débloque ainsi le mode Expert+. Quoi qu'il en soit, le principe est le même que n'importe quel Guitar Hero : jouer jusqu'à 4 avec guitare, basse, batterie et micro (n'importe quel micro USB est supporté). Comme dans GH 5, il est d'ailleurs possible de combiner les instruments comme bon vous semble : les 4 identiques, 3 guitares + une batterie, 2 batteries + 2 micro, 1 micro + 3 guitares... Bref, les combinaisons sont nombreuses, c'est à vous qu'il incombe de choisir quel instrument utiliser en fonction évidemment de ceux que vous possédez. Terminons simplement en précisant que le jeu peut être acheté seul à 70€ ou en compagnie de la guitare et de la batterie, pour environ 200€.

Les cinématiques sont toujours aussi inspirées, mais particulièrement courtes.
La playlist compte au total 65 morceaux, ce qui est un poil inférieur à la moyenne des bons jeux de rythme, tournant plutôt à 80/90 titres. La durée de vie n'est donc pas exceptionnelle mais notez qu'il est possible pour les joueurs qui possèdent Guitar Hero V et Guitar Hero World Tour et qui se seraient gavés de chansons téléchargeables d'importer tous ces morceaux dans Band Hero. Pour apprécier cette tracklist, il faut avant tout aimer la pop et ne pas craindre des groupes comme les Spice Girls ou encore les Village People. Pour le reste, les artistes connus (parfois reconnus) sont bel et bien présents : David Bowie, Duffy, Evanescence, Hilary Duff, KT Tunstall, Lily Allen, Nelly Furtado, Robbie Williams, The Rolling Stones, Snow Patrol ou encore Culture Club avec son magnifique "Do You Really Want to Hurt Me" ! Précisons également qu'en mode Carrière, on incarne un groupe tout entier de jeunes ambitieux, trois groupes ou artistes ont donné leur aval pour être modélisés dans Band Hero : Adam Levine de Maroon 5, No Doubt (Gwen Stefani et compagnie) et Taylor Swift. Une bonne idée que l'on aurait aimé portée à tous leurs potes présents dans le jeu car chanter du Spice Girls avec un ours rockeur, ça le fait moyen ! En bref, on s'éloigne assez nettement du rock ou hard-rock des Guitar Hero pour se tourner vers des sons plus soft et grand public.

Comme toujours, vous choisissez l'avatar à utiliser pour jouer en Carrière.
En termes de contenu, Band Hero n'apporte malheureusement que du classique, du super classique. Le mode Carrière est calqué sur ce que l'on connaît déjà de la franchise, sa seule particularité est de ne demander qu'un petit nombre d'étoiles de réussite pour débloquer les salles. Ainsi, en deux petites heures, vous aurez accès à la quasi intégralité des morceaux. En revanche le gameplay, lui, n'a pas franchement été simplifié, contrairement à ce à quoi on s'attendait. La difficulté est tout à fait similaire à n'importe quel Guitar Hero et les morceaux tout aussi sympas à jouer. En dehors du mode Carrière, on retrouvera le mode Soirée (qui permet aux joueurs de quitter et de joindre ou reprendre une partie en cours, avec l'instrument de son choix) ou le mode Compétition qui rassemble plusieurs types de parties donc le rock fest, un mix de tout ce que l'on trouve dans un Guitar Hero-like. La vraie originalité de Band Hero est le mode Choeurs qui n'est autre qu'un karaoké pur et dur à la Singstar. Pas d'échec, pas de score qui compte, simplement un petit défouloir pour quiconque aime pousser la chansonnette. Plus besoin d'acheter de Singstar-like dans ce cas ! Enfin, le GH Studio est toujours au rendez-vous, au même titre que la boutique en ligne qui permet d'acheter de nouveaux morceaux, de semaine en semaine.