La saga des Assassins en guerre contre les Templiers se poursuit. Adieux Croisades lointaines, bonjour la Renaissance italienne pour un second opus qui tente de corriger les quelques défauts de son grand frère.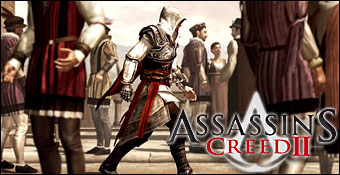 Assassin's Creed premier du nom avait passablement divisé les foules. Soit on adorait en étant prêt à lui pardonner ses défauts évidents, soit on restait bloqué par son côté répétitif et des cités un peu vides d'activité. Le leitmotiv du développement de ce second volet aura été la correction de ce genre de problème. Plus grand, plus riche, moins répétitif, Assassin's Creed II pourra-t-il convaincre ceux qui avaient délaissé le premier épisode ? Possible, pour autant, que personne ne s'attendent à une révolution complète même si pas mal de choses ont bel et bien changé. A commencer par le cadre puisque l'Animus nous emmène cette fois en Italie en pleine Renaissance. Autre temps, autres mœurs, autre héros descendant d'Altaïr. Ezio Auditore nous est présenté alors qu'il n'est qu'un flagorneur à grande gueule, impétueux et insolent qui découvrira à ses dépens son destin d'assassin qu'il n'embrasse finalement que dans le but de venger l'exécution de son père et ses frères. Une mort évidemment liée aux Templiers.

Soudoyez les hérauts pour qu'ils cessent de parler de vous. L'argent est roi dans cette suite.
Le changement d'ambiance est radical, et assuré par le héros. Au revoir fier et sobre Altaïr, bonjour Ezio le charmeur qui deviendra toutefois de moins en moins frivole au fil de sa quête qui s'étale sur plus de 10 ans. Ezio, c'est un peu le latin type, soit on accroche, soit on a envie de lui coller des baffes dès qu'il sort un "va benne". Pour certains, son changement de tempérament ne sera pas un luxe. Fort heureusement, celui-ci débute lorsqu'il enfile pour la première fois son costume d'assassin, ce qui ne se produit pas avant un certain temps, ce second volet étant nettement plus long à démarrer que son grand frère. Il est par ailleurs plus long d'une manière générale, on y trouve plus de villes, d'une taille plus imposante, Venise à elle seule pouvant occuper pendant des heures. Si Assassin's Creed comptait relativement peu de missions annexes, ici on trouvera de quoi passer le temps. Les courses libres sont bien sûr de retour, mais on trouvera des missions d'assassinats secondaires sympathiques, les tombeaux d'assassins sur lesquels on reviendra, l'assistance aux citoyens, la recherche des pages du codex ou des glyphes secrets et surtout, des missions principales en plus grand nombre, parfois de courte durée mais qui guident le joueur dans sa progression.

La splendeur des bâtiments italiens est bien respectée.
Si on procède par étapes, on commencera par s'attarder sur les changements relatifs à Ezio. Pour le faire progresser, il faudra avant tout s'enrichir. Tout se monnaie ici. On paie pour améliorer son armure et sa santé, on paie pour acheter des armes de meilleure qualité, pour s'offrir des soins, des munitions. Du coup, on est payé pour nos missions, on fait les poches des passants, on vole des coffres et surtout, on entretient sa villa. La Villa Auditore n'est rien de plus qu'une source de revenus réguliers. On s'y rend pour investir un peu d'argent dans sa rénovation, par exemple en agrandissant la banque et hop, l'argent coule à flots. Plus tard on revient et on refait une petite retouche. L'idée est bonne, mais il faut bien admettre que se taper les allers-retours à la villa peut vite devenir pesant. Et dans la mesure où on peut très bien se procurer de l'argent autrement, nombreux sont ceux qui risquent de l'oublier assez régulièrement.

Il est aisé de se mêler à un groupe, plus encore de payer un groupe de prostitués pour assurer une diversion.
Parmi les autres changements du côté des aptitudes du personnage, on citera ses nouveaux mouvements d'assassin, le bonhomme étant à présent capable de tuer une cible en étant suspendu à un rebord ou depuis une cachette. Ezio est également équipé de deux lames secrètes grâce au génie de son camarade Leonard de Vinci qui plus tard lui fait même don d'une arme à feu ou de bombes fumigènes très pratiques pour jouer au ninja. Il lui prêtera même son aile volante le temps d'une mission. Accessoirement, notre assassin est enfin capable de nager au lieu de se noyer comme un crétin quand il met un pied dans l'eau. Mais Ezio est aussi un mec super sociable. Ou en tout cas super friqué, du coup, il peut se faire plein d'amis. S'il est, comme son ancêtre Altaïr, capable de se fondre dans un groupe pour passer inaperçu, lui n'a pas besoin de s'attirer leurs faveurs pour y parvenir et peut même se mêler à n'importe quel attroupement. Mieux, avec son argent, il peut enrôler certaines factions. Les mercenaires pourront l'aider à massacrer des soldats, les voleurs les attireront loin de leur poste et seront capables de vous suivre sur les toits, enfin, les prostituées se chargeront de divertir les gardes pour vous laisser le champ libre. Autant de possibilités de faire diversion qui enrichissent les missions. Dans le même genre, lorsqu'on vous poursuit, par exemple, essayez donc de jeter quelques florins sur le sol pour voir les passants se ruer dessus et bloquer le passage à vos assaillants.

Ezio a appris quelques mouvements dont Altaïr ne s'encombrait pas.
Tout ceci sert une progression qui a quelque peu changé depuis le premier volet. Si les villes sont plus garnies en activités et que l'on garde une grande liberté de mouvement, la quête principale se veut néanmoins plus dirigiste. Les assassinats, nettement plus nombreux, ne nécessitent plus d'en passer par les missions d'enquêtes mais arrivent comme le point final d'une succession de missions diverses. On retrouve néanmoins quelques filatures compliquées par des gardes plus futés et des passants qui n'hésitent pas à faire des esclandres lorsque vous les bousculez un peu trop. Pour minimiser ces désagréments, il faudra surveiller votre notoriété. Lorsqu'elle augmente trop, pensez à arracher quelques avis de recherche, à liquider des témoins ou encore à soudoyer les hérauts qui vous font mauvaise presse. Votre travail en sera facilité.

Petite visite de la basilique Saint Marc.
Le rythme général du jeu est donc plus emporté et le contenu plus varié. D'autant que les retours incessants à l'ère moderne ont pris fin et ne cassent plus l'immersion. Escortes, libérations de prisonniers, vols, on ne va pas faire l'inventaire, simplement préciser que la quête maintient le joueur sur les rails et fait preuve de suffisamment de variété pour que le besoin d'en passer par les quêtes annexes ne se fasse même pas sentir. On regrette toutefois la disparition des enquêtes qui permettaient à ceux qui le souhaitaient de peaufiner l'assassinat. Attention toutefois, la chose est toujours possible. Pour venir à bout de sa cible, on pourra opter pour l'approche massue et en assumer ensuite les conséquences ou bien mieux se préparer et se faire plaisir en liquidant les archers, en usant d'un minimum de discrétion et surtout en repérant correctement les lieux. Ici, vous pourrez par exemple tenter de sauter comme un brute sur une cible entourée de sa garde, ça marchera mais ça manquera de classe. Si vous ouvrez les yeux et les oreilles, vous comprendrez qu'elle se dirige vers son bateau, trouverez l'arche qui mène au quai et irez l'attendre patiemment sur une poutre pour lui tomber sur le dos pendant qu'elle se gargarise de vous avoir échappé. Vous aurez autant de mal à vous enfuir, mais au moins vous pourrez frimer. Le petit hic, c'est qu'on pourrait facilement penser que les assassinats sont devenus bien plus bourrins, ce qui n'est pas faux mais pas inévitable et colle finalement bien au personnage d'Ezio. Notez que certaines missions exigent de ne pas se faire repérer et vous contraindront donc à trouver le meilleur chemin et à faire usage de tout de ce qu'on a mis à votre disposition. Souvent, la préparation d'un meurtre demandera également de mettre en place tout un système avec l'aide d'une faction. Tuer des archers pour que les voleurs les remplacent, éliminer des postes de garde pour que des mercenaires sèment la panique en ville et que votre cible soit dépourvue de protection etc.

On peut évidemment profiter d'un paquet de points de vue panoramiques.
L'autre nouveauté notable d'Assassin's Creed repose dans les Tombeaux d'Assassin. On pourrait les voir comme des donjons, au nombre de 6, renfermant des sceaux dont on ne dira rien ici. En gros, ce sont des niveaux à la Prince of Persia, en intérieur et dans lesquels il faut trouver son chemin exactement comme dans un Sands of Time. Acrobaties, énigmes, parcours chronométrés, le jeu prend une toute autre allure qui peut en troubler certains. Les niveaux sont néanmoins bien construits et pas excessivement longs. On les verra au choix comme un challenge, une pause dans la progression ou une nuisance, tout est possible et on se gardera de donner un avis trop tranché sur la question.

Oui, on peut faire de la gondole. Mais franchement, on s'en passe.
Alors que répondre à la question posée au début ? Disons qu'Assassin's Creed reste Assassin's Creed. Si vous avez apprécié le premier, vous n'aurez pas de problème avec cette suite, même si certains détails peuvent décontenancer de prime abord. Quant à ceux qui n'ont pas accroché la première fois, ils trouveront ici des corrections susceptibles de les séduire davantage mais si c'est le concept même du jeu qui vous a fait fuir, ne rêvez pas. D'autant qu'il reste des défauts irritants comme une IA parfois un peu étrange et un moteur 3D qui a curieusement vieilli affichant des visages limite décevants et un clipping qui peut choquer de temps à autre.