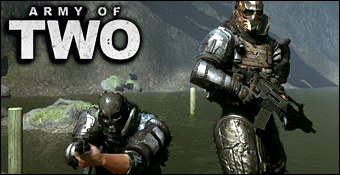 Développé par le studio montréalais d'Electronic Arts, Army Of Two annonce la couleur dans son titre et mise tout sur un binôme : Rios et Salem, deux personnages volontairement caricaturaux au possible. Ces deux compères, lassés par l'organisation militaire finissent par rejoindre une société privée employant des mercenaires. Surfant sur l'actualité qui voit effectivement des groupes paramilitaires prendre de l'importance sur le terrain, Army Of Two en tire le trait pour imaginer que ces armées privées prennent le pas sur les armées d'Etat. Machos, vulgaires et calqués sur des archétypes des personnages du cinéma d'action de seconde zone, Rios et Salem sont là pour rappeler qu'Army Of Two ne se prend pas au sérieux et ne compte pas bouleverser votre vision du monde par son scénario. En témoignent les échanges que l'on peut avoir à volonté avec son partenaire, jouer de la guitare avec son flingue, se coller un bon gros coup de boule et j'en passe.
Tout ici mise donc sur la coopération, avec un humain ou avec l'IA, à défaut. En solo, on pourra donc contrôler son équipier à l'aide de la croix directionnelle de façon à lui ordonner de rester en position, d'attirer l'attention ou de foncer droit devant. Le principe de base du jeu se trouvera dans la jauge d'Aggro qui indique quel personnage attire sur lui l'attention des ennemis par son agressivité. En gros, celui qui passe son temps à tirer. La jauge tournera alors vers son icône pendant que son corps s'illuminera de rouge. Pendant ce temps, l'autre personnage deviendra virtuellement invisible aux yeux des ennemis, libre de progresser vers une nouvelle couverture ou, mieux, de contourner l'ennemi pour le prendre à revers. En somme, il s'agit là de la traditionnelle progression "flank" des jeux intégrant une vague approche tactique mais plongée dans un titre à l'action survitaminée qui reste d'ailleurs sa principale qualité. On citera également la possibilité d'échanger nos armes avec l'équipier ou d'exécuter un tir synchrone sur une cible commune. Nous verrons également qu'il existe une flopée d'actions coopératives plus ou moins scriptées.
Comme souvent, le principe est alléchant sur le papier, mais en pratique, c'est une toute autre affaire. En premier lieu, en solo, devoir compter sur un équipier contrôlé par l'intelligence artificielle est loin d'être la panacée. Si elle surprend parfois par quelques actions efficaces, elle est globalement incompétente. Trop souvent, l'équipier ne suit pas les ordres et reste planté sur place. Pire, il m'aura même fallu recharger un checkpoint pour cause d'allié bloqué dans le décor. Mais ces faiblesses deviennent flagrantes lors de certaines actions coopératives. Il est par exemple possible de porter un bouclier pendant que l'équipier, collant à nos basques, se charge de faire le ménage. En solo, vous abandonnerez vite la chose tant votre camarade se révélera incapable de viser juste, même à bout portant. Idem lors des séquences de sauts en parachute en tandem. Une idée pourtant excellente mais complètement ruinée par le comportement de l'IA. Pour ces raisons et pour d'autres, le mode solo d'Army Of Two s'avère au final plus frustrant qu'autre chose.
Qu'à cela ne tienne, il reste la possibilité de faire cette campagne en coop, ce qui reste le véritable objectif du jeu. On pourra alors compter sur un allié fiable et se plonger dans un titre qui sait offrir une action dynamique et constante. On peut dire que de cette façon, le titre regagne une certaine dose d'intérêt. Las, ici, c'est le reste des défauts du soft qui va se charger de gâcher l'expérience et causer la grande question : qu'a fait EA pendant les mois de délais qui ont précédé la sortie du jeu ?
Premier problème, le système d'Aggro est utilisé à tort et à travers et donne souvent lieu à des scènes passablement risibles. Il est fréquent de rencontrer un mini-boss plus résistant que les autres sur lequel vous pourrez toujours vider vos chargeurs sans qu'il s'en émeuve. Il faudra donc le contourner pour le descendre de quelques balles dans le dos. Idem lorsque vous croiserez une mitrailleuse fixe ou encore une troupe d'ennemis un peu plus nombreux que d'habitude, etc. Army Of Two est affreusement répétitif et méchamment peu inspiré. L'effet pervers qui se dégage de cette volonté d'avoir articulé le jeu autour de l'Aggro est que l'intégralité des niveaux se résume à une succession de barricades défendues par des vilains au QI limité. On peut apprécier dans leur comportement un usage intensif des couvertures ou leur aptitude à nous prendre à revers. L'ennui, c'est que pour ce faire, ils ne nous contournent pas, ils courent sous notre nez. Quant à l'Aggro en lui-même, il n'apporte finalement rien au principe du jeu en coop, n'étant finalement qu'une exagération d'un système de progression vieux comme le monde mais qui a le mérite de fonctionner. Pour autant, le joueur peu exigeant et amateur de shoots hyper bourrins trouvera son compte en misant sur la simple surenchère de tirs.
Mais il y a plus frustrant encore, l'inutilité absolue de certaines actions coop. A commencer par le fameux "dos-à-dos" qui était la star des trailers du jeu. Au final, ces actions sont scriptées. Dans ce cas précis, on pourra trouver les zones qui lui sont dédiées en repérant les cercles au sol dans la vue GPS. Une fois à l'intérieur, vous aurez droit à une séquence de tir au pigeon en mode ralenti. Inutile, long et pas amusant pour deux sous. Le sentiment qui en ressort est que ce genre de séquence a été intégrée à coup de burin sans réelle réflexion. Il en va de même pour le tir synchrone qui n'a simplement aucun intérêt. Ce qui aurait pu être un must du jeu en coop devient donc un bain tiédasse, à peine sympathique et franchement pas mémorable, évoquant une sorte de Gears Of Wars qui manquerait de son facteur "Waouh !" On pourra toujours se consoler en faisant la course au fric engrangé par l'accomplissement des objectifs et dépensé dans une personnalisation très poussée et délirante des armes.
Reste toutefois le multi en ligne qui va permettre à Army Of Two de remonter un peu la pente. Dispatchés sur des cartes maps de bonne taille, 4 joueurs s'affrontent en équipe de deux pour remporter un maximum de cash, escorter des otages ou prendre et défendre des objectifs. Pas révolutionnaire, le mode online apporte une légère plus-value à un titre qui en manque cruellement. Car c'est un fait, si on peut voir dans Army Of Two suffisamment d'attrait pour le boucler une fois en coop, on aura bien du mal à revenir vers cette campagne sans originalité. Enfin, terminons par un petit mot sur la technique et l'esthétique, étrangement inconstantes. Pour le très bien, voire l'excellent, on citera les modèles de personnages aussi détaillés que bien animés ou encore les explosions spectaculaires. En revanche, on est surpris dans un jeu EA de voir des niveaux si peu inspirés, grisonnants et fades. De plus, le jeu est plombé par une gestion déconcertante des collisions qui a fatalement une influence déplaisante sur les impacts et la précision des tirs.

Votre équipier vous fait la courte-échelle, il ne reste qu'à passer la tête pour nettoyer le coin.

Si vous remplissez la jauge d'aggro, vous passez en mode dévastation

Dans cette situation, l'IA se montre incapable de faire mouche sans d'inutiles efforts.

Demandez à l'équipier d'attirer le feu ennemi pour progresser discrètement.

Les modèles des persos sont techniquement impressionnants.
Toutes les armes
Armes principales
Terminer le jeu en mode Recruit.



Armes secondaires
Terminer le jeu en mode Contractor.



Armes spéciales
Terminer le jeu en mode Professional.
Mode Professional
Terminer le jeu en mode Recruit ou Contractor.
Munitions et énergie infinies
Mettez le jeu en pause et entrez le code suivant :
,
,
,
, L2, R2, R1, R2,
,