Pétri de bonnes intentions, le retour de Alone in The Dark aura été une bonne douche froide pour certains, nonobstant les réelles qualités de l'oeuvre en question. Après avoir écouté les plaintes et autre suppliques des joueurs, Eden a revu sa copie avec cette mouture PS3 en affublant son bébé du sous-titre Inferno. Maintenant, est-ce suffisant pour crier à qui veut l'entendre que cette mouture est de loin la meilleure existant sur le marché ?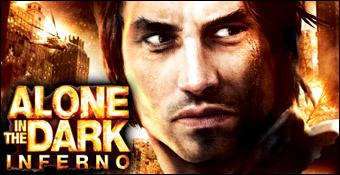 Fer de lance d'un genre né de l'esprit d'un homme, Frédéric Raynal, Alone in The Dark aura marqué des générations de joueurs à travers le monde. Ayant tenté un come-back sur PSone avec un New Nightmare intéressant mais ne réussissant jamais à s'émanciper de son modèle, Resident Evil, cette nouvelle itération horrifique s'affranchit aujourd'hui de ses pairs en proposant une aventure plus originale. Cependant, Alone in The Dark multiplie cette fois les trouvailles en expérimentant, avec plus ou moins de réussite, diverses teintes d'ambiance. On retiendra également qu'il tente de faire une jonction, peu probable mais amusante, avec le tout premier épisode sorti sur PC grâce à un vecteur commun, Edward Carnby. En effet, ce détective de l'impossible, sorte de Kolchack surentraîné rompu à toutes les audaces les plus folles, reprend du service afin de découvrir qui il est vraiment. De fait, l'histoire découle véritablement du mythe et si elle prend parfois des allures de Ghostbusters déviant, elle reste agréable même si une fois arrivé au bout de notre périple, on se rend compte qu'elle manque de consistance.

La visite de Central Park est surtout l'occasion de trouver le temps long même si le jeu gagne en qualité graphique.
Comme je le disais plus haut, cet Alone se pose cette fois comme un survival-horror aux nombreuses facettes. Ainsi, on peut le voir comme un shooter saupoudré d'énigmes et de phases de plates-formes ou bien comme un titre d'aventure/action lorgnant du côté de Fahrenheit en cela que l'action est conceptualisée à l'image d'un produit hollywoodien où le côte cinématographique se veut au service de l'immersion du joueur/spectateur. Une fois l'oeil rivé sur l'écran, ceci nous donne alors des séquences d'action faisant le jeu de passages au ralenti afin de mettre en évidence explosions, défenestrations ou tout autre moment croustillant ainsi que des changements de caméra millimétrés dynamisant notre avancée. D'ailleurs, Alone In The Dark ne cache en rien ses influences issues du septième art et de la télévision américaine. De fait, le soft se compose de huit épisodes eux-mêmes segmentés en séquences dont une inédite sur la console de Sony. Si l'idée, déjà entraperçue dans Astérix et Obelix XXL 2, offre au public une plus grande liberté dans le fait d'appréhender le jeu, on franchit un nouveau palier dans le cas présent. En effet, la volonté des développeurs étant que le joueur ne soit pas bloqué et puisse profiter un tant soit peu de l'aventure, on ne sera plus contraint de terminer chaque épisode pour voir le bout du tunnel. De fait, un résumé des épisodes précédents nous est servi au début de chaque segment se concluant la plupart du temps par un cliffhanger à l'image de n'importe quel épisode de série US. Pour terminer sur ce point, sachez que si vous désirez connaître votre position précise à l'intérieur d'un épisode, une sorte de "time line", scindée en plusieurs parties, vous y aidera. On retiendra aussi qu'il est possible sur PS3 d'accéder à la toute fin du jeu alors que les quatre derniers chapitres étaient bloqués sur Xbox 360. Un autre détail synonyme d'une accessibilité encore plus probante.

Malgré quelques ratés, la création d'items est une des bonnes idées de Alone in The Dark.
Concernant les mécanismes de gameplay, on note une foule de petites idées intéressantes. Premièrement, à l'image d'Obscure, il est possible de fabriquer ses propres armes en mixant plusieurs objets qu'on trouve ici et là. Une bouteille d'alcool, des munitions, hop, vous pouvez fabriquer des balles incendiaires qui n'explosent pas lorsqu'on les utilise (magie du jeu vidéo) mais permettant en contrepartie de réduire en cendres les ennemis. A ce sujet, sachez que le feu a ici une grande importance vu qu'on peut utiliser des chaises, des bouts de bois, afin de s'en servir comme torches. Ensuite, à vous d'en user pour cramer un adversaire trop collant (ce qui devient vite gonflant), percer l'obscurité afin de ne pas tomber dans le vide en empruntant un chemin escarpé ou pour brûler une porte qu'il faudra ensuite emboutir par nos propres moyens. D'ailleurs, le jeu ne manque pas de possibilités. Par exemple, lors d'une séquence d'action dans Central Park, il sera possible de choisir entre le "rentre-dedans" musclé ou la "finesse" synonyme de stand de vendeur de hot dogs utilisable en tant que bombe à roulettes capable d'exploser un groupe d'ennemis non loin de là. Pourtant, sur ce point, on sent que le tout est plus ou moins scripté (monstres ne nous voyant pas, restant étrangement groupés, stand visible comme le nez au milieu du visage...) à l'instar d'une séquence similaire dans Resident Evil 4, à l'entrée du cimetière. Certes, dans le cas présent, on pourra y aller de notre petit bricolage, en usant d'une fusée de détresse et d'une bouteille de propane, mais dans l'absolu, cela revient au même.
Donne-moi la maiiiiiin et prends la mienneuhhh, mais oui, mais oui, Alone c'est finiiii !
Continuons dans les petits plus avec l'absence d'inventaire, ici remplacé par l'intérieur de notre veste truffée de poches permettant d'y mettre tout ce qu'on trouve, enfin, du moins dans une certaine mesure. Du coup, l'action n'est plus vraiment coupée par l'ouverture d'un menu (même si cette action fait office de pause) et l'immersion n'en est que meilleure. En parlant d'objets, il faut également savoir que vous pourrez dénicher des sprays (oui je sais, ça vous rappelle quelque chose) pour soigner vos blessures. A vous donc, à l'image d'un Solid Snake, de passer une petite couche de mousse "cautérisante" sur vos bobos avant de repartir au combat. Bref, le tout est bien pensé d'autant que vous pourrez opter pour quatre configurations personnalisées d'objets (flingue+lampe-torche, spray, cocktail Molotov, etc) accessibles rapidement en pressant le haut de la croix de direction. Maintenant, si les balles incendiaires restent un des meilleurs moyens pour venir à bout de vos ennemis, vous pourrez tout de même choisir une arme de fortune (batte de base-ball, épée, katana, masse) pour vous défaire d'une nuisance. Il est d'ailleurs ironique de constater que dans Alone in The Dark, un râteau est au moins aussi puissant qu'un chargeur de magnum.

Les poursuites imposées sont beaucoup plus simples sur PS3 et profitent de checkpoints.
Toujours dans le but d'enrichir la progression, citons aussi les phases de plates-formes durant lesquelles Edward devait se suspendre à des câbles pour passer de corniche en corniche à l'extérieur d'un immeuble ou pour sortir vivant d'une cage d'ascenseur. Astucieusement mises en scène, ces transitions sont une vraie plus-value dans le sens où la construction du jeu devient plus pêchue tout en évitant une trop grande redondance. Toutefois, malgré le gameplay amélioré de la mouture PS3, le contrôle du personnage manque parfois de précision, surtout dans les balancements basés sur l'inertie du héros couplée à un usage du stick pour prendre de la vitesse. Dans le même ordre d'idées, on pourra aussi reprocher aux développeurs d'avoir choisi un système de combat à l'arme blanche lié aux poussées du stick droit pour effectuer des mouvements. Original mais pas vraiment concluant. Sur ce point, il est vrai que le titre d'Eden a du mal à convaincre même si les soucis de visibilité rencontrés sur Xbox 360 sont ici absents puisque les développeurs ont opté pour une gestion totale de la caméra avec rotation à 360°. Néanmoins, si la vue à la troisième personne devient enfin jouable, on lui préférera celle à la première personne. De toute façon, retenez bien que lorsque vous voudrez tirer, vous passerez automatiquement en vue subjective. En somme, entre la raideur d'animation d'Edward et ses déplacements hachés, on a un peu de mal à s'y retrouver. De plus, pour couronner le tout, on trouvera beaucoup de bugs de collision et autres soucis du même acabit nous faisant nous demander si le jeu a été correctement bêta-testé.

Ah merveilleux monde vidéoludique où un corps fait de chair et de sang bloque tout de go un doux rayon de lumière.
Si on passera rapidement sur les mini-jeux où il convient de relier le plus souvent deux câbles électriques (afin d'ouvrir une porte, de démarrer une voiture) en utilisant les deux sticks, retenons aussi une utilisation fréquente de véhicules en dehors ou non de courses-poursuites imposées. Sur ce point, mentionnons tout de même que ces passages forcés sont loin d'être exempts de reproches : Obligation de les reprendre (surtout le premier) plusieurs fois avant de les réussir, prise en main peu concluante... Au final, si ces poursuites évitent une fois de plus de tomber dans une progression trop redondante, les finitions laissent à désirer malgré une difficulté bien moindre sur PS3 entre autres induite par l'implémentation de checkpoints. En revanche, les énigmes dans leur ensemble constituent certainement le point fort du jeu. Bien plus évoluées que celles d'un Resident, différentes de celles d'un Silent Hill car basées sur le gameplay et le moteur physique du jeu (le célèbre Havok), elles apportent énormément à Alone qui, grâce à elles, peut même se targuer d'être un véritable mix entre le survival, le jeu d'action et le jeu d'aventure.
Peu ragoûtant il est vrai mais depuis, Dead Space est passé par là, alors bon...
Pour autant, et malgré cette personnalité qui lui permet de se détacher de ses concurrents, Alone in The Dark laisse un arrière-goût d'inachevé. Eden a peaufiné cette version PS3 en lui offrant une jouabilité plus précise ainsi qu'un contenu étoffé mais on y retrouve toujours de très nombreuses approximations. Pourtant, malgré pas mal de défauts (graphiques, de conception), le jeu se pare de beaux éclairages, d'un graphisme agréable (exception faite d'une modélisation douteuse de personnages et de pas mal de bugs) et d'une bande-son irréprochable fruit du très talentueux Olivier Derivière, notamment compositeur des deux Obscure où il était déjà permis de constater à quel point le bonhomme est doué. Finalement, si le jeu ne marquera pas une étape décisive dans le petit monde du survival-horror, il a le mérite d'innover intelligemment en évitant de trop copier sur ses petits camarades. Est-ce à dire que cette résurrection amènera prochainement l'illumination de Carnby à travers d'autres épisodes ? Il va sans dire que de votre choix, amis lecteurs, dépend la réponse.