50 Cent : Blood on the Sand
50 Cent est quelqu'un de téméraire. Tellement téméraire qu'il fut partant pour remettre le couvert sur consoles, après avoir échoué dans un premier temps, via un Bulletproof pas franchement convaincant. Apparemment échaudé par la réaction des critiques et même par la piètre qualité du travail des équipes en charge du développement de son image, notre ami Curtis promet cette fois une aventure digne de ce nom.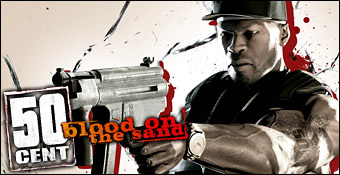 Ce second opus se veut être celui de la rédemption. En quête de rachat, 50 Cent veut prouver qu'une licence de prime abord destinée à se briser les dents contre un mur de critiques peu avare en sarcasmes en tout genre, peut en réalité être à la base d'un titre de qualité. Pour ce faire, le rappeur et/ou les développeurs ont notamment décidé d'appuyer le côté second degré, suggéré dans Bulletproof. Encore plus assumé dans Blood on the Sand, il se traduit tout d'abord par un scénario très culcul. 50 Cent et ses potes donnent un concert dans le Moyen-Orient, déjà armés jusqu'aux dents, comme s'ils étaient parés à l'éventualité d'une altercation musclée avec les gens d'ici... Le son se termine et au moment de régler son cachet à Curtis, l'organisateur du concert présente des poches vides comme un lavabo. Une situation qui a, vous vous en doutez, le don d'énerver monsieur centime qui finira tout de même par se faire payer... en crâne ! En effet, Anvar lui offre un crâne orné de diamants et dont la valeur historique est suffisamment inestimable pour que celui-ci s'acquitte de sa dette. Problème, 50 Cent est un looser, on lui dérobe alors immédiatement l'objet. Démarre ensuite une chasse qui ne prendra fin que lorsque "Fifty" aura mis la main sur son bien.

Partout où il passe, Fifty met le désordre. Mais c'est pour la bonne cause...
Déjà présente dans Bulletproof, la G-Unit entre alors en action, sous la forme d'un duo composé de Fifty et de l'un de ses potes parmi Tony Yayo, Lloyd Banks et DJ Whoo Kid. Un choix absolument pas crucial puisque seule l'arme préférée du caïd change en fonction de votre sélection. Une coopération qu'il est possible d'exploiter seul, avec un partenaire contrôlé par l'IA ou à deux humains. Malheureusement, cette seconde configuration n'est présente qu'en ligne ou en réseau local, avec deux machines, deux jeux et deux téléviseurs. Pas d'écran splitté donc, ce qui constitue en soi un premier handicap pour Blood on the Sand si on le compare par exemple à Army of Two. Toutefois, bien que la coopération présente forcément un intérêt, celle-ci n'est pas plus poussée que cela. En effet, il n'y a pas entre les deux protagonistes la complémentarité et la solidarité qu'il peut y avoir dans d'autres titres du genre. Cela dit, être deux est indispensable à la progression puisque sans votre compère, il est impossible de franchir certains obstacles, comme des plates-formes situées en hauteur, ou d'ouvrir l'accès à de nouvelles zones, bien souvent de simples portes de garage, innombrables au passage. Toutefois, les phases en véhicules tendent à exploiter un peu plus profondément l'avantage d'être deux, l'un des deux joueurs s'asseyant au volant, l'autre se plaçant derrière la mitrailleuse, ou les deux shootant ensemble, en hélico par exemple.

Comme quoi, il n'y a pas que dans Wanted que les véhicules font ce genre de cabriole.
En tant que TPS, Blood on the Sand fait penser à plusieurs jeux du genre. A Army of Two pour ce qui est de la coopération comme nous venons de le voir, à Gears of War pour son système de couverture et à The Club pour son interface et ses objectifs secondaires, le tout, toutes proportions gardées évidemment. Le système de couverture tout d'abord, se présente sous la forme d'une action semi-automatisée, qui sert également de course. Explication. Le seul moyen de courir dans ce 50 Cent est d'appuyer sur la touche qui ordonne au rappeur de se mettre à couvert, contre un mur, contre un bloque de béton ou derrière la carcasse d'une voiture. Malheureusement, on ne peut pas se couvrir tout le temps et n'importe où. Il faut attendre patiemment que l'icône adéquate apparaisse à l'écran, vous donnant à ce moment la possibilité de vous abriter des tirs ennemis. Un système un peu lourd, parfois bancal, en particulier si vous n'arrivez pas exactement de face à ce qui vous servira de couverture. Cela dit, et bien que l'on pâtisse parfois à combiner réactivité et couverture, ce mécanisme permet des déplacements félins et sécurisés puisque le joueur peut switcher d'un abri à l'autre très rapidement. Il peut aussi tirer à l'aveugle, de quoi lui permettre de continuer à dézinguer du terroriste tout en récupérant de la vie. Comprenez qu'à l'instar de plus en plus de titres, la jauge d'énergie se régénère automatiquement, dès que vous n'êtes plus atteint par les balles adverses.

Même quand il a mal, Fifty n'a pas peur. Au pire, il s'abrite brièvement et repart de plus belle.
La référence à The Club se justifie tout autant par la présence de mini-défis chronométrés en pleine fusillade que par la ressemblance troublante entre les deux HUD. Si vous êtes du genre à aimer finir vos jeux à 100% et à tout débloquer (vidéos, artworks, cheats...), il faudra passer par ces challenges chronométrés qui interviennent au milieu de l'action. Par exemple, on vous donnera 20 secondes pour nettoyer une zone, tuer un certain nombre d'embusqués, éliminer un sniper... La présence d'un timer constitue le seul challenge dans la mesure où ces objectifs devront quoi qu'il arrive être remplis, dans l'extrême majorité des cas. Quoi qu'il en soit, ces défis ne sont que des bonus et vous pouvez faire l'aventure sans même y faire attention tant l'écran peut être parfois surchargé. Une accumulation d'informations secondaires qui ne nuit pourtant pas à la lisibilité de l'action. Le joueur fera tout simplement moins attention à ces petits challenges. En parallèle, on compte deux "quêtes" annexes, dont l'incidence sur la progression est identique à celle des défis chronométrés. Il s'agit en réalité de récupérer tous les posters des potes du rappeur, parfois même des portraits de son petit minois, dispersés aux quatre coins du niveau joué. Dans le même genre, des cibles sont plus ou moins cachées dans chaque environnement et permettent elles aussi de faire le plein de points en vue de se gaver de bonus.

La visée est extrêmement précise, c'est l'un des points forts du jeu.
Outre le fait que vous récupériez des points en fonction de votre capacité à remplir tous ces objectifs, vous garnissez évidemment votre compte en banque en brisant quelques caisses bourrées de grosses pièces. Cet argent va servir à investir dans de nouvelles armes pour améliorer votre stock qui peut comprendre jusqu'à quatre unités, à savoir une arme de poing, une arme de précision, un lance missiles/grenades et une arme d'assaut. Lorsque vous décidez de remplacer l'une de vos armes, vous conservez la précédente en stock et rien ne vous empêche de la ré-associer à la sélection rapide plus tard dans l'aventure. Tout ceci ne peut en revanche pas se faire n'importe quand. Originalité du soft, vous ne pourrez dépenser vos deniers qu'en trouvant l'unique téléphone qui se cache dans le niveau. Pour vous faciliter la tâche, celui-ci sonnera dés lors que vous serez à proximité, il ne vous restera plus qu'à décrocher pour accéder à la boutique. Une boutique qui ne compte pas que des armes mais aussi des provocations sous forme d'insultes en tout genre. Si cela vous plaît de traiter tout le monde de fils de sa maman, d'enfessé de sa race ou de saligaud, plusieurs packs feront votre bonheur... Mais plus intéressant, sont également à vendre des contres qui feront varier l'animation du petit QTE qui sert d'attaque au corps-à-corps. Le joueur n'a qu'à presser les 3 touches indiquées à l'écran au moment opportun et celui-ci assène autant de coups à son adversaire pour le réduire en bouillie.

Si vous voulez mon avis, ce n'est pas comme ça qu'on parle aux dames...
Si l'on doit juger le niveau de l'IA, on se contentera de dire qu'elle ne commet aucun écart notable, que ce soit dans l'excès de solidité et d'efficacité ou dans l'accumulation de comportements idiots qui mettent le joueur dans de sales draps. Si l'IA alliée sait être efficace, sans pour autant se montrer plus adroite que la moyenne, l'IA adverse quant à elle possède un gros point faible, le combat au corps-à-corps. Difficile pour elle de contrer vos attaques et de réagir à un assaut de votre part. Pourtant, de loin, les tirs ennemis s'avèrent plutôt précis et capables de vous débusquer, même lorsque vous vous croyez suffisamment couvert. On pense en particulier aux tirs de tourelles, quasi incessants et ô combien compliqués à détourner. C'est le moment choisi par Fifty pour sortir son arme secrète, le bullet time. Celui-ci se déclenche lorsque le rappeur a descendu suffisamment de malfrats pour faire grimper sa jauge. Classiquement, le temps se ralentit alors un instant pour tout le monde, sauf pour Curtis, qui peut alors progresser librement et aller rouster le petit malin qui tente de lui faire des misères. Mais au final, on utilisera le bullet time en tant que gadget dans la mesure où son utilité ne dépasse pas le cadre des phases que l'on vient de décrire. L'aventure est sans doute un peu courte (7 heures environ) pour qu'un tel mécanisme soit mieux exploité.