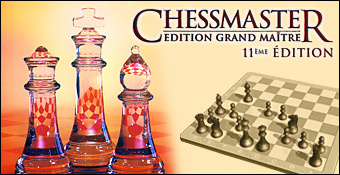 Déjà vingt ans que Chessmaster humilie les joueurs d'échecs du monde entier sur toutes les machines imaginables. Du téléphone portable au PC en passant par la DS, impossible d'échapper à ce titre mythique d'Ubisoft qui a connu la consécration ultime en 2002 lorsque Chessmaster 9000 a battu le grand maître Larry Christiansen. C'est dire la puissance du fameux moteur du jeu, The King, qui a même dépassé depuis quelques années les 2600 ELO. De fait, The King se classe désormais parmi les 10 programmes d'échecs les plus efficaces du monde.

Suivez la flêche !
Fin 2004, Ubisoft sortait une dixième édition innovante de Chessmaster, intégrant des cours pour les élèves de tout niveau et refondant entièrement une interface qui en avait bien besoin. Saluée par la critique, cette version anniversaire avait rencontré un franc succès auprès du grand public. Aujourd'hui, en découvrant ce nouveau volume, on ne peut s'empêcher de ressentir une certaine amertume en regard du manque de nouveautés flagrant qu'il propose. Mis à part des plateaux inédits, des cours signés Josh Waitzkin et quelques mini-jeux, on se demande bien ce qui peut justifier la sortie d'un onzième opus pratiquement identique à son prédécesseur.

Les adversaires sont personnalisés.
Il n'empêche que Chessmaster demeure bel et bien une référence dans son domaine comme en témoigne le logo de la très sérieuse FFE (Fédération Française d'Echecs) apposé sur la jaquette. Son accessibilité fait de lui le programme privilégié des débutants et autres néophytes en matière de réflexion échiquéenne. Les cours, tirés de la méthode "L'Art D'Apprendre" du maître international Josh Waitzkin constituent en outre la meilleure façon d'apprendre et de progresser sur un ordinateur à l'heure actuelle. En effet, contrairement à Shredder (pas celui des tortues ninja !) ou Fritz qui se destinent à un public averti, Chessmaster prend les joueurs par la main depuis l'initiation jusqu'à la maîtrise. Sa remarquable Académie interactive propose des dizaines de leçons et d'exercices qui garantissent un apprentissage en profondeur des échecs contemporains. Quelques mini-jeux comme les Fourchettes à Fruits ou le Voyageur assurent, pour leur part, les moments de détente entre deux cours.

Des mini-jeux ont été introduits dans cette édition.
L'interface, corrigée depuis la dernière édition, est toujours aussi agréable et simple d'accès. Pour info, on est bien loin de l'usine à gaz d'un Chess Academie. Les menus sont simples, clairs et l'écran de jeu est tout à fait lisible. Les plateaux sont variés et généralement très agréables à regarder, qu'ils soient en 3D ou en 2D. Les plus téméraires pourront même jouer sur un échiquier Lapins Crétins et y déplacer par exemple des cuvettes de WC en guise de tours. Inutile de préciser que les cris débilissimes de ces créatures armées de ventouses, qui s'interpellent à longueur de partie, ruineront toutes vos tentatives de réflexion mais ça vaut le coup d'oeil.

Vous ne rêvez pas, cet échiquier est peuplé de Lapins Crétins. Bwaaaa !
Pour ce qui est du jeu proprement dit, on aura la possibilité de disputer des parties et des tournois contre le CPU ou via Internet. Les salons online étant étrangement déserts, notre adversaire sera la plupart du temps The King qui, fort à propos, est capable de simuler comme par le passé de multiples personnalités. La liste des adversaires virtuels et des tournois prédéfinis est suffisamment étendues pour que les joueurs de tout niveau puissent s'y retrouver. Par ailleurs, une assistance en temps réel permet de se sortir des situations les plus inextricables. De sa voix en boîte, le mentor vous expliquera consciencieusement quelle stratégie adopter pour contrer les offensives ennemies ou au contraire mener l'attaque. Bien entendu, cette fonctionnalité est désactivée durant les parties classées. Les fonctions d'analyse du jeu en cours ou d'analyse rétrospective des parties terminées, en revanche, se révèlent décevantes et limitées. On consultera bien plus volontiers les nombreuses statistiques et courbes de progression.

Que ce soit en 2D ou en 3D, les écrans de jeu sont clairs et lisibles.
Enfin, comme tout jeu d'échecs PC qui se respecte, Chessmater : Edition Grand Maître propose des librairies d'ouvertures (2200 entrées) ou des parties célèbres (900 entrées). Le passionné aura aussi accès à une base de données gigantesque comprenant par exemple toutes les parties jouées par les grands maîtres entre 2002 et 2007. Ceci étant, il n'y a rien de nouveau sous le soleil à ce niveau. Pas plus que pour le online d'ailleurs qui permet désormais de s'affronter par mails ou de tester une douzaine de variantes comme les échecs marseillais ou progressifs. Chessmaster est donc sans aucun doute un excellent jeu d'échecs, l'un des meilleurs c'est certain, mais cette 11ème édition semble clairement trouver sa justification dans une démarche purement commerciale.