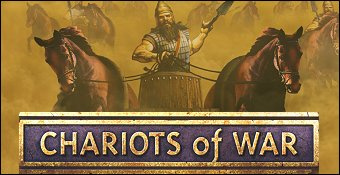 Recette de jeu : vous prenez un jeu que vous avez déjà sorti, vous changez le background, par exemple au lieu de « Romains » vous mettez « Egyptiens » et voilà, vous avez un nouveau jeu. Déjà Legion c'était pas le pied mais ça pouvait satisfaire les débutants mais alors cette fois, il faudrait voir à arrêter les délires. Jouer à Chariots Of War quand on a connu le premier opus est incroyablement soporifique. On ne note que deux changements mineurs dans le titre et ils sont loin d'être ceux que l'on aurait souhaité voir pour que le soft gagne en intérêt. Enfin, on apprécie tout de même l'interface plus conviviale et soignée, en un mot moins rébarbative. En tout cas grâce à ça, je vais pouvoir réaliser une grande prouesse : me paraphraser moi même en reprenant mon test de Legion pour faire celui de Chariots Of War.
Le gameplay n'a donc aucunement changé et se divise toujours en deux parties. La première, la gestion de vos villes et de votre population. Rien de très complexe à ce niveau même si les choses ont légèrement été enrichies. Une bonne gestion des ressources (notamment via un commerce équilibré) vous permettra d'accéder à différents types de bâtiments destinés soit à augmenter votre population soit à upgrader vos armées etc, etc. Tout est relativement simple et nul besoin de passer par le tutorial pour s'en sortir.

Le commerce est assez simple dans sa gestion.
Le deuxième gameplay, c'est celui des batailles. Que vous soyez parti conquérir de nouveaux territoires ou que l'on vous tombe dessus sauvagement, les choses sont les mêmes. Un premier écran signale les forces en présence, leurs points forts, leurs points faibles, leur équipement et leur nombre et bien sûr les infos sur le terrain du combat. On commence par placer les différentes unités puis on leur donne des ordres de formations et de mouvements tels que déborder, charger ou attendre. Hop, on appuie sur OK et c'est parti. Il ne vous reste plus qu'à regarder une myriade de petits lutins se mettre joyeusement sur la gueule en comptant les morts. Vous ne pouvez plus rien faire. Bon au début on trouve ça sympa, au bout d'un moment, quand les armées sont nombreuses et que les combats s'éternisent, on se casse boire un pot avec des potes.
Pas fondamentalement mauvais, ce système est pourtant très mal foutu. Tout d'abord il est trop limité et on en fait vite le tour. Et pire, la situation typique dans laquelle il devient gonflant, c'est lorsqu'on se fait attaquer par une énorme troupe alors qu'on déplace 10 pauvres paysans. Vous êtes cuits, pas moyen d'éviter la mort puisqu'il n'y a pas d'option de retraite. Bon OK, c'est le jeu, soit, mais au moins qu'on ne soit pas obligé de se cogner la retransmission de la bataille dont on connaît déjà l'issue.

Et hop, qui c'est qui va se faire tomber dessus ?
Gestion des villes simpliste, gestion des batailles lourde, c'est bien à ce niveau qu'on aurait voulu que les développeurs fassent quelque chose. Au lieu de ça, la principale nouveauté du soft est de nous permettre d'envoyer des diplomates inutiles chez nos voisins et surtout de décapiter les leurs si on a envie de mettre un peu d'ambiance. J'avais été clément avec le premier volet, considérant que le titre pouvait constituer un bon moyen de se lancer dans un genre relativement hermétique mais là, rejouer au même titre, je vous avouerai que ça a eu un effet très bénéfique sur mon sommeil, en dehors du fait que maintenant j'ai AZERTY gravé à l'envers sur le front.