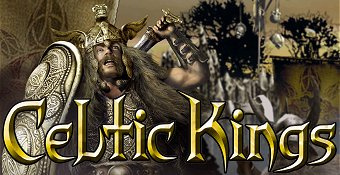 Même s'il s'appuie sur un contexte qui pourra plaire à la cible potentielle des nombreux amateurs de jeux de stratégie sur PC, il est clair que Celtic Kings aura du mal à satisfaire son public de par son manque d'ambition et la présence dominatrice de titres tels que Age of Kings ou Empire Earth sur le même support. Anciennement nommé The Druid Kings, ce titre développé par le studio belge Haemimont propose pourtant une approche intéressante en alliant la stratégie à des notions davantage axées RPG. L'aventure solo nous met dans la peau d'un guerrier celte prêt à tout pour devenir un héros et libérer son peuple du joug des soldats romains. La campagne se situe donc pendant la conquête de la Gaule par Jules César, mais les puristes ne devront pas s'attendre à quelque chose de très fidèle au contexte historique, ni à une profondeur de jeu énorme. En plus des celtes et des romains, une troisième force viendra tout de même mettre son grain de sel dans les conflits. Même s'ils ne font pas partie des clans jouables, les Teutons représenteront en effet fièrement les tribus germaniques en quête de fortune et de gloire.

Le niveau d'expérience des unités est déterminant.
L'une des principales particularités de Celtic Kings est d'intégrer un système de niveaux d'expérience pour chaque unité. Au fur et à mesure de leurs victoires, vos guerriers pourront ainsi passer à des niveaux plus élevés, ce qui s'avérera déterminant pour s'assurer la victoire durant les batailles, d'autant plus qu'ils pourront se régénérer grâce à l'aide de druides présents sur les lieux. Inutile de venir en surnombre si vous n'avez pas pris la peine d'entraîner vos unités et de constituer une armée homogène, constituée d'épéistes, de guerriers armés de haches, d'archers, de cavaliers, de lanciers, et de druides, sans négliger de ravitailler régulièrement vos troupes en envoyant des mulets chargés de vivres. Autant d'idées originales et intéressantes que l'on ne trouve pas dans d'autres jeux et qui apportent ici une nouvelle dimension à la résolution des conflits.

Le rendez-vous des druides.
En dehors de cela, l'aspect STR reste tout de même assez limité, les ressources étant peu nombreuses et le jeu ne comportant aucune phase de construction de bâtiments. Les parties ne se résumeront pas pour autant à de simples batailles, puisqu'il faudra tout de même gérer le fonctionnement de ses places fortes à partir des bâtiments déjà en place, entraîner ses hommes pour leur faire gagner de l'expérience, et envoyer des mules pour assurer le ravitaillement en cas de déplacement lointain. Les unités perdent en effet rapidement leurs forces si elles ne sont pas nourries régulièrement tout au long du jeu, ce qui peut devenir assez lourd à gérer à la longue. D'où la nécessité d'explorer minutieusement les vastes environnements de jeu pour s'approprier les emplacements stratégiques. Le problème, c'est qu'il faut nécessairement passer par la map globale qui s'affiche en plein écran pour localiser les prochains objectifs ou déplacer ses troupes rapidement. Dommage qu'on ne puisse la faire apparaître en version réduite dans un coin de l'écran.

La gestion des places fortes.
Hormis le fait que les batailles s'avèrent assez confuses et difficiles à gérer pour peu que plus d'une vingtaine d'unités soient en jeu, Celtic Kings introduit, là encore, plusieurs particularités qui vont au-delà des limites du simple STR. Déjà, le soft introduit un système de héros qui permet aux personnages concernés de bénéficier d'un certain nombre d'artefacts leur conférant des bonus magiques, et de contrôler directement les hommes placés sous leur commandement. L'intérêt de la chose est que les guerriers placés sous les ordres d'un héros bénéficieront d'un bonus spécial durant les combats. Après, c'est clair qu'il ne faut pas s'attendre à des prises de forteresses dignes de Stronghold. Tout juste a-t-on accès à des engins de siège tels que les catapultes, dont l'efficacité variera en fonction du nombre d'hommes qui les contrôlent. On pourra d'ailleurs exploiter les portions maritimes des maps en construisant des navires de guerre ou des bateaux marchands. Outre les combattants classiques que nous avons cités tout à l'heure, on pourra compter sur la présence de druides (ou de prêtres, si vous jouez avec les romains) qui pourront accessoirement guérir vos unités ou invoquer des goules (si, si !). A noter que leurs capacités magiques sont accrues lorsqu'ils sont en groupe et se trouvent dans des lieux sacrés. Autre élément appréciable, Celtic Kings ne se contente pas d'une simple campagne solo. Le jeu comporte également un générateur de maps ainsi qu'un éditeur très simple d'utilisation qui permet de faire des choses sympa assez rapidement. Enfin, le jeu permet de s'essayer à des parties multiplayer en Lan ou sur internet jusqu'à 8 joueurs, laissant le joueur libre de se ranger du côté des Celtes ou des Romains. Malgré tout, le gameplay n'offre pas suffisamment de profondeur de jeu pour empêcher le joueur de rester sur sa faim.