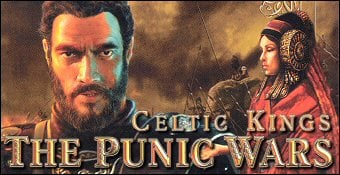 Comme son nom l'indique, le jeu se déroule pendant les guerres puniques qui ont fait s'affronter les troupes carthaginoises et les terribles légions romaines. Ces deux empires, qui étaient les plus puissants à l'époque, se sont combattus pour prendre le contrôle des régions bordant la méditerranée. Assez logiquement, le jeu propose de diriger les Romains, les Carthaginois mais aussi les Gaulois et les Ibères, qui habitent des terres très convoitées par les deux empires rivaux. Chaque camp à ses propres unités et bâtiments. Hélas, ces différences se résument à un simple changement du design et non à un vrai bouleversement tactique entre les différents peuples jouables, comme on peut par exemple le constater dans Warcraft 3 où une partie avec les humains est totalement différente d'une partie avec les orques. The Punic Wars comprend plusieurs scénarios qui vous proposent de participer entre-autres à la bataille de Sagonte, aux campagnes d'Hannibal, au siège de Numance et bien sûr aux guerres puniques. On retrouve donc le contexte historique cher à Haemimont Games.

Un chantier naval.
Comme son aîné, The Punic Wars se démarque des autres jeux de stratégie en adoptant un gameplay très particulier fondé sur la formation de groupes dirigés par un héros qui décide lui-même de la position de ses troupes. Vous ne faites alors que contrôler le héros et non pas les hommes qui composent son armée. Après un petit temps d'adaptation, ce système s'avère efficace. Rassurez-vous, il est aussi possible de diriger des unités indépendamment du héros, mais vous n'aurez alors pas le bonus d'expérience qu'accorde celui-ci aux hommes qui l'accompagne. Et oui, vos troupes gagnent en efficacité à mesure qu'elles réussissent à gagner des batailles, tant et si bien qu'un vétéran sera bien plus efficace qu'un bleu que vous venez d'entraîner. Pour produire un nouveau guerrier c'est très simple : il suffit de cliquer sur votre caserne et de choisir le type d'unité que vous voulez. Bien évidemment, elle aura un coût direct en paysan et en or. Mais ce n'est pas tout, car il faudra aussi alimenter vos troupes en nourriture lorsqu'elles sont éloignées du camp. Pour cela, vous disposez de mules qui permettent un transport efficace de la nourriture directement du producteur au consommateur. Ces mules peuvent aussi être utilisées pour transférer quelques vivres d'un village excédentaire à un village qui en a besoin. Ce point est particulièrement intéressant puisqu'on ne le retrouve pas dans beaucoup d'autres jeux de stratégie.

Des troupes en ordre de bataille.
The Punic Wars n'est pas avare en modes de jeux. En effet, outre le tutorial et les six scénarios, le titre comprend aussi un mode escarmouche jouable en solo ou en multi (jusqu'à 8 joueurs) très complet car il est entièrement paramétrable : taille et type de la carte aléatoire, alliance à former, population... Mais surtout, il est aussi possible de créer ses propres maps grâce à l'éditeur fourni. La durée de vie du jeu n'est donc pas à mettre en doute. Petite chose à préciser, il n'est pas possible de construire de bâtiments dans ce titre. Tout ce dont vous aurez besoin est fourni dès le début d'une partie ou peut être pris à l'ennemi. Ceux qui apprécient de pouvoir fortifier eux-mêmes leur campement doivent donc passer leur chemin : ce jeu n'est pas fait pour eux. En fait, il est seulement possible de bâtir des catapultes et autres armes de sièges lorsque vous êtes prêt à partir à l'assaut de fortifications adverses.

La carte du niveau permet d'avoir une idée de la situation globale.
Graphiquement, The Punic Wars ressemble à s'y méprendre à son prédécesseur. Le même moteur a été utilisé et on se surprend à retrouver des graphismes proches d'un Age of Kings. Petite différence tout de même : il est possible de procéder à des rotations de caméra pour voir l'action de tous les côtés. Hélas, on aurait préféré avoir plutôt des possibilités de zoom arrière pour pouvoir voir de façon plus globale la situation. Parce que là, les combats sont un peu brouillons. Il ne vous aura donc pas échappé que les nouveautés de ce deuxième volet de Celtic Kings sont vraiment un peu faibles et on ne peut s'empêcher de penser que le jeu aurait même pu sortir sous forme d'add-on tant les ressemblances avec son aïeul sont grandes.