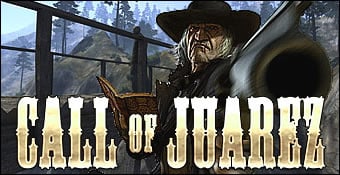 Dans le monde assez peu représenté des FPS à haute teneur en western, un étranger arrive en claquant des éperons. Profitant de cette niche où il est de fait aisé de se faire une place, Call Of Juarez vient juste après un fort ancien Outlaws, célèbre pour ses massacres de poules en série. Sans éloigner ce dernier des confins de la ville à grands renforts de goudron et de plumes, Call Of Juarez joue tout de même dans une autre cour, notamment au niveau du travail sur l'ambiance. Scripté de manière totalement assumée et n'essayant jamais de le masquer sous de quelconques artifices, le soft semble animé par la volonté profonde et louable de dispenser au joueur une véritable expérience cinématographique. Ménageant ses effets et ne sombrant jamais dans un trop-plein d'admiration pour ses inspirations descendant en ligne droite des longs-métrages de Sergio Leone, il parvient à donner un cadre moins grandiloquent à la notion de western et change ouvertement de cible, comparé à des titres comme GUN ou Red Dead Revolver. Ceux-ci cherchaient en effet davantage à se rapprocher de la notion convenue du Far West comblé de grands espaces et de canyon interminables. Il est peu aisé de passer après John Ford et sa science du panorama pratiquement infini sans tomber dans une petite caricature. Call Of Juarez évite donc cet écueil en offrant des décors assez variés, alternant entre des endroits confinés et des collines plus aérées, peuplées de crotales et de coyotes. Toutefois, même à l'extérieur, vous ressentirez un certain cloisonnement, notamment à cause d'une absence de réelle notion d'espace. En fait, vous trouverez pratiquement tout le temps une paroi pour venir boucher votre vision ou un léger brouillard trahissant le manque de profondeur de champ. Un parti pris qui ne serait sujet à aucune remarque si seulement les personnages étaient parvenus à acquérir plus de profondeur. Car, lorsqu'on ne ressent pas de notion de liberté, la tendance logique est de se tourner vers ce qu'il reste, à savoir les protagonistes.

Vous passerez parfois de longs moments de souffrance à chercher qui peut bien vous en vouloir.
En effet, à la différence des westerns de Sergio Leone ou plus récemment de Clint Eastwood, dans lesquels la part humaine est la base du scénario et le ciment du film, Call Of Juarez puise dans les clichés pour nous ressortir une nouvelle fois l'homme d'église extrémiste et le jeune aventurier pré-pubère en fuite après un meurtre qu'il n'a pas commis. Si ces deux-là parviennent après de longues heures à illuminer un tant soit peu de ce tableau d'époque, les intervenants secondaires sont désespérément transparents. Les divers bandits rencontrés alignent les phrases toutes faites et manquent singulièrement d'une réelle personnalité, d'un petit détail capable de les rendre uniques et dignes d'attention. L'implication générale en souffre vraiment et trouve son salut principalement dans l'atmosphère terriblement prenante que diffuse le soft. Parcourir les rivières de montagnes tumultueuses, prendre le temps de profiter de l'ombre sur une corniche avant de descendre dans la poussière d'une pente pistolets aux poings. De multiples saynètes auxquelles on participe avec plaisir, jouant tour à tour son rôle de proie faiblarde ou de justicier implacable. Malheureusement, ce sentiment fort et quasi sauvage d'être perdu dans l'environnement hostile des Etats-Unis du milieu du 19ème siècle est terni par une absence dommageable de liberté. Vous n'aurez que très rarement l'occasion de dévier de votre chemin préétabli, malgré cette nature dense, généreuse qui ne cesse de vous appeler à partir dans une sorte d'aventure solitaire. Un déséquilibre se forme donc entre les "promesses" du jeu et les possibilités qui en découlent, portant le doux nom de frustration.

Attention le moustachu, il y a un alien derrière-toi qui profère des inepties sur l'amour !
Heureusement, le gameplay ne tarde pas à venir au secours de cet écueil, secondé par une construction certes très classique, mais assez habile du jeu. Dans les faits, les mécanismes ludiques changent suivant le personnage que vous dirigez faisant de chacun une "expérience" unique. Billy, en premier lieu, est un individu assez pâle (au niveau de la densité et du charisme) et possède une approche dynamique, voire acrobatique. En effet, il est le seul à pouvoir grimper sur des saillies rocheuses et à avoir la capacité de se balancer sur des branches grâce à son fouet. Il va donc sans dire que le titre suit la voie tortueuse des FPS avec des vrais bouts de plates-formes dedans, qui sont d'ailleurs le plus souvent synonymes de crises de nerfs. Billy prend donc ce risque et subit de plein fouet quelques problèmes de précision. Car si les phases le mettant en scène restent plus "fines", davantage basées sur l'infiltration et l'utilisation de l'environnement, cela ne leur retire pas pour autant un côté perfectible. Il est effectivement assez désagréable de subir les foudres d'une I.A très limitée, réagissant de manière peu cohérente et ne permettant du coup pas vraiment de gérer convenablement ses phases d'infiltration. De plus, l'aspect tatillon des passages nécessitant de se servir de son fouet pour passer au-dessus de précipices annule le côté aventurier de la chose. Il vous faudra en effet viser la moindre branche de manière millimétrée, ce qui coupe l'action et l'ampute de son rythme. Et comme si cela ne suffisait pas, vous devrez passer de longues minutes à tenter de distinguer l'endroit où vous allez atterrir tant le calcul de la distance d'un saut une fois accroché est problématique. Pourtant, ces instants passés avec le jeune garçon sont les seuls où l'on ressent une sorte d'évasion aérée.

Les balades à cheval restent très sympathiques, même si le canasson n'est pas très maniable.
Le révérend, lui, dispose d'une orientation beaucoup plus violente, dans le sens où vous aurez rarement l'occasion de faire autre chose qu'aligner des corps sans vie dans la continuité de votre chargeur. Sorte de croisement entre Don Lope de Aguirre dans le film "Aguirre, La Colère de Dieu" de Werner Herzog et le héros de "Pale Rider" de Clint Eastwood, Ray est, selon ses dires, le bras droit de Dieu. En tout cas, son maniement des armes à feu le rend impitoyable et apporte une sorte de souffle épique dans un gameplay somme toute classique. Une personnalité certes vide, mais suffisamment imposante et charismatique pour susciter cet élan. D'autant que ce pasteur défroqué maîtrise deux techniques très sympathiques, à savoir un tir au ralenti permettant durant quelques secondes de viser avec une précision diabolique et la capacité de se servir du chien de son six-coups pour faire feu deux fois plus rapidement que n'importe qui. Une ode à la destruction donc, qui trouve ses limites dans l'architecture bien trop convenue des épisodes incluant l'homme à l'armure de conquistador. Ne pouvant pas accéder à des buttes de plus de 1 mètre de haut, ce dernier n'a donc d'autre choix que de faire des détours plus que synthétiques, dévoilant de manière évidente les rouages du soft. Malgré tout, la folie furieuse de ce personnage, sa force palpable et l'intensité des scènes le mettant en avant donnent une dimension supplémentaire à sa présence. Il agit vraiment comme une pause un peu bête et sucrée entre les phases plus arrêtées de Billy, offrant des montées d'adrénaline salvatrices. Car le soft a souvent besoin de coups de fouet pour rester dans la course.

Le fait d'avoir deux pistolets permet de jouer au chapeau volant, dans un trip à la GoldenEye époque N64.
Très classique dans sa forme, Call Of Juarez ne parvient jamais vraiment à surprendre, tout en restant correct dans ses acquis. Pourtant, il est fatigant de se retrouver encore une fois devant des lieux communs comme l'utilisation maladroite de l'aspect plate-forme alourdissant le gameplay ou le peu d'inventivité en ce qui concerne les possibilités d'action des deux héros. D'autre part, le thème du western comporte suffisamment de variations et de profondeur pour y puiser une certaine originalité. Il est alors dommage de se contenter d'un survol psychologique et d'une ambiance qui, si elle est excellente, manque d'épaisseur et d'une vraie singularité. Cependant, le titre de Techland parvient à se hisser hors du gouffre grâce à quelques passages, évidemment scriptés mais prenants, et surtout par l'apport de bonnes idées honnêtes et intéressantes. Notamment le principe du duel qui reste une expérience d'une rare intelligence. Le fait de considérer la souris elle-même comme l'arme est une trouvaille fantastique, plaçant le joueur dans une position quasi analogue à celle d'un tireur prêt à faire feu, effleurant à peine son outil de mort. Au final, Call Of Juarez est un titre de bonne qualité, mais plutôt décevant dans son déroulement et ses mécanismes de jeu. En espérant un second opus plus dense et profond dans un futur proche.