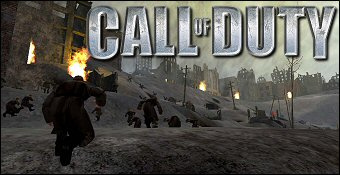 Un jour il y eut Medal Of Honor : Débarquement Allié. Une gigantesque baffe dans la tronche des fans de FPS qui ont pu découvrir à quoi on pouvait utiliser les scripts et l'inspiration hollywoodiene. Malheureusement depuis, 2015 dort un peu sur ses lauriers et se contente de nous alimenter en add-ons sympathiques mais qui fleurent trop le déjà-vu, tout ça pour nous faire attendre un second volet qui a intérêt d'assurer. Dans le même temps, le studio Infinity Ward est créé et recruté par Activision. Commence alors le développement de Call Of Duty. Inutile de se voiler la face, quand on le lance, on comprend de suite que l'expérience de jeu repose rigoureusement sur les mêmes bases que celles de MoH. Le truc, c'est que les développeurs sont allés plus loin et que si vous trouviez que Débarquement Allié offrait un sacré barouf, alors vous allez être surpris.
Les ressemblances, on les retrouvera à de multiples points (outre l'ambiance). Les objectifs sont assez similaires, la boussole avec le gros point qui flashe est elle aussi de retour, de même que les phases d'infiltration déguisées (mais en moins lourd). Même l'affichage des objectifs rappelle des souvenirs. Certaines scènes semblent elles aussi sortir droit d'un projet 2015. Mais mettons-nous d'accord tout de suite : la mise en scène de Call Of Duty est bien plus bluffante que celle de MoH.

L'entrée en matière est assez brutale, vous comprendrez vite que foncer dans le tas peut-être suicidaire.
Etalées sur 4 campagnes, les missions vous donneront l'occasion d'incarner 3 soldats différents, un américain, un anglais et un russe. De la campagne normande à Stalingrad avant d'en finir avec Berlin, on verra du pays et surtout on aura la chance de tâter à plein d'armes différentes. Le plus souvent, on sera en compagnie de nos camarades bidasses, bien que certaines missions se remplissent en solo. Très honnêtement, à mon sens elle sont loin d'être les plus stimulantes comparées aux anthologiques batailles de masse. Assaut d'une ville, défense d'un point clé en attente de renforts, crapahutage dans les bois, autant de passages que l'on termine en sueur. Les soldats hurlent en tous sens, des machins explosent de tous les côtés, boum, bam, un nuage de fumée qui dissimule traîtreusement une vague d'ennemis qui nous foncent dessus. Alentours, vos alliés se foutent totalement de votre sort, ils foncent, soit au feu, soit à l'abri, mais ils ne vous tiendront pas par la main, à vous de distinguer les consignes dans le tapage ambiant. Enfin, ça c'est dans le cas des affrontements mettant en scène un grand nombre d'hommes. Pour les missions en comité plus restreint, on retrouve les habitudes de Medal of Honor avec des équipiers qui ne font pas un pas de trop sans s'être assuré de votre présence, pas plus qu'ils n'ouvriront une porte quelconque si vous n'êtes pas là pour le voir. Toutefois, on n'a pas tellement la sensation d'être face à des comportement bien calculés, en partie en raison de leur aspect très naturel, les scripts nous sautent moins au visage que dans la série concurrente.

Dégommez les Stukas avant qu'il ne s'approchent trop. Tout ça avec des allemands au-dessus et en comptant sur votre couverture pour ne pas vous faire exploser la tronche.
Autre point fort du jeu, malgré quelques objectifs pas très originaux, les missions parviennent à surprendre et à se montrer aussi variées qu'intenses. La scénarisation est époustouflante, que l'on parle de simples explosions ou carrément de retournements de situation, on vous demandera même de battre en retraite au cours d'un assaut, et mieux vaudra entendre l'ordre au milieu de la pluie de plomb, car seul vous n'irez pas loin. Le point culminant de cette réalisation sera le débarquement russe. Oubliez Omaha Beach, c'est tout ce que j'ai à dire. Sans vous raconter ce que vous devez absolument découvrir, sachez tout de même que ce passage trop bref est d'ores et déjà culte. Vous allez frémir et suer comme des porcs, croyez-moi. De nombreux passages du jeu sont un concentré de furie et de feu.

L'IA un peu faible est compensée par des scripts très crédibles.
Là ou l'on attendait Call Of Duty, c'était aussi sur l'IA. On revoit un peu nos estimations à la baisse sur ce point. Comme je vous l'ai dit, vos alliés se comportent de deux manières distinctes. Soit ils sont indépendants et plutôt impressionnants à regarder, soit ils agissent comme vos toutous. La mise en scène de leurs actes suffit à compenser ce sentiment, de même que leur faculté à se mettre à couvert lorsque c'est nécessaire. Côté ennemi, c'est un peu la même chose. D'une manière générale, les soldat adverses ne sont pas très subtils. S'ils savent eux aussi tirer en coin, se cacher derrière une caisse ou tirer en se couchant, il foncent sur vous comme des fous dès qu'ils en ont l'occasion. Cela n'empêchera cependant pas certains d'entre eux de jouer les tireurs embusqués. Mais leur nombre compense aisément cette petite lacune. Vu les tonnes de plombs qui traversent les niveaux, on sera également contents d'avoir un appui solide avec nos alliés. Vous allez apprendre ce que "se mettre à couvert" veut dire. Les ennemis sont suffisamment costauds pour vous dégoûter d'aller jouer les héros en prenant d'assaut une place forte sans soutien.

Un passage en véhicule bien sympa. le simple fait d'avoir à passer la tête par la fenêtre, ça change un peu.
Techniquement, Call Of Duty ne dépasse pas les nouveaux canons du FPS actuel, mais il nous offre un sympathique spectacle. On apprécie le traitement des lumières très réussi, les textures variées et assez fines et l'animation des personnages maîtrisée. Les morts notamment sont assez bien rendues, arrêter un soldat en pleine course au fusil de snipe est du plus bel effet. Et oui, le snipe est une forme d'art. On n'en dira pas autant de la marche qui est pour sa part un peu foireuse. Mais c'est véritablement la bande-son qui en met plein les oreilles. Outre des thèmes musicaux splendides, on reste scotché par l'environnement sonore : cris, balles qui fusent lorsqu'elles passent près de nos petites têtes... D'un point de vue sonore, Call Of Duty est un incroyable brouhaha organisé, la fureur à l'état pur. Parfois, on aura droit au silence, et même là c'est une réussite. Bruits divers, pas lointains, chuchotements, tout est là. Dernier point, on note des plantages mal venus avec les cartes graphiques ATI 9800, nul doute qu'un patch viendra corriger le tir, mais en attendant, méfiance.
Il me reste à parler du point noir du jeu : sa durée de vie. Comptez au maximum 8 heures en prenant votre temps pour boucler le jeu. Probablement moins pour les acharnés. C'est malheureusement le prix à payer pour un énorme travail de scénarisation.
Pour conclure, on peut reprocher à Call Of Duty de ressembler assez fortement à Medal Of Honor, mais ce n'est pas une simple copie que nous avons là, c'est un jeu transcendé, ce qu'on aimerait que 2015 fasse de son côté, c'est Infinity Ward qui s'en est chargé. Le pion est damé, MoH est battu.