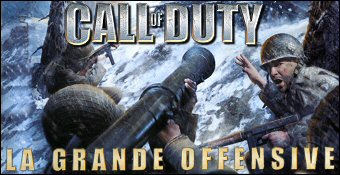 Si vous n'êtes pas encore lassé du FPS hollywoodien inspiré de la seconde guerre mondiale (non c'est que l'air de rien on en bouffe quand même pas mal depuis MoH), il n'y a aucune raison pour que cet add-on ne vous plaise pas. Ou alors peut-être que si, on va voir. Reprenant le principe des 3 campagnes américaine, anglaise et soviétique de Call Of Duty, La Grande Offensive vous emmènera aux 4 coins du globe dans la peau de divers troufions. C'est à Bastogne, dans les bois et en plein hiver qu'on débutera cette nouvelle campagne, dans un niveau d'inspiration très Band Of Brothers. Après un démarrage assez classique, on commence à voir la nouvelle orientation adoptée par cette expansion : le grand canardage de la mort. Toujours à Bastogne, on se trouvera vite en train de ramper d'un gourbi à un autre, défendant âprement les lignes alliées avec tout ce qui nous tombe sous la main. En face, c'est le déluge, des chars, des jeeps, de l'infanterie qui semble apparaître à l'infini. Alors on tire, pas toujours en sachant sur quoi d'ailleurs, parce qu'il faut le dire, ça balance dans tous les coins. Même le débarquement à Stalingrad de CoD n'était pas pire.

La mise en scène a ses bons moments.
En dehors de la campagne anglaise, la plupart des missions de La Grande Offensive repose sur ce principe, une masse à peine croyable d'ennemis et des kilotonnes de plombs qui volent dans les airs, et si possible, des tirs d'artillerie histoire d'être certain d'en prendre plein la tronche. Qu'on défende une position, qu'on prenne d'assaut une ville ou qu'on tienne une base, on fait rarement dans la finesse. On ne va pas se plaindre, ce genre de niveaux très intenses a toujours eu beaucoup de succès dans les jeux du genre. Seulement attention à l'abus tout de même, certains passages finissent par devenir roboratifs à force d'en faire des tonnes, d'autant qu'il semble que les ennemis spawnent effectivement à l'infini, ce qui finirait presque par donner un côté Serious Sam au jeu. D'ailleurs, vu le niveau de l'IA qui n'a pas vraiment évolué depuis 2003, c'est à un immense troupeau de boeuf qu'on a à faire.

Les nuages de fumée ont été retravaillés.
Si on a l'habitude de se faire mener par le bout du nez dans les FPS scriptés, sur ce point aussi La Grande Offensive va un peu trop loin, la plupart du temps, on a pas un instant de répit, il y a toujours quelqu'un qui vous appelle pour aller faire ceci ou cela, les ordres en arrivent à se confondre les uns avec les autres. A peine une tâche est-elle terminée, qu'on vous en demande une autre, cours Forrest, cours ! Il faut signaler sur ce point que certains objectifs sont assez débiles. Il vous faudra, à l'occasion, couvrir un supérieur parti sauver héroïquement, comme il se doit, un blessé, inutile de chercher à tirer dans le mille, pour ne pas perdre, il suffit de tirer en continue, même si vous ne touchez personne. Du coup on balance constamment entre l'excitation causée par cette folie guerrière et la lassitude engendrée par un trop plein d'action. Imaginez un jeu composé essentiellement de scènes telle que que le Débarquement de MoH... De plus, certains passages deviennent une véritable torture car il peut devenir impossible d'éviter les balles qui occupent la majeure partie de l'espace. On meurt sans trop comprendre pourquoi, frustrant. Enfin, si en fait, on comprend pourquoi, c'est parce que le jeu a prévu qu'on penche la tête à gauche, et pas à droite.

Un problème de perspective ?
Le titre laisse cependant une place à des missions plus tranquilles mais elles ne sont pas la majorité. Les véhicules sont pour leur part à l'honneur, avec en exergue le niveau du bombardier britannique. Grisant dans les premières minutes, même cette scène peut en venir à fatiguer. On a d'ailleurs le parfait exemple du problème des ordres incessants. "Doyle, sur la tourelle dorsale", "Doyle, à l'arrière ! "A l'avant", "va couper l'alimentation... mais non reste à l'arrière !". De plus, si dégommer les avions teutons est sympa au début, le niveau est clairement trop long et vite fastidieux, car lorsqu'on n'est pas en train de naviguer d'une tourelle à une autre, on ne fait que participer à une pure séance de tirs aux pigeons qui semble s'inspirer de l'attaque de Pearl Harbor du Medal Of Honor Soleil Levant sorti sur console.

La campagne soviètique est très agitée.
Au final, le solo de La Grande Offensive est déstabilisant. Composé en grande majorité de combats épiques, le jeu a tendance à écoeurer à force d'en faire trop. Comme un bon gros gâteau rempli de crème pâtissière en somme. C'est bon, mais on a besoin d'un peu d'air pour le finir. Il est vrai que se trouver au milieu d'un tir d'artillerie si violent qu'il semble soulever la terre sous vos pieds et inonde votre vue de fumée et de feu, ça en jette, mais baser un jeu sur ce genre d'effet de style est un pari risqué. Le coup de l'explosion qui étourdit, on nous l'a déjà fait un paquet de fois, à force ça laisse de marbre. Même avec de belles explosions comme peut en générer le moteur du jeu. Sur ce point, les développeurs ont fait un effort pour repousser un peu les limites du moteur de Quake 3. C'est essentiellement au niveau des flammes et surtout de la fumée que le jeu a gagné en qualité, ce qui tombe bien, puisque c'est ce qu'on voit le plus souvent.
En ce qui concerne le multijoueur, le nouveau mode qui fait son apparition cède à la mode Battlefield et s'octroie donc un mode de jeu basé sur la conquête de points de contrôle et permettant l'usage de quelques véhicules. Le système de grade est une initiative plaisante qui permet aux joueurs de voir leur statut changer en fonction de leur action an faveur d'une équipe. Monter en grade permettra au joueurs de transporter plus de munitions. Pas bête.