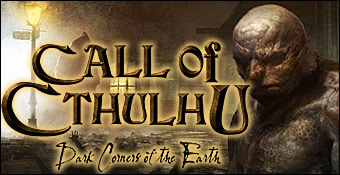 S'extirpant de toutes les convenances de la jovialité et de la description d'une existence radieuse, Call Of Cthulhu est le type même de soft s'agrippant à votre gorge pour ne vous lâcher que dans un accès de fureur extrême, ne sachant plus comment exprimer sa violence contenue. Une sorte d'étau nauséabond qui vous retient prisonnier de vos terreurs profondes. Basé sur l'oeuvre de Lovecraft, le titre s'évertue en effet à décanter un épais liquide froid et oppressant tout au long de l'aventure, empêchant le joueur de se sentir à son aise. On ne parvient jamais à trouver ne serait-ce qu'un maigre rayon de lumière dans les rues sombres d'Innsmouth, errant dans une sorte d'incarnation du désespoir. Tout est figé, déchirant la maigre chaleur des bougies par des vagues grisonnantes, des murs gangrenés par l'âpreté régnant dans cette ville décédée. Une plongée dans les brumes puantes d'un environnement où les seules valeurs humaines se disputant les esprits sont la haine et la frayeur paranoïaque. C'est donc dans cette ambiance poisseuse mais éminemment prenante que l'aventure de Jack Walters prend forme. Simple détective autrefois contraint à subir les conséquences d'une volonté d'investigation un tantinet trop poussée, il va malgré lui revenir dans les lieux qui ont précédemment détruit son subconscient, faisant de lui un schizophrène patenté. L'occasion de faire une dernière fois la lumière sur la secte de Dagon, et surtout de comprendre l'origine d'apparitions traumatisantes semblant petit à petit envahir la "réalité". Par conséquent il va vous incomber de mener une enquête précise, tout en faisant face à l'animalité des villageois et aux émanations occultes soulevées par votre arrivée. Seules quelques personnes, réfractaires aux trois sermons, accepteront de vous prêter une aide timide, qui se soldera le plus souvent par un achèvement tragique de leur destin.

Ca c'est un curé qui se donne à fond pour expliquer la religion.
Entre Rebecca Lawrence, réservée, ténébreuse et terriblement sensuelle, rappelant l'image de la femme selon K. Dick, et le pathétique monsieur Waite, pour les principaux protagonistes des prémices de votre quête, vos alliés peuvent se compter sur les doigts d'une seule main. D'autant que, paralysés mentalement par la peur, ils se limiteront à des conseils plus ou moins probants et une implication limitée. Rien ne vous permet alors pleinement de vous extirper du malaise global, et surtout pas la ville elle-même, étroite et menaçante. Certes on peut arguer que cette exiguïté démontre un manque d'attention sur le level-design, mais au vu du travail général sur l'atmosphère, cela serait surprenant. Autre façon habile de tenir le joueur en haleine, l'implémentation d'un gameplay assez pauvre en action pure, mais empli d'une adrénaline florissante. Plus prosaïquement, vous n'aurez une arme qu'au bout de quelques heures de jeu, rendant les premières séquences intensément effrayantes. Privé de fusil ou de quelques objets offensifs que ce soit, vous arpenterez craintivement les longs couloirs et les rues sinistres, tendant l'oreille au moindre râle, ne vous fiant qu'à votre instinct et votre prudence clairement mise en avant. Immersives et intelligemment amenées, ces premières phases horrifiques s'avèrent dignes des passages les plus dérangeants de Silent Hill, même si certains clichés sont à déplorer. Néanmoins, ne pensez pas que la présence d'un soutien psychologique prenant la forme d'un pistolet suffira à évacuer totalement vos frustrations maladives. En effet, votre inventaire, soumis à la règle du nombre de cartouches maximum, ne vous permet pas de ramasser des dizaines de kilos de munitions afin d'exorciser vos démons à coups de chevrotines. D'autant que les phases purement FPS, assez molles et tributaires d'une I.A. risible, semblent s'incruster dans le jeu pour la forme, sans apporter un surplus d'intérêt. Pire, elles trahissent le côté fuite désespérée, intelligemment mis en place et vecteur principal de l'atmosphère du soft.

Si je vous dis que cet homme est encore vivant, vous comprendrez sûrement le côté malsain du soft.
L'accent est donc mis principalement sur la recherche et la fuite. Un point de vue digne du plus grand intérêt, mais qui n'empêche pas certaines lacunes de s'immiscer subrepticement dans un plaisir de jeu profondément haletant. En fait, il est assez troublant de se trouver confronté à des scènes axées totalement sur la vitesse d'exécution et les réflexes alors que l'on est habitué à déambuler placidement dans la morosité sirupeuse d'Innsmouth. D'autant que l'on se rend compte parallèlement des limites de la jouabilité, ne s'adaptant pas vraiment à la précipitation. Toutefois, on pourra se dire que cela s'inscrit dans la volonté de retranscription d'une panique clinique, d'une obligation de réagir sur le vif à un danger inévitable et imminent. C'est une piste très acceptable, mais qui ne retire pas la frustration d'être obligé de recommencer plusieurs fois certaines séquences étonnamment éprouvantes. Je vous laisse à ce propos découvrir la course-poursuite dans la mission intitulée "l'attaque des hommes-poissons", qui risque fort d'en traumatiser certains. Heureusement, la prise en main se voit ici simplifiée par la présence du célèbre duo clavier et souris. De ce fait les divers volte-face demeurent bien plus aisés et les passages demandant de rapides mouvements et une observation nerveuse s'effectuent sans réels problèmes. Une initiative heureuse, quand on sait que vos soudains accès de dynamisme s'avèrent soumis au principe de la perte de repères en cas de démence. En effet, si vous vous trouvez dans des situations difficilement supportables nerveusement parlant, vous aurez tendance à perdre pied et à vous enfoncer petit à petit dans une folie autodestructrice, qui pourra même vous conduire au suicide. En sus, cet état instable ressurgit sur le rendu graphique, le son et le gameplay. Il vous incombera donc de subir des modifications de couleurs, un alourdissement des commandes, ou encore l'audition de bruits étranges et entêtants. Un concept rappelant dans les grandes lignes celui de Haunting Ground, en moins éreintant.

Oooh, vous m'avez amené un cadavre ! Mais il ne fallait pas, vous êtes fou !
Pour éviter de sombrer définitivement dans ces travers mentaux, vous pourrez évidemment dénicher un "antidote", prenant la forme d'une seringue de morphine, au contenu très limité et à l'utilisation plutôt risquée. D'autre part, la moindre de vos blessures nécessitera une attention appliquée, étant donné que la seule indication concernant votre santé ne se trouve pas directement à l'écran, mais dans l'inventaire. A vous de gérer votre état physique en appliquant des soins sur votre corps, tout en choisissant la partie de votre personne à bander. Une logique réaliste légitimant l'obligation de s'arrêter pour guérir ses entailles ou son esprit, rendant le personnage principal assez gauche, et de ce point de vue humain. Malgré tout, on ne peut s'empêcher de regretter les errances de l'I.A. qui se trouvera un peu dépourvue face à un homme se soignant au beau milieu d'un combat, les incohérences des réactions de Jack ou bien encore le fait de devoir s'arrêter net pour s'occuper de ses blessures. Enfin, il est sincèrement dommage de subir littéralement un aspect scripté détestable, ne laissant aucun choix quant à l'appréhension d'une situation. Tous les évènements se déclenchent à un moment précis et de manière analogue, même si l'on parvient à agir différemment à chaque occurrence. Une limitation pesante, qui amène un certain détachement par rapport aux situations rencontrées. Pour finir, il est dommageable de ne pas avoir mieux pensé le découpage même du soft, ne sachant pas vraiment sur quel tentacule danser. Entre des phases de plates-formes inutiles et rendues tout de même à peu près gérables grâce au duo clavier/souris, et des scènes d'infiltration mal pensées on se demande bien pourquoi Bethesda n'est pas resté sur son axe cohérent du début, mêlant enquête et fuite éperdue.

Certaines actions offrent un peu de variété au jeu. Ce plan digne de Mac Gyver vous sauvera la mise.
L'univers demeure bien sûr tout aussi troublant et fascinant, mais ces défauts de gameplay rendent le soft un tant soit peu crispant. Au final donc, Call Of Cthulhu est un titre à ambiance réellement passionnant, innovant (du moins les premières heures), et détenteur d'un cachet très particulier, lui offrant une place assez honorable dans la ludothèque PC. Pétri de bonnes idées, il n'en reste pas moins qu'il souffre d'une linéarité scriptée, de défauts de jouabilité et de quelques incohérences. Ces dernières sont d'ailleurs sublimées par les quelques erreurs de traduction du jeu, suffisamment rares pour n'être qu'un détail, mais se produisant malheureusement à des moments d'immersion notables. Le scénario se développe quant à lui harmonieusement, laissant écouler un visqueux complot, ponctué de scènes choc (la partie sur la "mère" de Ramona), et de passages littéralement éprouvants. Une donnée qui n'occulte pas la réalisation relativement moyenne du titre. Pourtant on ne peut se retirer aisément de cet univers glauque, retenu par les appendices puissants de Cthulhu, en espérant quelques améliorations pour une future suite.