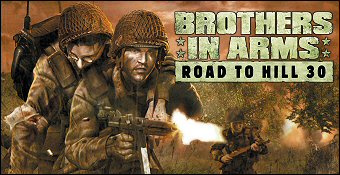 Faut-il le rappeler une fois encore, le credo de Brothers In Arms est l'authenticité, à ne toujours pas confondre avec le réalisme. Pour les martiens, j'expliquerai donc de nouveau que le jeu raconte une histoire vraie, celle du soldat américain Baker, plongé au coeur des évènements liés au débarquement et des jours qui ont suivi. De situations de combat en anecdotes diverses, c'est donc un véritable voyage dans l'histoire que nous propose Gearbox et surtout une vision moins proprette de la guerre que ce que l'on peut voir dans Medal Of Honor ou Call Of Duty. En clair, ici, quand on tire, ça fait des taches de sang sur les murs. Et oui, la guerre c'est moche mes braves petits.
Comme tout shooter de ce type, l'ambiance a bien sûr été travaillée de manière à faire naître une immersion crédible dans ces événements violents et cette pluie de plomb qui a arrosé la Normandie en ce mois de juin 1944. Fort heureusement cependant, on échappe au déluge de scripts d'un MoH. Car si ces derniers sont présents, ils ne régissent pas pour autant le gameplay mais se limitent à la mise en scène du théâtre de vos opérations. L'action elle, restera de votre ressort. Et ça c'est une bonne chose pour tous ceux qui en ont ras la casquette de subir un jeu au lieu de le jouer.

Ca peut sembler incroyable, mais il faut savoir que là, je n'ai pas réussi à le toucher.
Mais outre cette atmosphère bien rendue et remplie de détails historiques, ce qui fait réellement l'intérêt et l'originalité de Brothers In Arms, c'est bien évidemment son gameplay qui s'efforce de mélanger les styles. Si on ne trouve pas ici le réalisme extrême et austère d'un véritable jeu de tactique, Brothers In Arms n'en n'est pas pour si peu un jeu d'arcade pur jus dans lequel on dirige Superman. Pour progresser, il faudra toujours compter sur les hommes sous votre commandement. Des hommes qui se divisent en 2 groupes, l'équipe d'appui-feu et le groupe d'assaut. On vous demande de la jouer fine, pas question de foncer dans le tas et de voir ensuite combien on a fait de morts en face. Avant d'aborder le combat, un passage sur la carte tactique permettra d'avoir une vision d'ensemble de la situation, de repérer les vilains et de trouver un moyen de s'en débarrasser. C'est ensuite qu'intervient votre interface de commandement.

La carte tactique, outil indispensable pour savoir où l'on met les pieds.
Ici rien de plus simple, il suffit de viser et de désigner un point. Si c'est une zone, un clic droit y enverra l'équipe concernée, si c'est un groupe d'allemand, vous pourrez soit envoyer les copains leur taper dessus, soit vous servir de votre cerveau et ordonner un tir de suppression. A quoi ça sert un tir de suppression ? Tout simplement à faire en sorte que les soldats ennemis gardent la tête baissée et ne vous tirent pas eux-mêmes dessus. Pour évaluer le degré de sécurité que vous aurez réussi à instaurer grâce à ce feu nourri, un voyant apparaît au dessus de chaque bidasse adverse. S'il est rouge, alors son niveau de confiance est au maximum, si vous sortez de votre trou, il n'hésitera pas à vous aligner. Si au contraire il a viré au gris, c'est qu'il est accroupi derrière une caisse en bois en train de réciter un "Je Vous Salue Marie" dans la langue de Goethe. Pendant ce temps, vous et votre groupe d'assaut pourrez contourner la menace et la prendre de flanc afin de la neutraliser. De prime abord, tout ça semble simple tant il est aisé de réaliser la manoeuvre. Mais au fil de la progression dans le jeu, la complexité des situations donnera tout de même pas mal de fil à retordre et trouver un chemin et une méthode de percée des lignes ennemies ne sera plus aussi aisé. En particulier si on veut éviter de placer nos soldats dans des positions qui les exposent trop au danger. Concernant le management des équipiers, on regrettera tout de même les limitations assez incompréhensibles des possibilités d'action. Ne comptez pas, par exemple, pouvoir assigner un homme à une mitrailleuse lourde, si vous voulez en faire usage, ce sera pour votre pomme.

A l'occasion, ce char remplacera votre groupe d'assaut.
En quelques mots, l'approche de Brothers In Arms s'avère assez rafraîchissante. Dans le genre FPS historique, à choisir entre un énième shooter scripté et BiA, j'opte pour ce dernier, mais tout n'est pas rose dans le bocage normand. L'IA en premier lieu a de sévères ratés. Il est vrai que nos hommes se débrouillent généralement assez bien quand il s'agit de se rendre sur une position sans pour cela oublier de se mettre à couvert, seulement ils font aussi toutes sortes de choses complètement stupides. A plusieurs reprises on assistera au triste spectacle d'un allié faisant face à un ennemi sans qu'aucun des deux ne réagissent, sauf une fois que vous serez vous-même à portée, ce qui va soudainement énerver l'allemand d'en face. Autant pour la crédibilité du jeu qui en prend un coup. Dans le même genre, il arrive quelques fois de voir un équipier se mettre en position de tir... le nez collé à un mur ! Hem, ça picolait sec dans les forêts normandes, non ?

L'avantage, c'est qu'au moins on est certain d'avoir fait mouche.
Autre point de détail agaçant : la précision des armes. Probablement dans un souci d'authenticité si cher à Gearbox, les armes sont d'une précision toute relative et on ne réalisera donc pas un headshot avec un simple fusil. OK, soit, c'est de bonne guerre et plutôt bien vu, il faut l'admettre. Mais on se demande à maintes reprises si l'idée n'est pas poussée un peu loin. Lorsqu'à quelques mètres on n'arrive pas à toucher sa cible et qu'on passe 6 balles pour faire mouche sur un type qu'on a droit dans son viseur, ça devient franchement gonflant. Surtout que BiA n'est pas un vrai jeu réaliste mais reste un titre assez grand public avec une action plutôt rapide, la balance n'est donc pas du meilleur goût. Et si vous teniez tant à faire dans le réaliste les gars, alors vous auriez pu inclure le fait que l'éjection du chargeur d'un fusil Garand a tendance à trancher les doigts des soldats. Qu'on rigole à fond quoi.

C'est bien fils, tu as tué la porte, merci, elle a avait l'air menaçante.
Du point de vue de sa réalisation, Brothers In Arms souffre malheureusement de son développement conjoint sur PC et console. En clair, sans être moche, il n'est pas à la hauteur des attentes du moment. Les angles sont bien saillants comme on ne les aime pas, les modèles assez détaillés pour satisfaire mais pas suffisamment pour convaincre et certaines textures sont trop pauvres. Ca reste acceptable, mais pour un jeu qui se voulait aussi ambitieux, c'est décevant. De plus, un choix esthétique en troublera certains, selon les goûts : l'application d'un filtre graphique qui donne un aspect légèrement flou et luminescent à tout ce qui vous entoure. Comme je le disais, c'est une question de goût, l'ennui c'est que la retranscription de l'atmosphère oppressante et horrifique de la guerre se voit alors ravivée d'un éclat qui fait un peu Bisounours sur les bords (et aussi un peu au milieu en fait). Troublant...
Pour finir, un petit mot sur le multi qui repose sur le principe simple des objectifs. Une équipe doit accomplir une tache quelconque, l'autre l'en empêcher. Seuls 4 joueurs peuvent prendre part à une partie, chacun contrôlant une escouade de 4 bots. Il faudrait attendre un peu que la communauté se développe, mais en l'état, le multi même sans transcender les foules, se montre assez fun.