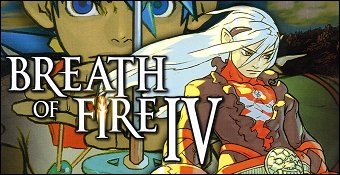 Breath Of Fire est une série de RPG fantastique un point c'est tout. Pour tout dire, elle ne se différencie pas des autres grandes sagas par ses scénarios, qui sont la plupart du temps assez bateaux, mais bel et bien par son environnement graphique et son système de combat. Capcom, dès le départ, a choisi une ambiance très BD, proche en cela de l'univers d'un Street Fighter, et à l'instar de sa célèbre série de baston inclut la notion de combos ce qui rendait et rend toujours les affrontements très dynamiques et particulièrement attachants. Si les scénarii des épisodes sont toujours différents et n'ont rien à voir les uns avec les autres, ils possèdent tous le même héros, Ryu, issu du clan des dragons, qui commence le plus souvent l'aventure frappé d'amnésie. Ceci est donc également le cas pour le quatrième volet qui voit le garçon au cheveux bleux s'éveiller dans un cratère sans savoir ni d'où il vient, ni qui il est. Nina, un personnage tout aussi récurrent de la série, l'aidera dans sa quête et au fur et à mesure de votre progression vous vous lierez d'amitié avec d'autres compagnons de route. Ce qui est intéressant dans Breath Of Fire IV c'est la possibilité de suivre en parallèle du scénario de Ryu, l'histoire de Fou-Lu, un mystérieux personnage très charismatique que vous pourrez diriger à plusieurs moments. Cela apporte un plus certain à l'histoire.

Je n'aurais pas dit mieux.
En dehors de l'aspect purement graphique, Breath Of Fire IV ne déstabilisera pas les connaisseurs de Final Fantasy avec des combats au tour par tour, une recherche d'indices vous permettant d'avancer dans l'histoire, des achats d'équipements ou de sorts indispensables et la traditionnelle montée de niveaux. Si on peut reprocher un peu à Capcom de ne pas avoir vraiment innové depuis le premier Breath Of Fire, il faut avouer que ce 4ème épisode est tout aussi rafraîchissant que les précédents et qu'on évolue dans le soft de manière très agréable. Les montées de levels sont rapides, l'histoire, pleine de petits jeux, avance rapidement, les combats contre les boss titanesques sont monnaie courante et sans s'en rendre compte on reste scotché à son écran des heures durant. Malheureusement si l'épisode PSX comportait quelques problèmes, ceux-ci n'ont absolument pas été résolus sur PC.

Les combats sont très dynamiques.
Le plus gros d'entre eux était une gestion des caméras vraiment agaçante et on retrouve toujours ce soucis à l'heure actuelle. Ainsi quand vous arrivez dans une ville il est fréquent que vous passiez à côté de quelque chose ou quelqu'un d'important le tout étant masqué par un bâtiment ou autre chose. Vous avez la possibilité de tourner la caméra dans 4 directions mais ceci est irritant tant cela n'apporte pas grand chose. La maniabilité au clavier est également peu intuitive, et vu qu'il n'est pas possible de configurer un gamepad, le joueur n'aura d'autre choix que de s'y faire. Ce n'est pas catastrophique mais ce n'est vraiment pas l'idéal pour un pciste confirmé qui aurait décidé de voir ce qu'un RPG console peut donner sur PC.

Les transformations en dragon sont bien moins belles que celles de Breath Of Fire III.
Les combats eux sont toujours aussi géniaux. Vous avez la possibilité de diriger une équipe de 6 personnages (maximum) répartis sur deux lignes. A n'importe quel moment vous pouvez intervertir un ou plusieurs personnages entre la seconde et première ligne sachant que seuls ceux qui sont devant peuvent attaquer, les autres se contentant de récupérer de leurs blessures. Ceci devient très tactique puisque en plus de jouer sur cet aspect des choses il faudra jongler entre les transformations de Ryu, les attaques, les lancements de sorts ou les combos que vous pouvez sortir quand des coups de personnages sont « compatibles » entre eux. Les menus sont très clairs et même le débutant n'aura aucun mal à s'y retrouver.
Fou-Lu commence l'aventure à un niveau très élevé.
D'un point de vue graphique on ne peut qu'être déçu par cette version PC. En laissant de côté le design des dragons bien moins convaincant que dans le troisième épisode (et où est passée la superbe transformation de Ryu en Kaiser ?), on ne peut que critiquer les graphismes PC qui sont même un cran en dessous de ceux de la version PSX avec des personnages qui s'intègrent mal aux décors ou bien cet effet de blur trop présent pour un lissage des textures exécrable. Si le design d'ensemble est très joli (il vaut mieux tout de même apprécier l'univers manga) et a été amélioré depuis le troisième épisode, la version PC méritait vraiment mieux. La bande-sonore est par contre très sympathique avec des thèmes de combat entraînants, des musiques très orientales et des bruitages arcades convenant parfaitement au titre.

On retrouve sur PC les gros problème de caméra de la version PSX.
On était vraiment en droit d'attendre beaucoup mieux d'un aussi bon RPG sur PC. En passant sur micro, Breath Of Fire 4 perd pas mal en maniabilité et énormément en graphismes. De plus les problèmes de la version PSX répondent à l'appel. Reste une aventure prenante, un beau design (abstraction faite des transformations en dragons) et un système de combats excellent. Maintenant on peut se demander à qui est destiné ce RPG ? Les pcistes purs et durs étant souvent réfractaires à ces univers arcades et d'autre part nul doute que les amateurs de la série de Breath Of Fire auront déjà fait l'acquisition de ce titre sur PSX.