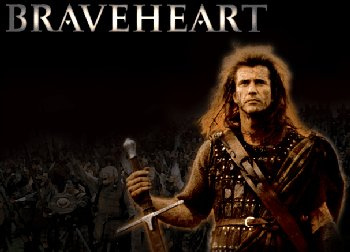 Le film Braveheart fut un gros succès au box-office autant pour le réalisme de ses scènes de bataille que pour la dimension tragique et historique qu'il évoque. Il a quand même reçu 5 oscars et il nous aura fallu attendre plusieurs années avant de voir le jeu portant son nom arriver sur les étagères de nos magasins, ce qui est rare pour un produit dérivé. Braveheart a été réalisé par Red Lemon, une équipe qui a fait peu parler d'elle jusqu'à maintenant.
Si vous connaissez l'histoire du film, vous saurez que Braveheart se passe en l'an de grâce 1296 en Ecosse. A la fin du XIIIème siècle, le Roi d'Angleterre Edouard Le Sec réclame le Trône d'Ecosse mais c'est sans compter sur William Wallace qui tente de réunir les clans d'Ecosse pour qu'elle redevienne une grand nation fière et indépendante. Braveheart vous propose d'incarner un des 32 chefs de clan parmi les 16 clans au total. Vous pourrez gagner la campagne de deux façons, anéantir les forces anglaises ou devenir le prochain roi d'Ecosse.
Le jeu se montre sous deux aspects. Le premier consiste en un wargame très classique en tout à tour avec une gestion des ressources économiques, militaires, technologiques.... Cela ressemble fortement à Heroes of Might & Magic mâtiné de Settlers et de Defender of the Crown (pour les nostalgiques). Vous pouvez gérer les productions, les quantités d'or disponibles, les troupes en garnison dans votre ville etc. Tout ça en sachant qu'il vous faudra créer des relations de commerce et des alliances ou des pressions avec les autres clans. Beaucoup de trahisons en perspective... Héhé !

Le deuxième aspect du jeu se situe lors des combats. Le champ de bataille est totalement modélisé en 3D avec vos troupes. Vos hommes se contrôlent alors comme un jeu de stratégie temps réel. La souris vous permet de sélectionner vos unités et des les faire avancer ou de changer de formation. Les attaques se font simplement en cliquant sur les armées ennemies et après advienne que pourra ! Une fois enclenchées, il est très dur de faire faire autre choses aux soldats pris dans les batailles. Un système complexe de caméra et de vision permet de choisir un personnage qui servira de "cameraman", l'axe de vision tournant alors tout autour de lui. Là-dessus s'ajoute trois modes de vision possibles : vue carte (de très haut), vue près (moins haut) et vue 1ère personne en voyant à travers les yeux du cameraman.

Bon jusque là, rien à redire, le jeu offre énormément de possibilités et c'est plutôt joli à voir. La carte principale est maniable et les zooms sont possibles. Vos unités sont représentées très symboliquement, on se croirait revenu 5 ans en arrière. C'est quand on commence à vouloir jouer que l'on déchante. Tout le système de gestion n'est pas facile à utiliser ; peu d'informations avec beaucoup, beaucoup trop d'icônes hermétiques rendent la partie gestion vraiment pas intuitive. Trois choix s'offrent alors à vous : lire le manuel en entier (il est épais et c'est pas toujours passionnant à lire), apprendre avec un didacticiel embêtant et rasoir ou apprendre sur le tas (j'ai opté pour cette dernière). Et bah, c'est lourd quand même ! Rien n'est facile d'accès ou logique pour son utilisation. Le nombre de ressources et de produits manufacturés est vraiment trop grand et résultat, on laisse le plus souvent la gestion en mode automatique, ce qui est un comble pour un jeu de gestion ! En fait, malgré beaucoup de tableaux différents, rien n'est visible de ce qui se passe. En plus, le temps passe très lentement et il faut souvent attendre de nombreux tours avant que les unités arrivent à leur destination.

Bref ! Les fameuses scènes de combat, pour leur part, ne sont pas si géniales que ça. Le nombre d'unité est assez élevé (18) mais les tactiques sont limitées. Des changements de formations et trois modes sont possibles mais c'est peu et la plupart du temps, c'est : j'envoie mes grosses troupes sur d'autres grosses troupes. Des grosses bastons où tout le monde se tape dessus et on comprend plus rien. Ne vous laissez pas impressionner par les screenshots qui laissent penser que chaque personnage a une interactivité propre. Bref, le jeu en 3D temps réel ne convainc pas et le mode gestion est trop lourd, trop complexe et peu facile d'accès.
Sinon, je dois avouer que tout se tient d'un point de vue programmation et graphisme. Le moteur 3D est impeccable sous Glide, D3D ou logiciel et le mode gestion est plein de couleurs. Les scènes cinématiques sont agréables et les musiques plus qu'honorables. Finalement, Braveheart est un soft très bien réalisé mais pas très bien conçu.