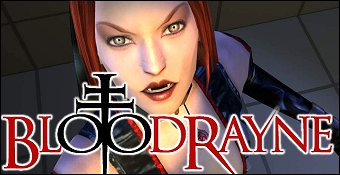 Blood Rayne, c'est une sorte de melting pot de plusieurs jeux qui connurent plus ou moins de succés sur leur support respectif. Comme vous le verrez tout au long du test, le titre tire des influences aussi diverses de Return To Castle Of Wolfenstein, Max Payne ou encore Devil May Cry. Trois titres qui n'ont pas grand chose à voir entre eux, mais qui prêtent à Blood Rayne des éléments qui, une fois combinés, fonctionnent tout de même assez bien ensemble.
Situé en plein entre-deux guerres, le jeu de Terminal Reality est d'abord l'histoire d'une vampire ou plutôt d'une Dhampire. Née d'un père vampire et d'une mère humaine, Rayne dispose de tous les avantages des vampires, sans avoir à en subir les inconvénients (ne me demandez surtout pas lesquels, je serais bien incapable de vous répondre. Faut dire que j'ai fréquenté très peu de vampires dans ma jeunesse). Dotée de capacités physiques étonnantes, Rayne est très vite enrôlée dans la société secrète Brimstone dont le seul but est de combattre toutes les créatures surnaturelles.

Les nazis sont défigurés.
Le jeu nous propose de vivre deux missions en compagnie de la Dhampire. La première débute en Louisiane en 1932, alors que la seconde se déroule 5 ans plus tard dans une base nazie. Le point commun entre les deux, c'est ce mystérieux général allemand à la recherche d'artefacts mystiques pouvant, selon lui, élever les nazis au rang de race ultime (voilà pour l'influence Wolfenstein...). Le titre se divise alors en deux grandes parties de difficulté bien inégale. Dans les marais de Louisiane, Rayne devra se défaire des quelques zombies qui rôdent ainsi que des grosses araignées qui pullulent un peu partout tandis que chez les nazis, elle devra faire face à tout un arsenal de guerre avec toutes les armes à feu que cela comprend.
Pour se défendre, Rayne peut compter sur les deux lames constamment attachées à ses poignets mais aussi se servir des nombreux flingues laissés par les ennemis. L'association des lames et des armes à feu fait bien évidemment penser à Devil May Cry, d'autant que la belle Rayne est vraiment très acrobatique et qu'elle peut sauter un peu partout pour des attaques toujours stylisées, mais qui n'atteignent toutefois pas la classe de celles de Dante. Pour finir avec Devil May Cry, on ne peut que rapprocher le look de Rayne à celui de Lucia (cheveux rouges, combinaison de cuir...).

Un petit fast-food pour remonter l'énergie.
En dépit de ces deux influences (Wolfenstein et Devil May Cray), c'est plus du côté de Max Payne qu'il faut chercher une véritable parenté. Rayne se manie de la même façon que Max, c'est-à-dire au clavier et à la souris. Tout comme le flic new-yorkais, la Dhampire passe le plus clair de son temps à zigouiller des ennemis par paquets de 12. Elle tranche les membres, coupe les têtes, explose les bides... Bref, Rayne est une vraie machine à tuer qui laisse toujours derrière elle des murs tachés du sang de ses victimes. Les combats sont d'ailleurs parfois assez crades, toujours soutenus par des cris immondes que laissent échapper les ennemis terrorisés de se trouver face à leur bourreau. Pour regagner de l'énergie, Rayne devra se servir directement sur les méchants en leur sautant à la jugulaire pour leur pomper de l'hémoglobine. Elle pourra aussi laisser parler sa rage en déclenchant le mode Blood Rage qui déversera un festival de coups hyper violents. Ses facultés lui permettent enfin de ralentir le temps pour mieux appréhender les combats (influence Matrix / Max Payne) ou d'accentuer ses sens, ce qui donne lieu à un effet proche d'une vision thermique, mais en bien moins joli que ce que peut nous offrir Splinter Cell.
Comme vous le voyez, Blood Rayne est un sacré mélange qui puise ses inspirations un peu partout mais qui ne parvient malheureusement jamais à égaler les sources dont il s'inspire. L'univers est bien moins dérangeant que celui de Wolfenstein et les combats moins classes que ceux de Devil May Cry. Pour ce qui est de l'action à la Max Payne, ça dépend clairement des goûts de chacun. L'enchaînement quasi non stop des combats (surtout dans la seconde mission du jeu) pourra en rebuter certains, mais après tout, c'est le genre qui veut ça, donc, on ne peut pas vraiment le lui repprocher.

Les araignées abondent dans la première mission.
Par contre, le côté un peu plus embêtant de l'affaire se trouve au niveau de la réalisation qui aurait pu être un peu plus soignée par moment. Si la majeure partie des textures sont plutôt pas mal faites, d'autres en revanche font vraiment pitié, à l'image de l'herbe ou des arbres en début du jeu. Les animations manquent également de fluidité. Et que dire de l'héroïne, aussi raide qu'un manche à balai ? La bande-son est déjà plus réussie notamment les bruitages lorsque Rayne se déchaîne sur ses victimes avec ses lames. Si Blood Rayne aurait certainement pu faire un effort sur sa réalisation, ça n'empêchera pas les amateurs d'action violente et bourrine à la troisième personne de s'intéresser à ce titre qui se trouve être un bon défouloir.