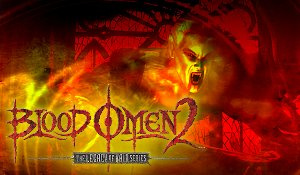 Kain Is Back ! Après une sieste de 200 ans notre vampire est donc près à reprendre du service. Pour la petite histoire, cette nouvelle aventure se situe 400 années après le premier Legacy Of Kain du nom ( un saut de puce pour un vampire me direz-vous ) et c'est après s'être pris une copieuse déculottée par les Séraféens et avoir mis deux siècles pour récupérer que notre démon s'apprête à se venger. Kain se réveille affaibli, dépossédé de ses pouvoirs et dans un monde qui a surtout beaucoup changé durant son sommeil. Les Séraféens ont repris le contrôle de Nosgoth, asservi les hommes et zigouillé pas mal de vampires qui jadis ne demandaient qu'à se rassasier peinards du sang des humains sans ennuyer personne ou presque. Un réveil qui ressemble donc à un méchant lendemain de cuite pour le héros qui pourra heureusement compter sur une certaine Umah qui outre le fait d'avoir une intéressante capacité pulmonaire se chargera de rafraîchir la mémoire du Sieur Kain et de jouer par la même occasion les cachets d'aspirine.

Récoltez différentes armes en chemin.
Suite à une cinématique d'un genre plutôt long et qui a au moins le mérite de laisser admirer la merveilleuse dé-synchronisation labiale au moment des dialogues, Kain peut enfin entrer dans le vif du sujet. Enfin pas trop vite quand même parce que ceux qui s'attendent à de l'action pur jus d'entrée de jeu devront calmer leurs ardeurs. Tout d'abord il faudra mémoriser et paramètrer les commandes qui se veulent moins ergonomiques que sur PS2 puis passer par une sorte de didacticiel pas franchement intéressant mais en revanche clairement utile. Ce n'est qu'ensuite que notre héros pourra se livrer à ses activités préférées : l'éternelle vengeance et le massacre d'innocents, seul moyen de se maintenir en vie. Perdu dans le labyrinthe que constitue la cité de Meridian, Kain se lance donc à la poursuite des Séraféens mais également de certains vampires qui ont préféré se rallier à la cause du plus fort plutôt que de rejoindre la résistance de la Cabale.

Devenez brume et terrassez vos adversaires par derrière.
Force est donc de constater que l'esprit Legacy Of Kain est bien là. Si le jeu se veut un peu plus orienté plates-formes que son prédécesseur le principe reste quant à lui le même dans les grandes lignes ou tout au moins au niveau de la progression. Récupération d'objets ou encore de pouvoirs de l'ombre seront autant de conditions nécessaires au bon déroulement de l'aventure. Notre héros qui a oublié pas mal de ses petits tours de passe-passe devra donc tout simplement venir à bout de différents boss pour leur piquer leurs pouvoirs et ainsi continuer son chemin. Super sauts, brume, vol plané feront donc partie des compétences qu'il faudra assimiler et apporteront pas mal de fun au jeu tout en rompant quelque peu la monotonie d'une progression assez linéaire.
L'action de ce Blood Omen 2 se veut en effet assez répétitive avec un Kain en pleine hémorragie qui perd du sang en permanence, qui craint la flotte comme dans le premier et qui devra aspirer le sang de toutes sortes de personnages rencontrés histoire de ne pas tomber raide mort au détour d'une ruelle. Le reste, c'est du combat assez sympathique avec des combos et des blocages assez réussis mais également de la course à l'interrupteur comme on l'aime tant et qui obligera à faire pas mal d'allers et retours pour ouvrir toutes sortes de grilles ou autres passages.

Kain ne fait pas dans les sentiments.
Mais si nous disions tout au début que cette version PC gommait certains défauts de la version PS2 c'est notamment au niveau des graphismes. Si la prise en main est moins évidente au début, on se doit en revanche de souligner qu'au niveau visuel le résultat est bien plus convaincant. Tout d'abord les saccades plutôt pénibles disparaissent pour peu qu'on ait une bonne machine avec même la possibilité de régler toutes sortes d'options comme la résolution ou encore le rafraîchissement. Le tout permet alors d'admirer des environnements assez soignés que ce soit au niveau de leurs textures ou encore de leur architecture. Les animations sont quant à elles plutôt réussies et l'on reprochera principalement des zones de collisions pas toujours très convaincantes. Le reste cultive à merveille l'ambiance glauque voire trash de ce titre bref, un régal. Côté sons les voix sont bien rendues et on regrettera uniquement leur mauvaise synchronisation avec les mouvements des lèvres lors des cinématiques, des séquences que l'on ne peut d'ailleurs pas passer et qui, si elles sont agréables à découvrir deviennent en revanche franchement gavantes si l'on a le malheur de mourir à leur suite.
On l'aura compris les fans de Kain devraient prendre pas mal de plaisir à découvrir ce Blood Omen 2. La version PC signe une meilleure performance que la déclinaison PS2 en gommant pas mal de défauts notamment au niveau des graphismes. La prise en main est certes moins évidente mais une fois plongé dans cette aventure on oubliera bien vite ce léger défaut.