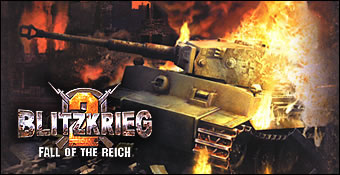 Et c'est bien là que se situe le problème essentiel de ce jeu de stratégie temps réel se déroulant pendant la Seconde Guerre mondiale. Il y a un véritable fossé entre les missions accessibles, fun mais néanmoins réalistes de Blitzkrieg 2 et celles de ce Fall of the Reich. D'où vient cette soudaine augmentation de la difficulté ? Tout simplement de quelques ajustements sur le plan de l'équilibrage qui ont de graves conséquences sur l'expérience du joueur. Déjà, il faut savoir que l'on ne dispose pas de troupes très nombreuses sur le champ de bataille au regard de celles dont bénéficie l'ennemi. Cette infériorité numérique quasi permanente vous obligera à utiliser au mieux les différentes capacités de chacune de vos unités et les renforts dont vous disposez.

Dans cette mission, il faut capturer une position fortifiée. Ca va être dur !
Ensuite, l'artillerie ne se comporte plus du tout de la même manière : la portée de tir a été augmentée mais la précision a été réduite pour que le jeu reflète mieux la réalité historique. Le problème, c'est que les adversaires disposent dans beaucoup de missions d'un nombre important d'unités d'artillerie ce qui limite les risques de louper leurs cibles. Et leurs cibles, ce sont bien sûr vos blindés qui tombent comme des mouches contre ces redoutables adversaires. Et ce n'est pas le champ de vision amélioré des véhicules et de l'infanterie qui change la donne car vous n'aurez pas le temps d'arriver à détruire l'artillerie adverse que votre armée sera déjà décimée. Bref, on a vraiment beaucoup de mal à progresser au sein des missions de campagne, surtout lorsqu'on doit s'emparer de points stratégiques lourdement défendus comme les villages.

Ici, le but est de protéger un point stratégique.
Ce que l'on regrette aussi c'est que le pathfinding du titre d'origine n'a absolument pas été amélioré et il semble même moins convaincant. C'est un véritable calvaire que de faire traverser un pont à vos blindés qui ne manquent jamais l'occasion de se gêner, de chercher leur chemin ou de rester bloqués contre la carcasse calcinée d'un char adverse. Dans ces conditions, difficile de prendre du plaisir à diriger son armée. Pourtant, le contexte choisi était séduisant à défaut d'être original. Comme le titre du jeu l'indique, les deux campagnes (une avec les Allemands et l'autre avec les Soviétiques) prennent place à la fin de la Seconde Guerre mondiale, de l'été 44 au printemps 1945. L'architecture des missions est identique à celle du jeu d'origine à savoir que c'est à vous de choisir l'ordre dans lequel vous souhaitez accomplir les objectifs secondaires avant de pouvoir débloquer la mission principale. Signalons pour terminer que l'on a aussi accès à quelques nouvelles cartes pour le multijoueur, mais vous comprendrez que cela ne suffit pas à rendre Fall of the Reich convaincant pour autant. Voilà donc un titre vraiment moyen qui ne se destine véritablement qu'à une petite élite prête à pardonner les quelques errances au niveau du pathfinding.