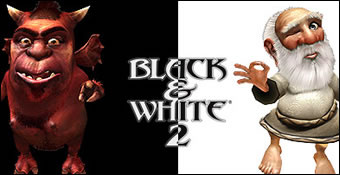 Mais commençons par le commencement (oui, c'est mieux). Le jeu débute par le choix de sa créature. Quatre possibilités s'offrent à vous : le singe, le lion, le loup et la vache. Une fois sélectionnée, la créature vous accompagnera pendant tout le jeu. Elle grandira, évoluera et apprendra conformément à votre enseignement. En fait, c'est vous qui déciderez ce qu'elle doit faire ou pas. Libre à vous d'en faire une machine à tuer prête à dévorer vos villageois et à détruire tous les bâtiments ennemis. Pour cela, il vous suffira de la caresser lorsqu'elle fera une mauvaise action. Si à l'inverse, vous voulez l'éduquer dans le droit chemin du respect et de la gentillesse, il vous faudra la punir lorsqu'elle fera une bêtise et la féliciter lorsqu'elle accomplira une bonne action. Tout comme dans le volet précédent, le système de récompense et de punition est très bien pensé puisqu'il suffit de faire varier la vitesse avec laquelle vous faites bouger le curseur de la souris sur la créature pour la caresser (mouvement lent) ou la gifler (mouvement sec et rapide).

Ma vache s'énerve et va tuer ces soldats ennemis. Vas-y Biquette ! Oui, je sais ridicule comme nom mais c'est MA vache.
Une amélioration vraiment appréciable fait son apparition dans Black and White 2 : ce sont les jauges d'apprentissage. Chaque action est représentée par une jauge sur laquelle vous pouvez influer en giflant ou en caressant la créature pour qu'elle renouvelle souvent l'action sélectionnée ou pour qu'elle ne la fasse plus. C'est d'autant plus pratique qu'un résumé de ce qu'a appris la créature est disponible à tout moment et permet de savoir ce qu'elle pense : je dois récolter du bois, je ne dois pas faire mes besoins sur les villageois... Bref, on a un réel contrôle sur notre animal et on peut ajuster son comportement tout au long de la partie. Très rapidement on s'aperçoit que son attitude est en corrélation avec ce que l'on souhaitait si bien qu'on n'a pas besoin de rester constamment à surveiller son petit protégé. L'intelligence artificielle de la créature est vraiment convaincante (ce qui n'est pas le cas de l'IA des troupes et des adversaires, mais nous y reviendrons un peu plus tard). On peut donc se concentrer sur l'autre aspect essentiel du jeu : la construction de sa cité.

Mon village commence à prendre forme.
En effet, outre l'éducation de la créature, vous devrez aussi vous préoccuper de votre peuple et faire en sorte que ses besoins soient comblés. Pour cela, vous devez construire tout un tas de bâtiments (maisons, entrepôts, cimetières...) et veiller à ce que la population travaille dans les domaines d'activité essentiels à la vie de la communauté. A commencer par la récolte des ressources. Pour ce faire, il suffit de prendre un villageois et de le déposer à côté de la ressource à ramasser (bois, nourriture ou minerai). Le villageois sera alors affecté à cette activité. Une autre des tâches essentielles pour laquelle vous devrez destiner un nombre suffisant de personnes, c'est la reproduction. L'augmentation de votre population en dépend. Il vous suffit de prendre un villageois et de le déposer à côté d'un villageois du sexe opposé pour en faire des reproducteurs. D'autres activités ont aussi besoin de main d'oeuvre comme la construction des bâtiments ou la production de mana (utiles pour lancer des miracles tels que faire pleuvoir sur les champs ou lancer des boules de feu sur ses ennemis) et vous devrez donc veiller à avoir suffisamment de monde pour remplir ces différentes tâches.

Biquette adore les caresses.
La prise en main se révèle vraiment très intuitive grâce à la jouabilité efficace et au didacticiel très bien fait. Même les débutants pourront donc sans mal apprendre à jouer sans difficulté. Cependant, la gestion des ressources aurait pu être encore plus pratique si on avait disposé d'un système permettant de lier un grand nombre de villageois à une action sans avoir besoin de les déposer un par un à proximité de l'endroit où l'on veut qu'ils travaillent. On aurait très bien pu imaginer avoir une jauge définissant pour chacune des activités le nombre de personnes que l'on souhaite y affecter. Ce n'est pas présent par défaut et c'est bien dommage. Certes, un sort "ramassage multiple" le permet, mais le fait que ce point essentiel au confort du joueur n'ai pas été inclus dans l'interface de base est assez contestable. L'autre petit regret que l'on peut avoir concerne les armées. Et oui, car dans Black And White 2, il est possible de créer des unités combattantes pour défendre sa ville ou en conquérir de nouvelles. Mais les unités en question sont loin d'être dotées d'une intelligence artificielle très évoluée. Un simple exemple : si des ennemis attaquent certaines de vos unités, il arrive que vos autres troupes qui se trouvent à proximité ne daignent pas aller les aider. Il est donc nécessaire de rester vigilant et d'être toujours présent en cas d'attaque pour remédier aux lacunes de cette IA décidément bien décevante.

Les miracles servent à lancer des boules de feu, à créer un bouclier, à faire pleuvoir (comme ici) et j'en passe.
Et oui, car vous ne serez pas seul dans le jeu : vous devrez faire attention aux adversaires. Hélas ceux-ci sont toujours gérés par l'ordinateur et comme l'IA des ennemis est aussi peu convaincante que celle de vos troupes, on en vient à vraiment regretter l'absence de mode multijoueur. Mais bon passons, et précisons que les adversaires jouent quand même un grand rôle dans le jeu. En effet, outre les quêtes secondaires que vous pourrez accomplir, l'objectif principal sur chacune des îles sur lesquelles se déroule l'aventure sera bien souvent de conquérir les villages ennemis. Pour cela, deux méthodes existent. La méthode forte à base d'invasion militaire avec votre armée et votre créature féroce vous fera tomber du côté obscur de la force. Vous pourrez aussi choisir la méthode douce. Pour cela, il faudra étonner les villages voisins en ayant une splendide cité. Impressionnées, les autres tribus auront envie de venir s'installer chez vous et migreront. Deux voies totalement différentes qui se refléteront sur votre alignement et sur ce que pense votre population de vous. D'ailleurs, il faut signaler que l'alignement a aussi une influence sur les graphismes du jeu. Une créature méchante par exemple n'aura pas la même apparence qu'une créature tournée vers le bien. Au final, il faut reconnaître que malgré une IA perfectible et l'absence de mode multijoueur, on prend un certain plaisir à jouer à Black and White 2.