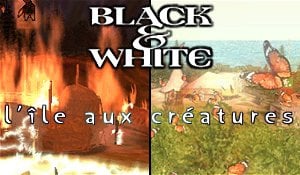 L'Histoire nous a appris qu'à chaque fois que l'Homme a voulu se prendre pour Dieu, cela a fini par mal tourner. Le fruit de l'arbre de la connaissance, la tour de Babel... autant d'exemples qui illustrent parfaitement cette réalité. Comme toujours, une exception confirme la règle. Cette exception, nous la trouvons dans les jeux vidéo. Depuis bien longtemps déjà, les joueurs se prennent pour des dieux en toute impunité avec des titres de plus en plus évolués. Le dernier en date, et certainement le plus poussé dans le domaine, est Black And White. Grâce à ses immenses Créatures, véritables reflets de personnalité, Black And White a marqué l'esprit de nombreux joueurs PC en 2001. Pratiquement un an après, Lionhead Studios remet le couvert avec un excellent disque additionnel.
Vous vous souvenez des missionnaires de Black And White partis prêcher la bonne parole dans d'autres territoires ? Et bien figurez-vous qu'ils viennent d'échouer sur une nouvelle île. Constatant l'absence de dieu dans cette contrée, ils parviennent à convaincre les autochtones de la nécessité d'en avoir un. Très influençables, ces derniers se mettent alors à prier pour votre venue. Vous voilà nommé Dieu de l'île !

La gestion de la lumière est magnifique.
Si cette île ne possédait aucun dieu attitré, elle abrite néanmoins de nombreuses Créatures rassemblées en une Confrérie sous la houlette de Mercurio le crocodile. Voyant que vous avez une Créature, la Confrérie insiste pour qu'elle les rejoigne. Pour cela, elle décide de lui faire passer une multitude de défis et de tests divers et variés. Courses de vitesse, bowling, football, jardinage... votre animal est mis à l'épreuve sur tous les plans. Pour entrer dans la Confrérie, il devra également prouver ses compétences d'éleveur car il aura à son tour une Créature à charge. L'éducation qu'il lui inculquera dépendra directement de celle qu'il aura reçue. Ainsi si vous avez élevé une Créature bienfaisante, il y a de fortes chances pour qu'elle lui apprenne de bonnes actions. Et inversement si c'est une Créature malveillante. Une surprise vous attend si vous intégrez la confrérie. On parle d'une Créature femelle, mais je n'en dirais pas plus...
Le but de cet add-on est donc de parvenir à faire entrer votre protégé dans la Confrérie tout en vous occupant des villageois qui ont besoin de vous pour survivre. L'aspect gestion est donc toujours là et vous veillerez sur les villageois en leur donnant des occupations (paysans, bûcherons, artisans...) ou en les impressionnant à grand renfort de miracles.

Une partie de bowling, ça vous tente ?
Le chapitre nouveauté de cet add-on comprend des miracles inédits dont un qui permettra à votre animal de se déplacer plus rapidement. Plusieurs nouvelles Créatures font également leur entrée dans l'univers de Black And White. En plus de toutes celles que l'on pouvait télécharger sur le net, on trouve maintenant un crocodile et une poule, cette dernière étant celle dont votre Créature devra prendre soin. Vous pourrez changer régulièrement de Créature et même importer celle que vous possédiez déjà dans le jeu original. Cependant, l'inverse pose quelques problèmes. Vous ne pourrez pas réellement rapporter l'animal de cet add-on sur les premières îles de Black And White, par contre vous pourrez rapporter un clone de cette Créature et ainsi avoir deux Créatures évoluant séparément.
Faisons maintenant un rapide point sur la réalisation, juste pour constater qu'elle est en tout point similaire à celle du jeu original (jeu que vous devrez d'ailleurs obligatoirement posséder pour lancer l'Ile Aux Créatures). C'est donc toujours aussi beau, la jouabilité est toujours aussi spéciale mais néanmoins efficace et la bande son a gardé son aspect mystique si particulier, normal c'est la même musique ! Lionhead Studios nous sert donc un disque additionnel de bonne qualité qui nous permettra de patienter sagement jusqu'à la suite prévue pour l'année prochaine si tout va bien !