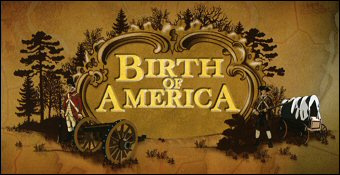 Le contexte dans lequel se déroule le jeu d'Ageod est original puisqu'il s'agit pour le joueur de découvrir la période 1755-1783, une époque où ont eu lieu deux grands conflits sur le territoire américain : la guerre franco-indienne et la guerre d'Indépendance. 15 scénarios reprenant quelques faits historiques sont jouables dans Birth of America. Les événements font d'ailleurs la part belle aux grandes dates de l'histoire comme la signature de la déclaration d'Indépendance. Dans chacun des scénarios, vous pourrez choisir votre camp. Evidemment, ce choix influence beaucoup la partie puisque chaque faction a ses propres spécificités au niveau des unités, des positions à tenir et des objectifs à accomplir. Les conditions de victoires les plus fréquentes sont de capturer un certain nombre de villes.

Lorsque vous laissez le curseur sur un de vos régiments, vous aurez tous les détails de celui-ci.
En fait, la carte est divisée en plusieurs régions. Certaines sont plus importantes que d'autres puisqu'elles peuvent disposer d'une cité, cité qui peut vous apporter des troupes fraîches si vous vous en emparez. Un point essentiel car on ne peut pas créer de nouvelles unités dans Birth of America : il faut faire avec celles dont vous disposez et avec celles qui vous seront allouées lors de certains événements. Pas question donc de gaspiller inutilement vos hommes : il vous faudra les ménager si vous voulez l'emporter. A ce propos, les saisons sont prises en compte et comme chaque tour dure 1 mois, il faut bien faire attention à ne pas se lancer dans de grandes manoeuvres au début de l'hiver, manoeuvres qui pourraient avoir des conséquences fâcheuses pour votre armée qui se retrouvera affaiblie par des marches dans des territoires valonés et gelés. Le ravitaillement sera un de vos soucis principaux pour maintenir vos troupes en état de combattre. Plusieurs moyens existent pour permettre à vos hommes de subsister. Vous pouvez décider de piller certaines régions pour en tirer votre pitance, ou alors mettre en place un véritable réseau de chariots de ravitaillement.

La bataille fait rage.
Birth of America se focalise sur la tactique à adopter pour conquérir les territoires. Il ne comprend aucune option diplomatique et encore moins de système économique. En fait, le seul moyen d'arriver à étendre votre territoire c'est d'attaquer. Pour cela, vous disposez de régiments entiers représentés par de petites icônes et qui disposent parfois de compétences particulières grâce à leur chef. Ces chefs sont des personnages historiques connus. On peut par exemple apercevoir Georges Washington, le Marquis de la Fayette... Certains ont des compétences particulières (telles que tendre une embuscade, accélérer la marche des troupes...) et peut donc faire pencher l'issue de la bataille en votre faveur. Mais c'est évidemment votre stratégie globale qui sera prépondérante. Outre les unités terrestres de base et leur chef, on peut aussi contrôler des navires. Si les batailles navales sont possibles, il faut dire que les bateaux servent surtout à transporter des troupes via l'océan, les lacs et les fleuves pour projeter rapidement une armée à tel ou tel endroit.

Le jeu tient compte des saisons qui passent.
Côté intelligence artificielle, on peut dire que les développeurs ont fait du bon boulot car celle-ci se révèle efficace. Vous pouvez décider de sa difficulté, mais aussi de sa propension à attaquer. Dans tous les cas, elle se débrouille très bien et agit de façon logique. Si vous préférez vous confronter à des joueurs humains, c'est possible grâce à la fonction jeu par e-mail qui, comme son nom l'indique vous permet de vous mesurer à un autre joueur en vous échangeant vos coups par fichiers interposés. Sympathique, même si on aurait bien voulu voir une option online et une fonctionnalité LAN. Le jeu s'y prêtait pourtant très bien lorsqu'on voit quel est le principe du jeu solo. Entièrement en tour par tour simultané, il oblige chaque participant à jouer en même temps, lors de la même phase. Une fois que chaque belligérant a déplacé ses pions, le jeu passe à la phase de résolution où les ordres sont exécutés et les déplacements effectués. C'est aussi pendant cette phase qu'auront lieu les éventuelles batailles sur lesquelles vous n'avez aucune prise puisqu'elles se résolvent toutes seules en fonction des forces en présence. Ce tour par tour simultané aurait pu être très sympa pour des parties online. Autre élément parfaitement adapté au net mais qui n'a hélas pas été utilisé : la longueur des scénarios solos est très variable et certains comprennent moins de 10 tours, idéal pour une petite partie rapide sur le net. Vraiment, c'est très dommage d'être ainsi limité au jeu par e-mail. Globalement, Birth of America est néanmoins un bon petit wargame qui saura convaincre les amateurs, mais il aurait pu être bien meilleur si la diplomatie et l'économie avait eu une petite place et si un mode multijoueur prenant en charge les parties par IP avait été implémenté.