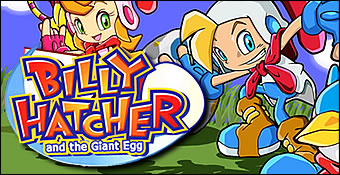 Le nouveau jeu de la Sonic Team ne s'éloigne pas vraiment du titre qui l'a rendu célèbre puisqu'on se trouve encore aujourd'hui devant un jeu de plates-formes mignon et coloré. On y dirige un jeune garçon prénommé Billy qui va devoir endosser le légendaire costume de coq afin de porter secours au monde des poulets envahi par les corbeaux. Oui, je sais, j'ai aussi très honte pour le scénariste et pour sa famille... En parcourant plusieurs niveaux, Billy doit accomplir des missions qui rétabliront l'ordre chez les poules. Très inspirés par les derniers épisodes de la série Mario, les développeurs ont conçu leur jeu avec très peu de mondes différents qu'il faut cependant recommencer plusieurs fois si l'on veut pouvoir se vanter d'avoir terminé le titre entièrement.

Avouez que c'est la classe.
La comparaison avec le célèbre plombier ne s'arrête pas là, puisque les objectifs de Billy Hatcher sont eux aussi frappés par le syndrôme de la redondance. En clair, les missions ne sont pas assez variées. A chaque nouvel environnement, on commence par libérer le coq de la région qui pourra alors chanter et permettre au jour de se lever. Ensuite, on rencontre un boss que l'on doit bien évidemment battre, puis suivant le niveau, ce sont des courses ou des recherches d'items qui nous attendent. Bref, sur le fond, Billy Hatcher n'est pas forcément très original, et mis à part son design tout mimi, on ne pourrait voir en lui qu'un nouveau jeu de plates-formes pas franchement indispensable. Pourtant, le gameplay est plus profond que le stupide costume du héros ne le laisse présager. Le titre laisse une place prépondérante aux oeufs que le héros doit pousser et utiliser comme arme contre les ennemis. En se collant à eux, Billy peut en effet faire rouler les nombreux oeufs éparpillés un peu partout. Ces derniers lui colleront d'ailleurs aux pattes tant qu'il se déplacera. S'il s'arrête, l'oeuf se décroche alors laissant tout le loisir à Billy de faire autre chose.
Faites éclore les oeufs pour profiter du pouvoir des animaux.
En ramassant des fruits, les oeufs gagnent en volume et lorsqu'ils atteignent leur taille maximale, Billy peut les faire éclore, libérant alors soit des objets (énergie, bonus) soit des petites créatures qui l'aideront par la suite. Tout dépend en fait de la couleur de l'oeuf... Les créatures sont de plusieurs sortes, certaines crachent de l'eau pour éteindre des flammes, d'autres envoient des éclairs, d'autres encore lancent des blocs de glace. Le jeu compte en tout et pour tout 72 oeufs différents répertoriés sur un menu. Pour les plus acharnés, l'un des buts du jeu sera de tous les découvrir. En marge du mode solo, Billy Hatcher propose aussi un mode multijoueurs en écran splitté. Suivant trois règles de jeux différentes (survies, éclore et temps) on s'amuse comme des petits fous a s'envoyer les oeufs dans la tronche, à voler les créatures des autres et à briser leurs coquilles aussi régulièrement que possible. Bref, on se régale !

Si c'est pas une joyeuse bande.
Se pose quand même la problème de la maniabilité. Si les premiers pas dans le titre sont assez laborieux, notamment avec les oeufs à faire rouler, tout rentre dans l'ordre assez rapidement. Seule la caméra pourra poser quelques problèmes en fonction de la façon dont votre pad sera géré par le jeu. Les animations s'inscrivent dans un style très manga et collent donc vraiment bien à l'univers. C'est frais, fun et coloré. Les musiques sont dans le même style, surtout celle du menu principal dans laquelle des enfants chantent le plus naïvement du monde. Bien sûr, nous parlons ici d'un jeu GameCube sorti il y a presque 3 ans, il est donc évident que la technique ne sera pas son fort. Au final, Billy Hatcher And The Giant Egg parvient à nous convaincre bien plus par son principe de jeu assez rigolo et par son ambiance drôle et décalée que par son système de progression somme toute très classique. Bon, on ne va pas faire la fine bouche non plus.