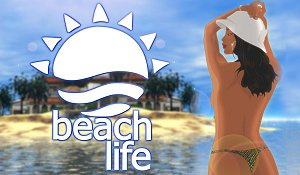 Ils sont malins chez Eidos. Au lieu de nous sortir Beach Life en pleine saison estivale, ils ont préféré attendre le mois de septembre afin de récupérer tous les joueurs désireux de prolonger leurs vacances, même si cela doit passer par l'intermédiaire d'un jeu PC. Mais au risque de décevoir tout ce beau monde et comme il est dit en introduction, Beach Life n'est nullement un simulateur de glande sur de belles plages ensoleillées mais plutôt un titre de gestion qui vous prête la confortable casquette d'un chef d'un club de vacances paradisiaque. Tout commence donc par une équation assez simple. En tant que dirigeant d'un village de vacances, vous n'avez qu'un seul but, faire de l'argent. Comment gagnez de l'argent ? En attirant le touriste plein aux as. Et comment attirer le touriste, hein comment ? Tout simplement en lui fabriquant le club de ses rêves où il trouvera tout ce dont il a envie. Touristes ravis = caisses remplies. Cqfd.

Et voilà tous les pigeons... heu, je voulais dire tous les touristes.
Beach Life se présente comme un jeu de gestion tout à fait classique et en cherchant un peu dans ses options et ses menus, on s'aperçoit qu'effectivement, c'est bien un jeu de gestion tout ce qu'il y a de plus classique. Vous êtes là pour faire du business et business il y aura. Pour amadouer le vacancier, vous devez lui proposer tout le confort souhaité dans un tel endroit. Restaurant, bar sur la plage, location de pédalos, discothèque, piscine, jacuzzi, magasin de souvenirs, café, supermarché... Le touriste est une personne exigeante qui n'hésitera pas à plier bagages et à vous quitter si un détail n'est pas à sa convenance. Il n'y a pas de douche sur la plage, en voiture Germaine, on rentre à la maison !

On peut connaître les pensées de chacun.
Pour gérer correctement le village, il faut également embaucher du personnel d'entretien et de maintenance. Un club trop sale où en mauvais état n'attire généralement pas grand monde... Des G.O.s sont aussi les bienvenus afin de distraire les troupes et mettre un peu d'animation dans les moments d'ennui. Autre élément très important sur les plages : les maîtres nageurs. De jolies naïades (en maillots rouges évidemment !) prêtes à se jeter à l'eau pour venir en aide au pauvre baigneur en danger, voilà ce qui peut aussi attirer les beaufs un peu voyeurs sur les bords. Tel un tyran de première, vous aurez le contrôle absolu sur vos employés en définissant le montant de leur salaire et leur horaires de boulot (modifiables à volonté). Attention tout de même à ne pas abuser de votre pouvoir au risque de les voir rechigner à vous obéir.

It's murder on the dancefloor, but you better not kill the groove !
Dans un autre style, vous aurez également le contrôle sur tout les prix pratiqués dans votre club (du hamburger vendu au snack, à la boisson servie au bar, où même des cachets d'aspirine du supermarché). Vous pourrez même modifier le degré d'alcool dans les bières, histoire de jouez sur la marge réalisée à chaque vente. Cependant, malgré tout cela, on reste un peu sur sa faim concernant l'aspect gestion du jeu. Les mécanismes sont toujours les mêmes et les envies des touristes ne changent guère d'un scénario à l'autre. On a donc tendance à toujours répéter les mêmes combines pour gagner de l'argent et les habitués à ce type de soft trouveront peut-être même le tout un peu fade. De plus, Beach Life ne propose aucun mode multijoueur et se contente d'une douzaine de scénarii et d'un mode bac à sable qui permet de construire un club comme bon nous semble. C'est assez peu et la durée de vie n'est donc pas terrible.

En modifiant les horaires au fil de la journée, on peut les faire bosser 24 heures sur 24.
Reste que l'ambiance est assez rafraîchissante et dépaysante. Les décors, bien qu'exclusivement en 2D, sont très jolis et donnent franchement l'envie de découvrir tous ces lieux imaginaires. La mer est belle et les plages de sable semblent n'attendre que nous. La réalisation du soft est donc réussie et en montant dans les résolutions, on obtient même des graphismes de grande finesse. En contrepartie, l'animation en pâtit en adoptant un rythme plus saccadé. Dommage. Le reste est assez sympa. Les animations traduisent parfaitement les pensées de chacun. Les plagistes se prélassent langoureusement sur leurs serviettes, les fêtards bougent leur corps sur les pistes de dance, ceux portés sur la boisson vomissent avec conviction. Au niveau du son, Beach Life a la bonne idée de proposer un lecteur MP3 intégré. Ainsi, si les morceaux déjà inclus vous gonflent, vous pourrez composer vos propres tracklists. A noter que le jeu alterne le jour et la nuit et que les morceaux joués ne sont pas les mêmes d'une période à l'autre.