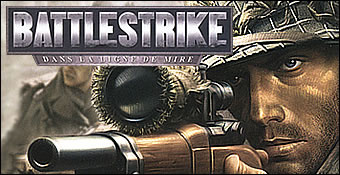 Vous savez, dans les films de guerre, on voit souvent la ruse du sniper qui tire sur un soldat adverse, simplement pour le blesser afin de ralentir ou d'attirer les collègues de la victime. Battlestrike : Dans La Ligne De Mire, c'est un peu ça. Le titre fait office de leurre avec sa jaquette et son titre qui évoquent Call Of Duty. Il vous attire, il vous veut, il a besoin de vous, tout comme l'anneau unique. Mais vous aussi, il vous faudra résister. Bon trêve de plaisanterie et allons voir ce que le soft veut nous faire subir. Pour changer, c'est la Seconde Guerre mondiale qu'on nous propose de revivre dans la peau d'un sniper américain, entraîné à exploser des rangées de poireaux dans son Kentucky natal avec le fusil de l'oncle Tom. Au fond, pour lui, la vieille Europe, ce n'est guère qu'un champ aux poireaux plus grands, et vêtus de vareuses grises.

Au moins cinq soldats s'entrechoquent dans la prairie pour une des scènes les plus épiques du soft.
Le titre vous plonge donc dans l'horreur par l'intermédiaire de petites cut-scenes réalisées avec le moteur du jeu, exactement à la manière de la Rolls des jeux de guerre, j'ai nommé Call of Duty, mais sans les enjoliveurs. Ces scènes sont poussives, mal animées, scénaristiquement vides et peu inspirées. De fait, Battlestrike, c'est plutôt la deudeuche du jeu de guerre. Mais bon, soyons honnêtes, les développeurs n'ont certainement pas disposé de tout le temps ni des moyens de grands studios de développement pour faire leur jeu. Il n'empêche que l'énorme point noir du titre est qu'on ne se sent absolument pas impliqué dans l'action ne serait-ce qu'une micro-seconde. En guise de guerre, on fait dans la misérable escarmouche avec quelques soldats ennemis qui apparaissent çà et là, ne se cachent jamais et attendent de récolter leur kilo de plomb syndical. Il avancent vers vous, raides comme des piquets, sans se dissimuler, sans le moindre semblant de réaction réaliste ou même vaguement crédible. Les quelques alliés qui vous accompagnent ne sont pas en reste, et tirent parfois, par défaut, dans la direction de l'ennemi, sans jamais le toucher et sans influer sur le cours de l'action. On est donc seul parmi ses pairs, seul devant la douleur d'un monde qui se déchire dans la folie et les pixels baveux.

Malgré le décès de ses trois camarades et ma présence virile, ce soldat ne m'a pas encore repéré. La peur ?
Battlestrike pourrait tout de même réussir à être un FPS honnête pour les petites configs, mais les combats n'ont aucune pêche et sont rébarbatifs au possible. En normal, le jeu est plutôt corsé, mais cela est d'avantage dû à des choix discutables quant à la jouabilité. Ici, on ne voit jamais la trajectoire des balles ennemies, et du coup, on passera souvent 30 secondes à repérer le tireur qui se confond avec les textures simplistes des décors. C'est d'autant plus énervant qu'à la moindre balle encaissée, notre propre viseur joue au yo-yo et il est donc difficile de rendre son dû à l'agresseur. Vous me direz sans doute que le titre essaie de jouer dans le réalisme, ce à quoi je réponds que non, pas vraiment, car on sent bien la pâle copie assumée d'un Call Of Duty du fait des quelques actions scriptées, des situations similaires et d'une mise en scène vaguement copiée sur l'illustre modèle. En difficile, on meurt facilement mais on ne s'affranchit pas des mécanismes de base d'un FPS grand public, avec ses kits de santé répartis un peu partout, sa localisation des dégâts primaire et des spawns d'ennemis farfelus. Si vous aussi, vous rêviez de savoir comment cinquante soldats tiennent dans une guérite de garde, ce jeu est fait pour vous.