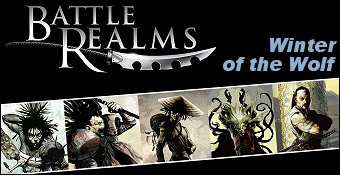 Un peu à part dans le registre des STR, Battle Realms aura su nous séduire de fort belle façon en introduisant des particularités de gameplay assez inattendues dans cette catégorie, et en situant son background dans l'univers pittoresque de l'Orient. Avec sa réalisation très colorée et ses animations parfois hilarantes, Battle Realms fait partie de ces jeux qui n'ont aucun mal à susciter l'intérêt des joueurs les moins accros aux STR, et la sortie de cette extension, vendue en pack avec le jeu original à un prix plutôt attractif, sera probablement pour certains l'occasion de s'essayer à une catégorie toujours aussi appréciée des joueurs PC.

Grayback et quelques survivants du clan du loup, prisonniers dans les mines du clan du Lotus.
Winter of the Wolf arrive d'ailleurs à point nommé en cet hiver neigeux puisque le soft se déroule dans un contexte hivernal qui contraste assez avec les prairies verdoyantes que l'on a connues dans le jeu d'origine. C'est d'ailleurs l'occasion pour le joueur d'abandonner pour un temps le clan du dragon pour se ranger à la cause du clan du Loup, juste avant sa chute. La nouvelle campagne solo propose donc 11 missions solo qui débutent par le soulèvement du leader du clan du Loup, Grayback, qui décide de reformer une troupe de guerriers en partant à la recherche des survivants séquestrés tout comme lui dans les mines du clan du Lotus. La quête démarre de façon assez linéaire, mais elle pose d'emblée les bases de l'aventure. Les sombres adeptes du clan du Lotus se sont offerts les services de certains membres du clan du Serpent, et c'est une véritable armée de brutes que Grayback va devoir constituer pour tenter de reformer un clan digne de ce nom.

Il va d'abord falloir trouver du riz avant d'améliorer les armures de vos guerriers.
Evidemment, il va falloir utiliser à bon escient les compétences spécifiques de vos hommes, sachant que l'add-on intègre quelques unités totalement inédites. De la même façon, le jeu permettra d'obtenir de façon très progressive diverses upgrades dont on pourra faire profiter ses hommes via des bâtiments dont la plupart sont également inédits. Le gameplay reste sinon le même qu'auparavant avec un système de spécialisation des guerriers et des ressources au nombre de deux : le riz et l'eau. Malheureusement, on pourra trouver que la campagne traîne un peu en longueur, notamment au début où l'on passe des heures à errer dans des mines avant de vraiment accéder à toutes les possibilités de développement. De plus, les joueurs chevronnés devraient boucler assez vite ces 11 missions solo qui ne s'avèrent pas aussi passionnantes qu'on le voudrait malgré un scénario plutôt sympathique.

Les foreurs peuvent s'infiltrer sous la terre pour passer certains obstacles.
Bien sûr, la nouvelle campagne n'est pas le seul ajout de cet add-on qui introduit également un certain nombre de modifications au niveau du contenu mais aussi de l'interface et des possibilités pour les parties en réseau. Trente nouvelles maps sont ainsi ajoutées au total de départ, et peuvent toujours être jouées avec n'importe quel clan. Force est de reconnaître que le gameplay du titre se révèle toujours aussi efficace compte tenu des particularités de chacun des clans, mais les inconditionnels de Battle Realms risquent tout de même de rester sur leur faim en voyant le maigre programme de cet add-on tant attendu. On découvre tout de même de nouvelles possibilités assez sympa, comme les traces de pas dans la neige qui permettent de suivre des pistes, le facteur hivernal qui ralentit la croissance des rizières, l'ajout de nouveaux maître zen et de nouvelles possibilités d'interaction avec le décor qui permettent de tirer réellement partie des compétences de chaque type d'unité. C'est pourtant à peu près tout ce que comporte cet add-on en termes de nouveauté, et c'est bien dommage. Les puristes auraient toutefois tort de ne pas se laisser tenter, de même que les non initiés qui auront l'opportunité de découvrir avec cette extension un jeu particulièrement accrocheur et riche en termes de stratégie mais aussi d'un point de vue ludique.